Summer Fun: Reading Hour
As an Amazon Associate I earn from qualifying purchases. For more details, please see our disclosure policy.
Summer reading is a great habit for both kids and adults to get into. Find a good book for kids and enjoy it together or encourage a daily reading hour for your child to take the adventure on his own.
This post does include Amazon affiliate links. If you make a purchase through those links, I am paid a small amount in way of advertising fees.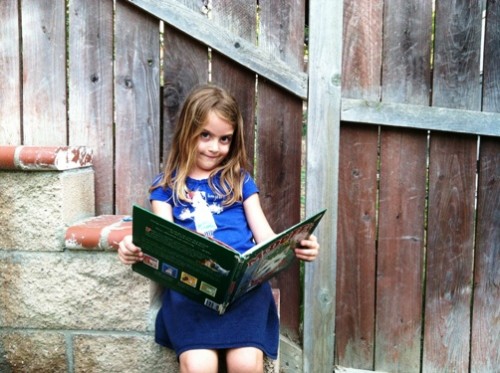 I've finished four books in the last week. Yes, really. That's partly thanks to the gym. I read while I "racewalk" on the treadmill. OK, not racewalk the way Billy Crystal does it in When Harry Met Sally. I got better workout clothes than that.
But, I'm walking fast (3 1/2 miles per hour) instead of running. But, not too fast for reading. It's amazing to me to do this two-fold thing that feeds my brain and my body at the same time.
Make reading a priority
Anyway, I digress. My point in all that was to say that reading is a priority this summer. I signed all the kids and myself up for the San Diego County Library's summer reading program. Yes, there are prizes for adults, too. Not as cool as the kids' prizes which are Legoland tickets, but I've won my book bag already. Zingo!
So, you know that reading is good. And chances are your kids know that, too. Reading for kids is not only a great way to fuel the imagination, but it's also a way to maintain academic skills over the summer break. You can enrich history and science knowledge over the summer by exposing your kids to nonfiction, of course, but also to fiction that features elements of history and science. A book, after all, is a journey.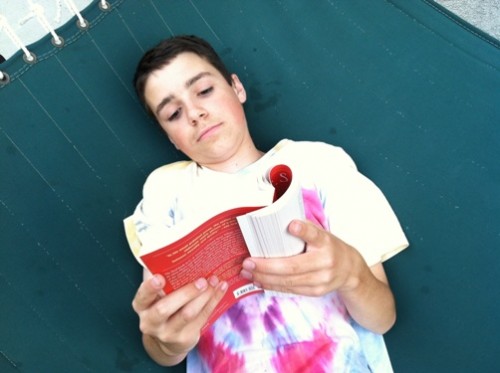 We don't yet have a regular schedule for our summer. It was much easier when my kids were 10 and under to herd all the cats in the same direction every day. Now that they're sprawled between 4 and 16, it's a little more difficult. One thing we are making a habit it reading hour.
Reading hour for summer involves nothing more than unplugging from all devices and providing a big stack of library books. We run out of books pretty quickly actually. Many is the time that we've found books to read online or free Kindle books.
Be reading.
It's always good for parents to read for and alongside their kids. I've always been a fan of children's literature, so I've enjoyed reading books aloud with my kids, oftentimes reading ahead. (Gasp.)
Now that my eldest is getting older, I'm finding that some of my books are interesting to him. Now, that's kinda trippy.
During the school year I'm lucky to get any time to read, but I shoot for 30 minutes a day. I just set a timer and make it happen. This summer, I've been reading on the treadmill as well as off it. Hopefully, my kids are noticing that books are good for adults, too.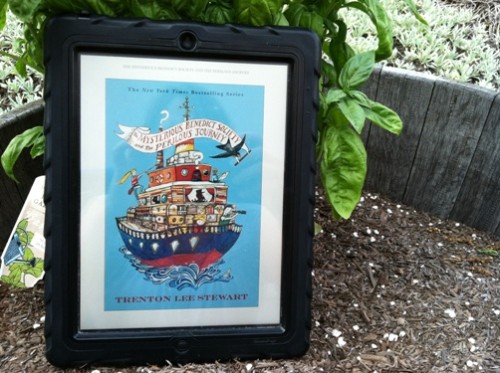 Find good books for kids.
Books for kids are abundant, but it's hard to know what's twaddle, what's appropriate, and what's a must read. We've relied on reading guides like The Read Aloud Handbook by Jim Trelease, Honey for a Child's Heart by Gladys Hunt, and Fifty Books to Enjoy with Kids by Veronica Getskow. Reading guides typically give you an inside peek to what the book is about so you can gauge if it's a good fit for your family.
We've found many a great book for kids just by asking for recommendations from friends. I love the comments on this post about family "read agains"; they've been invaluable in helping me find good kid books over the years.
If you don't already, make reading hour a daily habit at your house this summer — and maybe all year long. (I don't know why I don't keep it up all through the school year. Note taken!)
Here are some posts from the archives that include tips for getting your kids interested in books as well as those that feature good reading recommendations for children and whole families:
Hit the Road with Great Listening (audio books)
Super Tool to Help You Read with Your Kids
Find a Good Read
Boys, Library Day, and Family Culture
Family Novels You Don't Mind Reading Over and Over
How do YOU make reading hour work at your house?
This post is part of the DIY on a Dime: Summer Fun series. For more ideas on how to enjoy the summer holidays on a budget, check out the list.

I know what we're gonna do this summer.