What We Loved about Cambridge and the IWM Duxford
As an Amazon Associate I earn from qualifying purchases. For more details, please see our disclosure policy.
Are you interested in history and/or England? Then be sure to make time to visit the city of Cambridge as well as the IWM Duxford. You'll fill in the gaps in your own education. At least I am!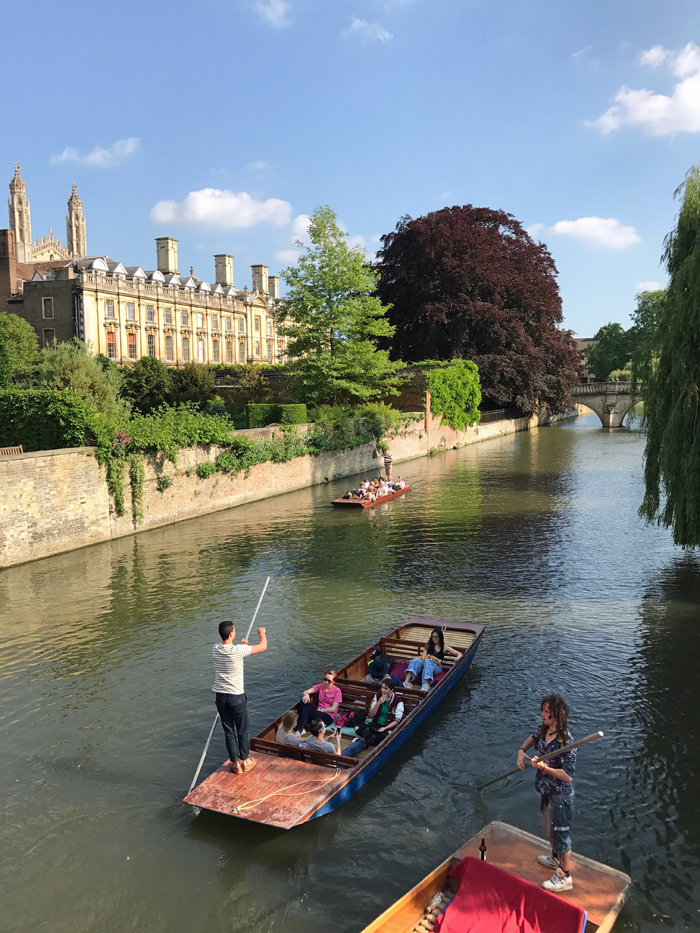 This year my kids and I have continued our study of World History in our homeschool. We go in four-year cycles, every four years starting in the ancients and working our way through modern day. Since we started traveling with our kids, this schoolwork has taken on a life of its own.
We've been to the places we're reading about in books and it makes so much more sense! Even to me, at 45 years of age. Again and again, I'm reminded how valuable these big endeavors really are. It's like I'm filling in the gaps of my own education right along with my children!
So far in my UK FishFam series, I've shared about how we approached planning this big endeavour, where we stayed, how we ate on a budget, how we got around, and how we saved money on attractions. Last week I gave you a brief tour of London with kids. Today, we're heading to Cambridge. Ready to go?
When we were planning our epic road trip through Great Britain, we decided that a car hire was the way to go for our main mode of transportation, even if we were going to be driving in a mirror, so to speak, in a right hand drive vehicle driving on the left side of the road. I say "we" but you should know that it would be Bryan who did all the driving on this trek.
In our research of Americans driving in the UK, we found this great post that pretty much covers everything you need to know. Bryan ended up watching lots of UK drivers training videos in advance to learn the "rules of the road" and we made the beautiful decision to pick up our car in Cambridge instead of London. We took the train from London to Cambridge and back again at the end of our trip. In doing so, we avoided the congestion and city tolls of the city and allowed for Bryan to become acclimated in a smaller, calmer town. This turned out to be a fabulous decision that I highly recommend.
(Side note: Rick Steves recommends that you do this in Bath. I didn't understand his reasoning until we got to Bath and saw that there is NO free or hotel parking in the city, but large paid car parks. So, if you plan on going to Bath anyway, you might want to take the train from London to Bath instead. As it was, an extra $20 parking fee wasn't a really big deal.)
Anyway, we arrived in Cambridge on a sunny Thursday afternoon. We got settled in our hotel and then headed downtown to walk along the Cam and the Kings Parade. Most colleges were in the midst of final exams, so it was very quiet and peaceful. What a beautiful city!
We would have loved to go punting on the Cam, but it just seemed too expensive for our crew. I think it was about 18pounds PER PERSON! Look for deals if you can or see if you can bargain. It looks like it would be loads of fun, I'm just not sure it would be 144 pounds worth of fun. Ha!
We saw Oxford a month later and agreed that we like Cambridge better, despite our love for CS Lewis and Endeavour.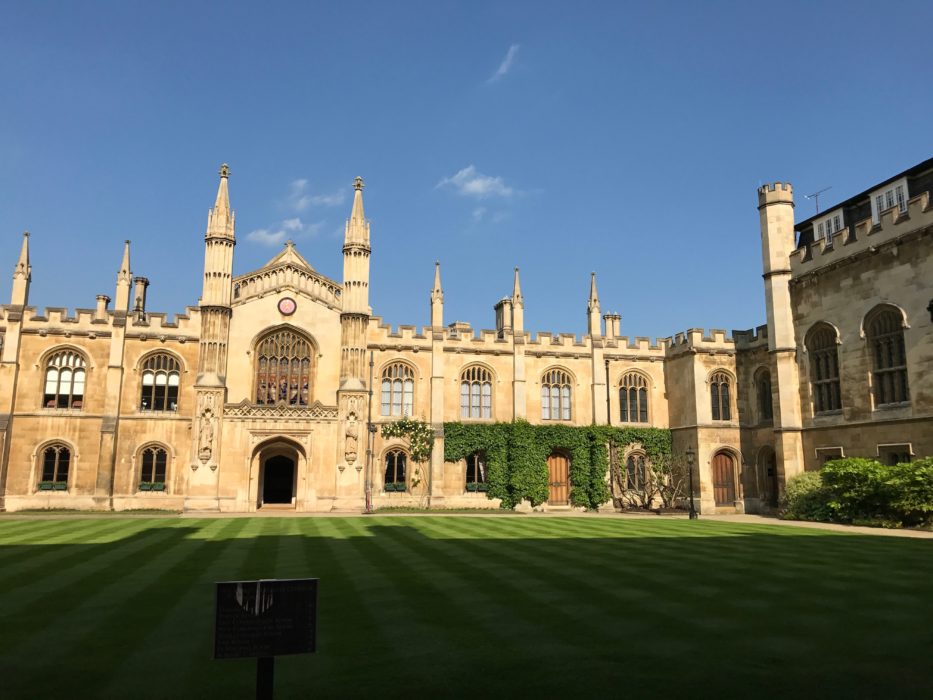 We had a really good experience in Cambridge, and since we stayed there twice, on each end of our road tripping, it felt like "home" the second time around. The staff at our Premier Inn (A14, J32) remembered us and we had very comfortable accommodations both times.
Our meals were a little eclectic, from snacky dinners in the hotel room to great pizza at a local joint to the dollar menu at McDonald's to "the full English" at the hotel. There's a Pret a Manger (one of our fave fast foods in the UK) across from the train station, so we stopped there in and out of the city.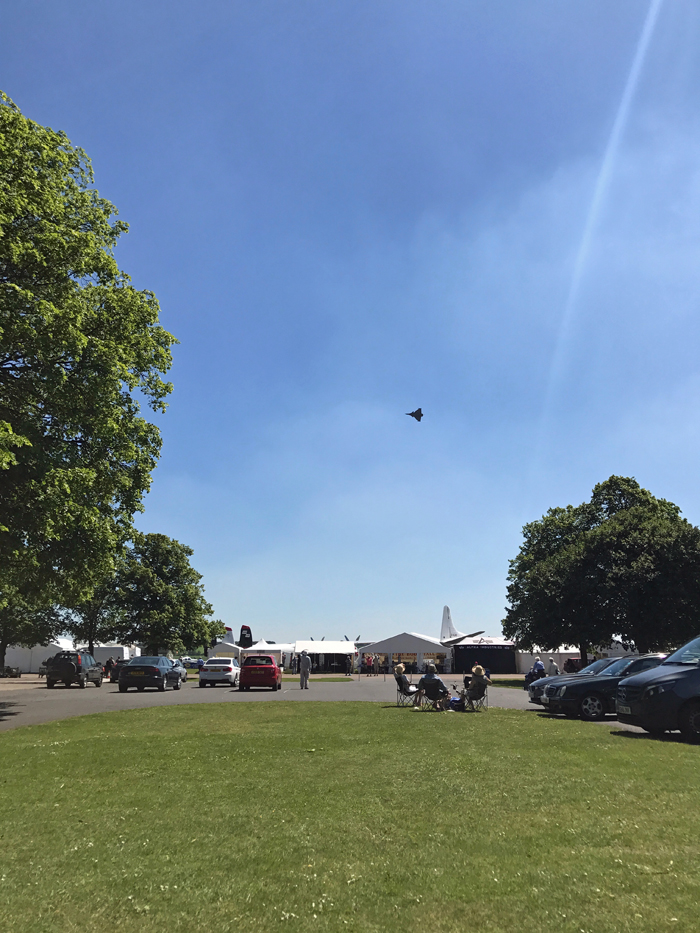 However, one of the highlights of our time near Cambridge was our day spent at Duxford IWM. The Imperial War Museum at Duxford was high on our list the last time we were in London, but our schedule didn't have enough space to make it out there. This trip it was top priority!
I am so thankful to the folks who run the museum for offering our family complimentary admission to this historic airfield and museum of aviation history. I'm not required to write about our visit and all opinions are my own. However, I'd write about it anyway since we are fans. 😉 It was an incredible day!
Now, you must know that we are huge World War II buffs. We love hearing the stories of the amazing men and women of this time. It made history come alive for us to visit the Airborne Museum in Normandy and Oradour-sur-Glane back in 2014; a day at Duxford was no different. I'd call it a must-see if you and your kids are into history.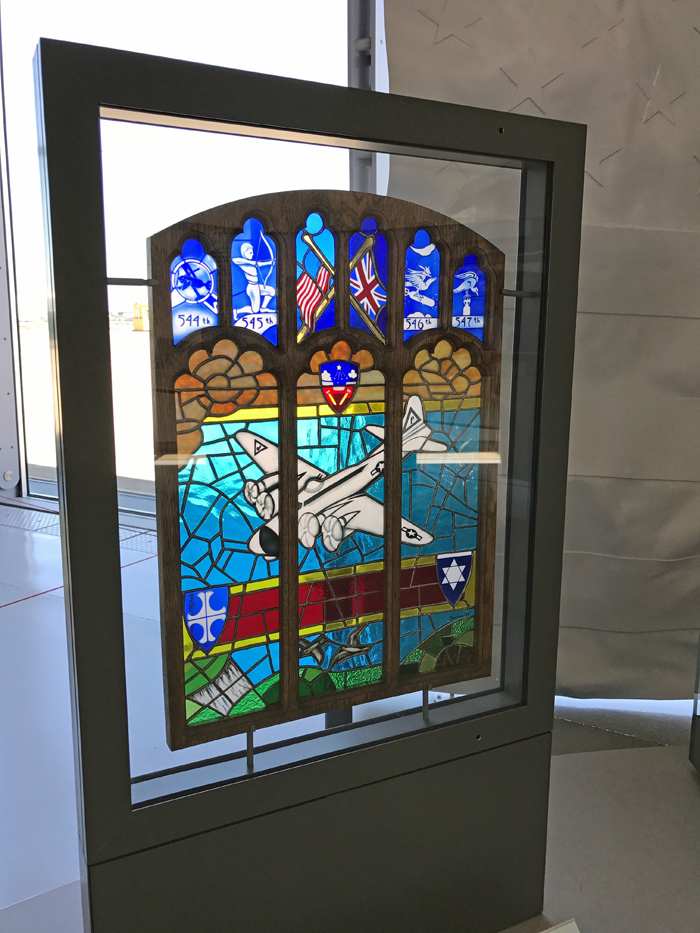 The airfield at Duxford was established at the end of World War I and played a huge role in the Battle of Britain. It is one of the world's leading aviation museums, and contains an amazing collection of historic aircraft and artifacts housed in many buildings dating back to wartime.
In 1943 RAF Duxford became an American fighter base, so in a sense our visit there was not just to experience British history, but to see pieces of our own nation's history.
You can tour IWM Duxford as it was during the Battle of Britain.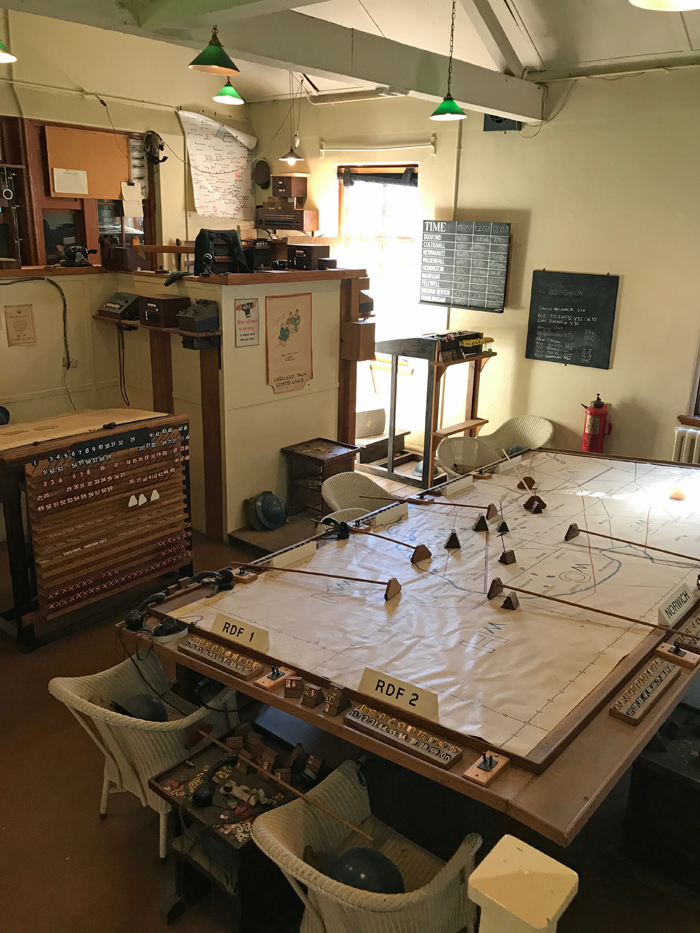 There is a reconstructed Watch Office, a 1940's Operations Room, and the Historic Duxford exhibition where you can learn the stories of the people who served here.
The stories are really interesting. If you can, take your time through the exhibits and read about these ordinary people who were called on to do remarkable things.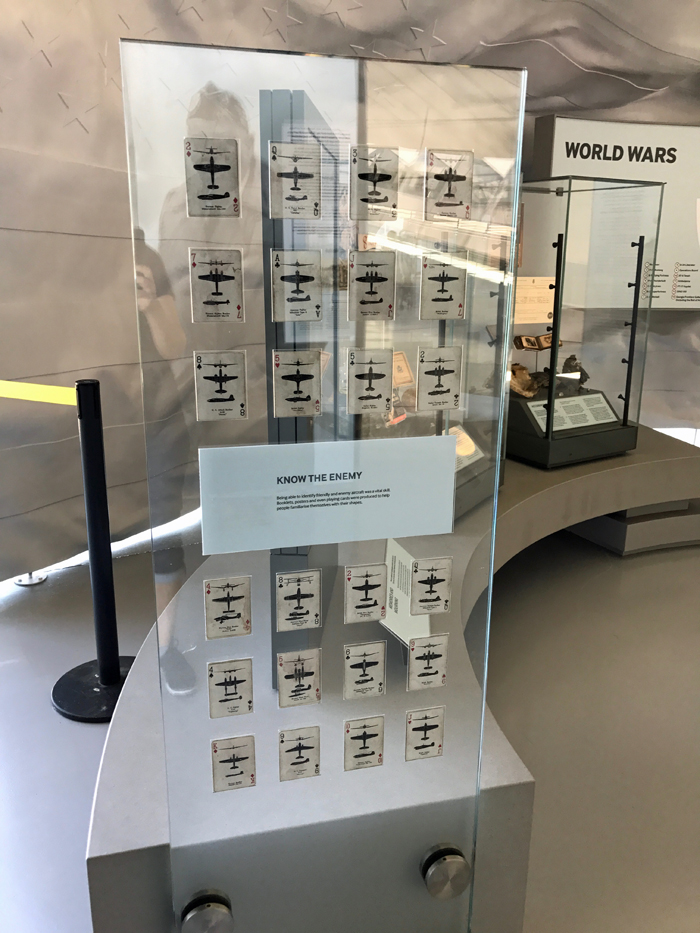 The artifact collection is really fascinating. Here are playing cards designed to help airmen recognize enemy planes.
Kids can participate in a scavenger hunt of sorts that allows them to stamp their cards when they find different interactive exhibits throughout the grounds. There are great audio displays as well as a very cool playground on the grounds.
My advice if you have littles is to take turns riding herd on the playground so that adults can really take in all that there is to learn and see in the different exhibits. And pack snacks so you're not tempted to leave too early.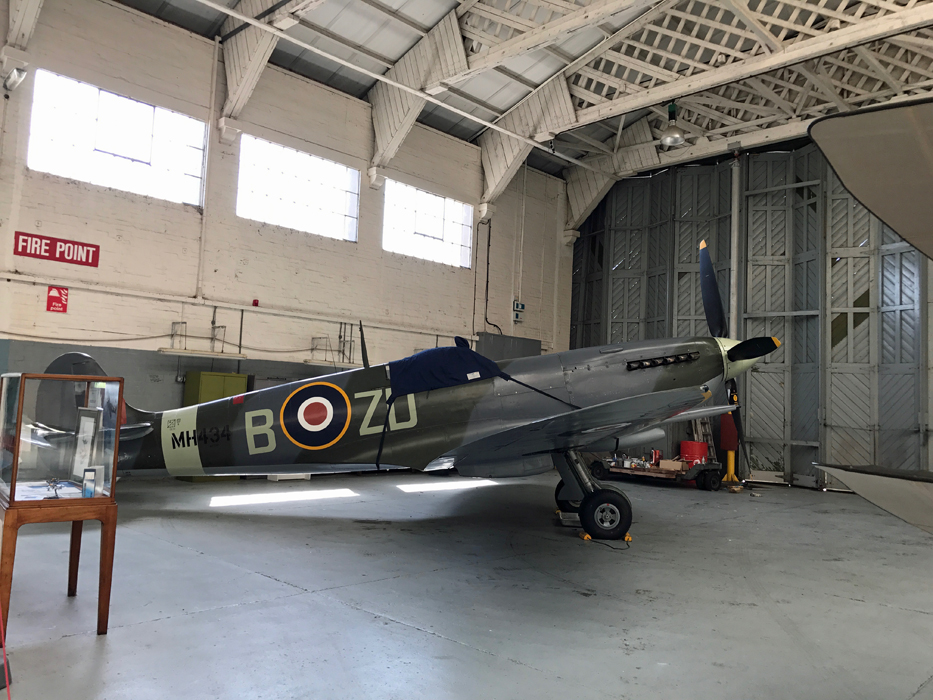 There is an American Air Museum including a number of American planes, including the giant B-52 Stratofortress.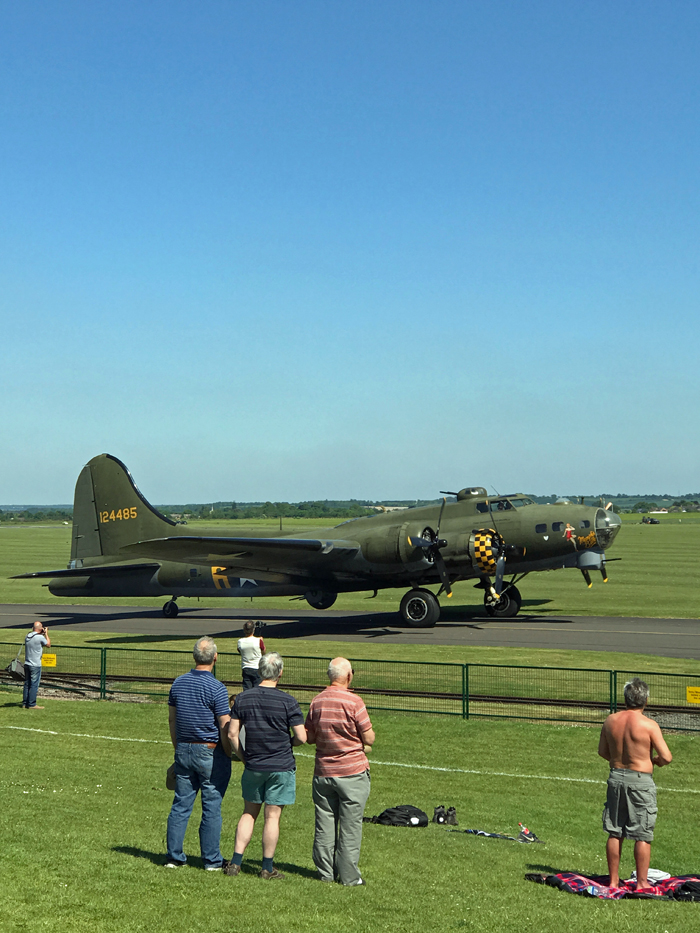 The day that I randomly chose from our calendar to visit Duxford happened to be the day before the spring air show. I'm pretty sure this is the ideal day to visit. You beat the crowds but you get to see so much more than you would on an ordinary day, such as vintage air craft taking to the sky!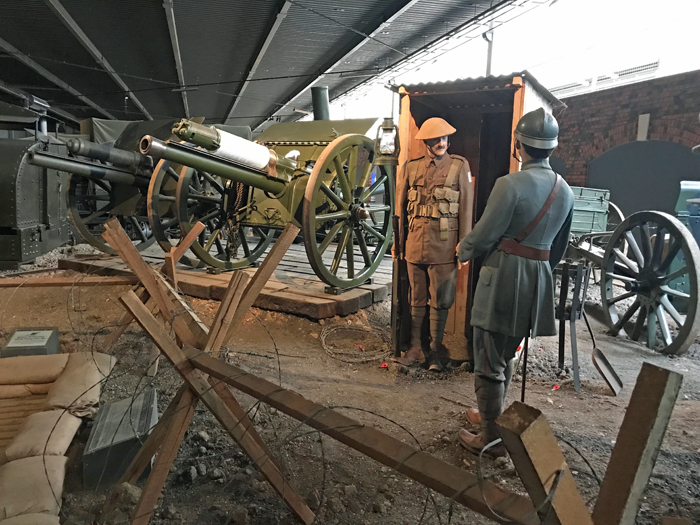 The Land Warfare exhibition does a great job helping you feel like you're there as it covers how battle has changed over the last 100 years.
We enjoyed Cambridge tremendously and really learned a lot at the IWM Duxford. Again and again, I am humbled by the people who fought the good fight during World War II. They are such a good example to us today. May they never be forgotten.
If you're interested in reading about our first European adventure, which included London and western France,
head here
. If you just want to catch up on our adventures in Great Britain,
head here
.