Packing a First Aid Kit for Day Trips with Kids
As an Amazon Associate I earn from qualifying purchases. For more details, please see our disclosure policy.
This post is sponsored by Johnson & Johnson: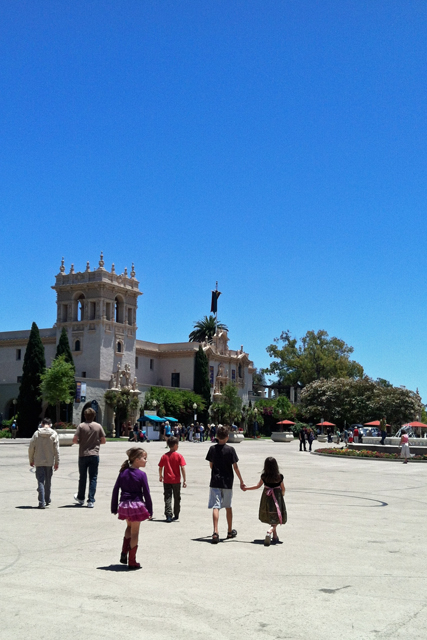 I'm really looking forward to our trip throughout France bookended by stays in London. We plan to explore and experience as much as we can, as our budget allows. I've done a fair amount of research regarding our stops in London, Paris, Bayeux, Le Mont Saint Michel, Le Mans, Tours, Amboise, Poitiers, Sarlat-la-Caneda, Rocamadour, Carcassonne, and Collioure.
Yes, we'll be covering A LOT of territory!
One thing is clear: although we'll do a fair amount of sitting in planes, trains, and automobiles, we'll also do a good bit of walking and exploring. We've got indoor amusements planned like museums and movie studios, but we also plan to hike, swim, and ramble around castle battlements and sandy beaches.
My hope is that the month will be full of play.
As such, I need to be prepared for first aid so that I'm not scrambling through an expensive tourist location trying to track down bandages or antibiotic ointment. I was a girl scout once upon a time; I believe in being prepared.
I also remember nightmare days when I wasn't ready for the unexpected and paid for it in high prices or discomfort.
I know that I can't plan for everything. There will be surprises and emergencies I haven't planned for, but there are some things I know will happen for sure:
someone will be hungry
someone will have to go potty
someone will have sore feet
someone will get an owie
Since I don't want these things to interfere with our playtime, I want to prepare for some of these particular instances.
Packing for play: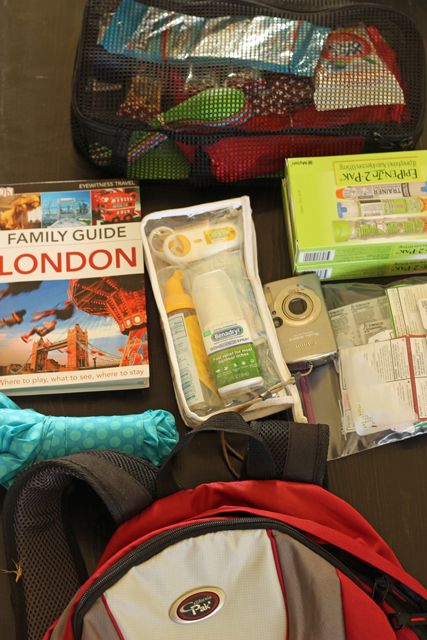 For the daypack
A daypack is just that. A pack filled with stuff that you'll need for a day's outing.Whether from home or hotel, it's always nice to have a few things on hand to make the day easier.
Here's what can goes in your daypack for family adventures:
a backpack that is not too mom-like, so that the men in the party can carry the weight as well
a first aid kit (see below)
phone or a guidebook, where applicable
cameras
umbrella and raincoats, weather dependent
water bottles and light snacks
hats, sunscreen, and sunglasses
extra socks
You might not think that you need to pack a first aid kit for city adventures, but I know all too well the experience of the child with a headache or a blistered heel and nothing to be found in the aquarium gift shops that could bring him comfort. I also know the six block hike to the nearest drugstore to buy supplies instead. Oy!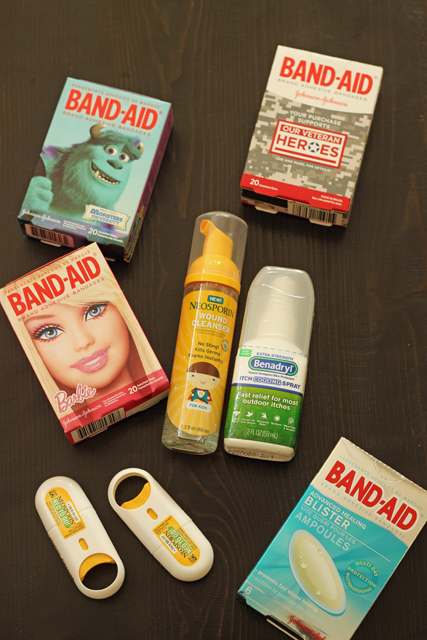 What to pack in the first aid kit:
Johnson & Johnson sent me some products to put together a first-aid kit designed for a day of play. You know that your kids are bound to have some kind of owie on a great adventure.
Here's what we're packing in our travel first aid kit:
Neosporin To Go – I love it that it comes in a spray. I'll probably throw in a tube as well.
Neosporin Wound Cleanser – Sometimes you're lucky to find a bathroom, let alone one with soap!
Band-aid bandages – You should have seen FishChick6's eyes light up when she saw the Barbie ones. Oh my! Likewise, the big boys sighed with relief at the Our Veteran Heroes styles.
Band-aid Advanced Healing Blister bandages – I think these will be great for walking blisters.
Benadryl Itch Cooling Spray – This is good for sunburn as well as bug bites.
Basic OTC meds for kids (and adults!) – We're packing things like acetaminophen, ibuprofen, Benadryl, and other allergy meds.
Necessary prescription meds – My girl needs her epipens and antiviral meds.
Check out Johnson & Johnson's Healthy Essentials website for how to build your own first aid kit.
What do YOU pack in your travel first aid kit?
Travel with Kids
This is part of the Travel with Kids series. Every day in October, I'm posting tips, tricks, and tutorials for making all your travels fun, frugal, and family-friendly.
Be sure to read through the archives in case you missed a post.
Disclosure: I've partnered with Johnson & Johnson Consumer Companies, Inc. All thoughts and opinions expressed in this post are my own.