Toddlers and Trouble
As an Amazon Associate I earn from qualifying purchases. For more details, please see our disclosure policy.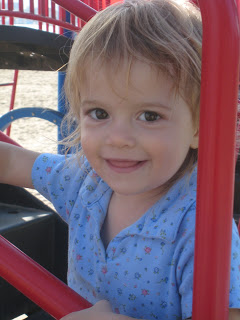 Isn't she cute?!
That's my FishChickie. She'll be two next month. She is just adorable with her angel halo hair and big brown eyes. She loves to cuddle with me and play with my hair. It's her little comfort mechanism and instantly puts her to sleep.
She's my girl, and I love her fiercely.
But, like many toddlers, she can morph into a demon of destruction in a matter of seconds.
In the past week she has
— bathed Playmobil action figures in her yogurt
— had sword fights with FishBoy4, armed with a couple of table knives
— destroyed a brand new roll of aluminum foil
— taken all the clean plastic dishes to the backyard (numerous times)
— emptied the wipes containers
— infiltrated my new L'Oreal facial cleansing cloths
— come very close to driving me bonkers
There are several possible ways that we MOMS can respond to situations like this. My default response is to raise my voice and "freak out," hollering NO multiple times, sighing in exasperation, and basically making everyone nearby feel bad for their very existence. Hmmm… good times.
Bad choice, Mama, bad choice.
Sunday after I had picked up dishes that she had scattered all over the floor — for the fifth time that day, I paused and reflected on the situation. She is a healthy little girl doing what toddlers do. She is inquisitive and exploring her world. In many cases, like using the facial cleansing cloths, she is following another's example. She wants to be a big girl and she's learning how by observing the rest of us. She has the capabilities to do great things, just not yet the wisdom to know what great things she should be doing.
I am thankful that she is healthy enough to cause trouble. And she is healthy enough to eventually grow out of this. This will not last forever. In another year she will have the discernment to make better choices.
In that moment Sunday I made a choice not to blame her for her current season of development. Instead, I wanted to be thankful that she is capable of all she can do. And I had to think through some ways to roll with who she is today. Here are some of my conclusions:
1. Stick to her like glue. I realized that my first child didn't get into so much stuff when he was a toddler. Well, he was the only one and my attention was not divided as it is now. Keeping her close helps me to keep an eye on her activity. By including her in what I'm doing, I can cut her off at the pass and avert possible disasters in other rooms. When my brother babysat the other night, he clued me in. He shut all the bedroom doors so that she couldn't disappear and get into mischief. Smart boy!
2. Limit her access. Since we moved into this house fairly recently, we didn't have baby locks on the kitchen cupboards. We do today! FishPapa installed them the other night when we realized I was going to go crazy without them. Yes, she can be taught to listen and obey, but that is a process. It won't happen overnight. In the meantime, I'd like to wash my dishes once a day, not five times.
3. Talk softly. God says, "A gentle word turns away wrath." I know from experience that we humans listen better when someone speaks kindly to us instead of crabbing. Furthermore, she's learning from my example. Remember her L'Oreal facial? I need to model to her the behavior she should adopt as her own.
4. Plan activities for her benefit. Much of her playing in the kitchen is a desire for mimicry and role-playing. This is very normal for a toddler. Unfortunately, due to our move, we no longer own a play kitchen or plastic dishes and food. However, I'm keeping my eyes open for them on Craigslist and clearance sales. I think that will be a fun activity for her as well as her four-year old brother. Maybe they'll quit the sword fighting.
More Toddler Tips