Getting Ready for the Week Ahead
As an Amazon Associate I earn from qualifying purchases. For more details, please see our disclosure policy.
Planning for the week ahead, rather than letting it happen to you, can help you make the most of all the great things in your life.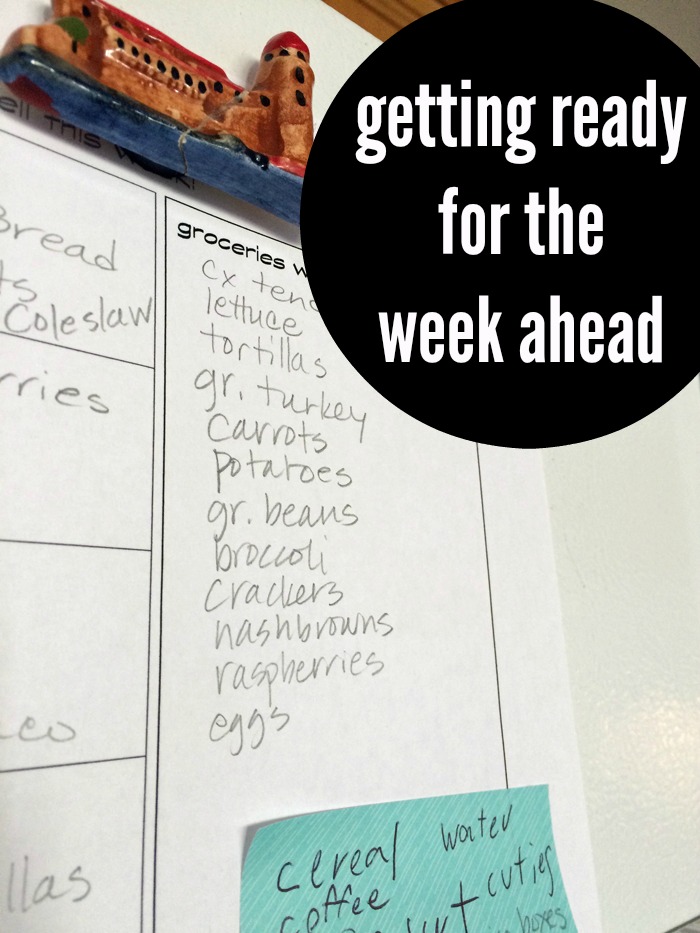 I don't know about you, but my brain works in weeklong timeframes. Those are the chunks of time that my mind operates in.
On Sunday I feel like I have a fresh start and 7 days ahead of me to do good things, enjoy my people, and work hard. By Wednesday I start to feel jumpy if I haven't accomplished much. On Friday, I'm ready to let my hair down and take a break for at least a few hours before I start to get ready for the next week.
I don't relish being "busy". Neither do I think hard work is a bad thing. I've come to peace with this season of my life. Busyness is neither the mark of "being a better person" — as some seem to think — nor one of a person with misplaced priorities — as others may claim.
For me it just is. My life is busy in this season. It wasn't busy fifteen years ago when I had lots of little people, regular nap times, and few outside commitments. And it probably won't be fifteen years from now when FishPapa and I will be empty-nesters.
Busy is just the season I'm in today.
Honestly? I want to stop making apologies or feeling guilty about being busy. It's a season that will pass before I know it.
Instead, I want to make the most of what I have, and make sure that my busy-ness is as focused and prioritized as I can make it. That means getting ready for the week ahead. In doing so, I set myself — and my family — up for success.
I make room for fun things. I make room for clear thinking. I make room for not feeling overwhelmed or over-scheduled. Sunday is a great time for me to walk through the week and try to smooth the path ahead of us.
Or Monday morning when your Sunday is crazy.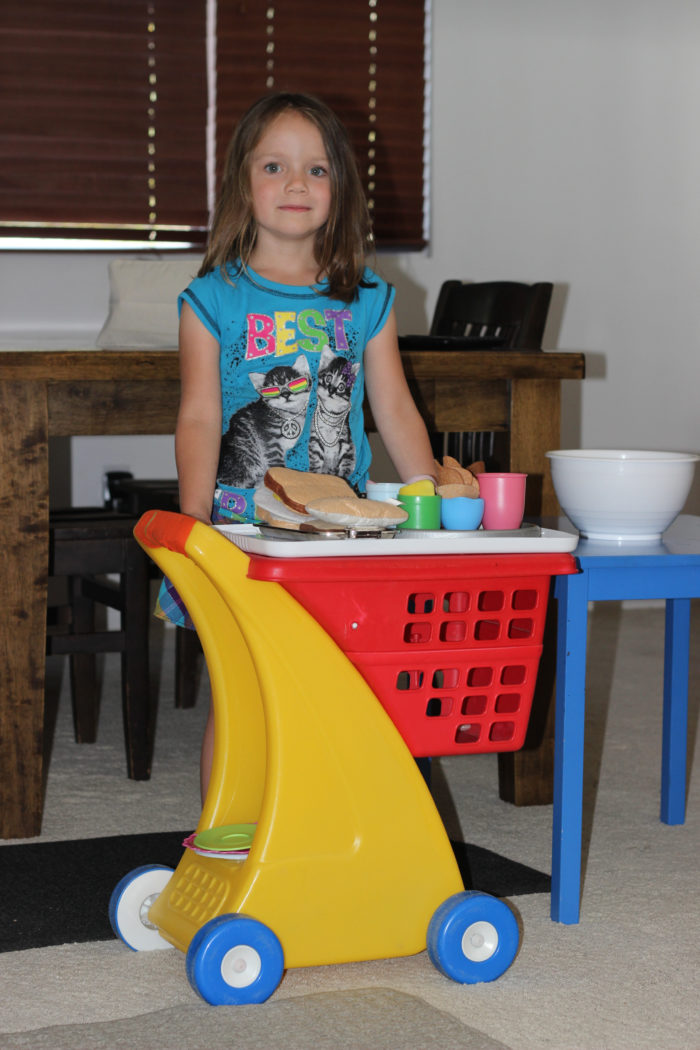 She's pretending to be a Costco sample lady. Oh my!
Getting ready for the week ahead
I've talked before about how to have a great week. These nine ways are super-duper helpful in smoothing the path. Sometimes the theoretical is hard to grasp.
Here's how they're playing out for me today/this week:
1. Meal planning
Each week I create a meal plan to work from throughout the week. I don't always follow it, but if I've got some idea of what's in the cupboard, fridge, and freezer and what I can make, I am halfway to dinner time.
If you need help in this area, be sure to grab this free meal plan I shared yesterday. We actually ate those meals last week and they were delicious!
2. Grocery shopping
You don't want to be out of milk by Tuesday morning. It kinda messes with the flow of things. I like having the fridge stocked on Sunday or Monday so that we're set for the week and I don't get distracted by yet another thing on the to-do list.
This morning I'm very thankful that my husband ran to Costco right before they closed last night.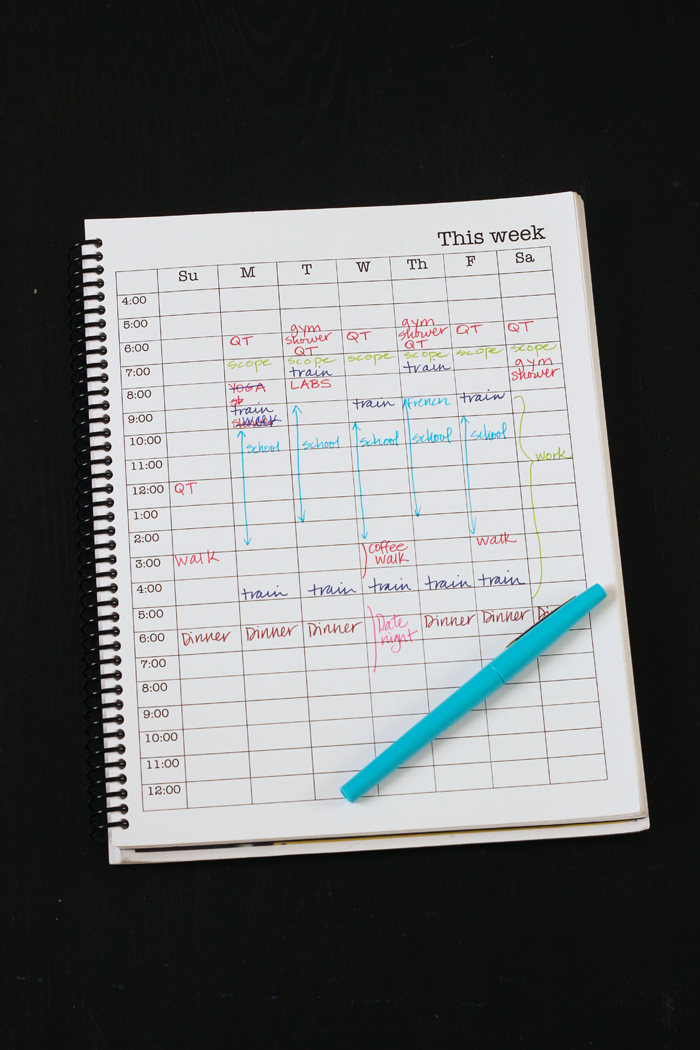 3. Calendar planning
I track appointments and other plans in Google calendar. I get an email reminder every morning that helps immensely because I often forget to check the calendar.
But things run the most smoothly when I plot the week in my weekly time budget in my planner. It's a weekly page in the Print & Go Planner.
4. Planning for fun
After 20+ years of parenting, we've figured out that sometimes you need to PLAN to watch a movie, take the kids to the pool, or go to the beach. Spontaneous is great, but we can't rely on that. We have to plan for some activities, even if it's as simple as a daily walk.
Next weekend we're heading out of town as a family, so I know we'll have time for fun. But, it will take being a little intentional and rolling with the circumstances at hand. Planning some stuff this week, like trips to the pool or watching The Bible movie together, will help offset our work load in getting ahead for next week.
5. Reconnecting with your spouse
I really look forward to date night. It's the one set time in the week when I get my husband's undivided attention, even if we just stay home for date night. I love it. Find ways to reconnect with your spouse, even if it's getting up a little earlier to chat before work or staying up a little later to talk in bed.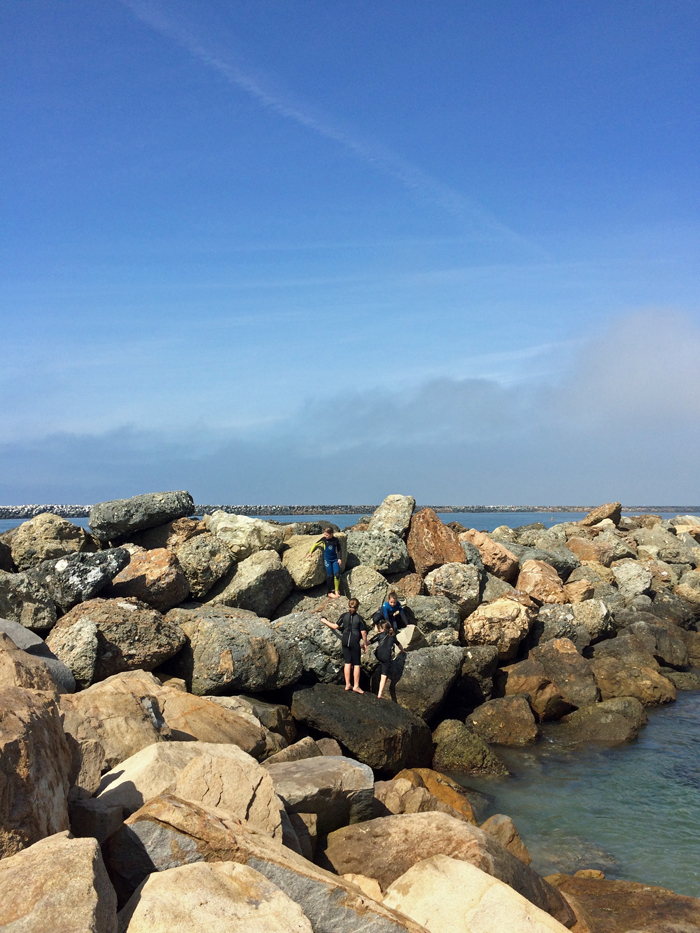 6. Getting outside
On Friday the littles and I met some friends at the beach. Spring has sprung here in San Diego. It was so nice to be back at one of our favorite places! With the time change, we've got more opportunities to be out of doors. FishPapa and FishBoy12 are skating more often. The girls and I have more time to go for walks. They were stunned when I said let's go walking at 7 pm. We could!
Get outside, enjoy the fresh air, and enjoy time with the people you love!
7. Exercising
As much as I love the end results of exercise — it seems that I breathe better and my body complains less once I get into a groove — it's really easy to fall out of that groove and really hard to get back in. I've been sick for almost 2 months of this year. Ugh.
I've got some plans to get back in the swing of things. I'm gonna need to plan and be intentional to make exercise happen.
8. Reading a good book
Currently, the littles and I are working through The Bible Smuggler. Most of our read alouds this year are school books, but that's okay. They're good literature selections about important things. In this case, the story of William Tyndale and how important it was that the English people could read the Bible in their own language.
For my part, I've got three books going currently: How Not to Die, All Creatures Great and Small, and Doctor Thorne. My best way to read is either to be deathly ill or on the treadmill. Since I've been neither, it's been slow going. Once I get back into exercising, my book reading will follow.
At the very minimum I'm keeping up on my Bible reading plan and CBS study. Talk about a good book!
9. Connecting with your kids
I'm finding that sometimes my teens will approach me to talk about things and other times, I just need to give them a venue and draw them out. I'm reminded that the older they get, the more it takes out of me. Yes, really. You'd think that the baby and toddler years were the hardest. And they are — physically. But the teen years take your full emotional and spiritual attention. I don't say that to scare you, but there we are. I'm learning that it's really important to carve out those moments to connect with my bigger kids.
It's hard when life is busy, but it's critical. Most importantly, I've found this year is to be in constant prayer for my kids. The world is a scarier-by-the-day kind of place. I can't be with them, and I can't control how they will be tempted or what they will do. But I know Someone who does. Where I can't connect with my kids, He can.
So, that's my outlook on the week.
How are YOU getting ready for the week ahead?
Originally published July 6, 2014. Updated March 20, 2017.