How We Are Preparing Our Homeschooled Kids for College
As an Amazon Associate I earn from qualifying purchases. For more details, please see our disclosure policy.
As we're starting our 18th year of homeschooling, our children include one college graduate, one college sophomore, two high schoolers, and two middle schoolers, it's time to update this post. Here's what we've done and/or continue to do to prepare our homeschooled kids for college.
FishBoys 16 and 20, 2017
Years ago when my eldest entered ninth grade, I wrote a post about homeschooling for high school. It was really weird to write that since I had no clue what I was doing, even though I had taught public high school once upon a time.
I originally penned this post with one child a junior in college, a second graduating from high school, and another in 10th grade. Today I'm updating it, two years later with one son graduated from college, one in college, a third graduating from high school at the end of this school year, and yet another in 10th grade.
Fun fact: except for the initial three year gap between our first two children, all our kids are two years apart, guaranteeing that we'll have two in high school (and eventually college) at one time for the duration.
My original plans to follow college requirements, get student input, get outside help, expect mistakes, and focus on relationships has proved to be a good one. My sons and I still like each other.
Collectively, they've accomplished some great things these past few years, academically, spiritually, and emotionally. The future looks hopeful, exciting, and scary all at once.
We are currently firmly planted in the high school –> college years. Our eldest has lived at home while attending a local state university and graduated debt-free in four years. He's currently pursuing a developer/tech job in Northern California.
Our second son took dual enrollment courses at the local community college during his senior year before starting at a state university last fall. That proved to make the transition to university fairly smooth, plus he started with a few units under his belt.
We decided to take the same tack with the rest of the kids. Our third son took dual enrollment this summer (between 11th and 12th grades) and will be taking two college classes/semester in his senior year.
So far, the experiment is working! I still have a ton to learn; I anticipate that by the time FishChick9 is in high school, I will have a head of white hair and hopefully much wisdom. One can only hope!
How We Are Preparing Our Homeschooled Kids for College
Here are some of the things that I've done as their teacher or that they've done as students to get better prepared for this next stage of education:
1. Provide college-prep coursework.
I was an AP and Honors student in high school and graduated from the UC system with a B-average. I was a high school teacher before the kids were born. As such, I've had a pretty good idea of the caliber of curriculum I wanted my kids to have.
Loosely following the course line-up described in The Well-Trained Mind, I've been able to provide college-prep coursework for my high schoolers in a home setting.
For their part, my three elder boys have been willing participants, reading difficult texts, taking challenging classes, and exploring topics of interest on their own. It's been fascinating to watch them branch out in nutrition and exercise, emergency services, politics, and music.
They've proven to be responsible, attentive young men who can handle the work.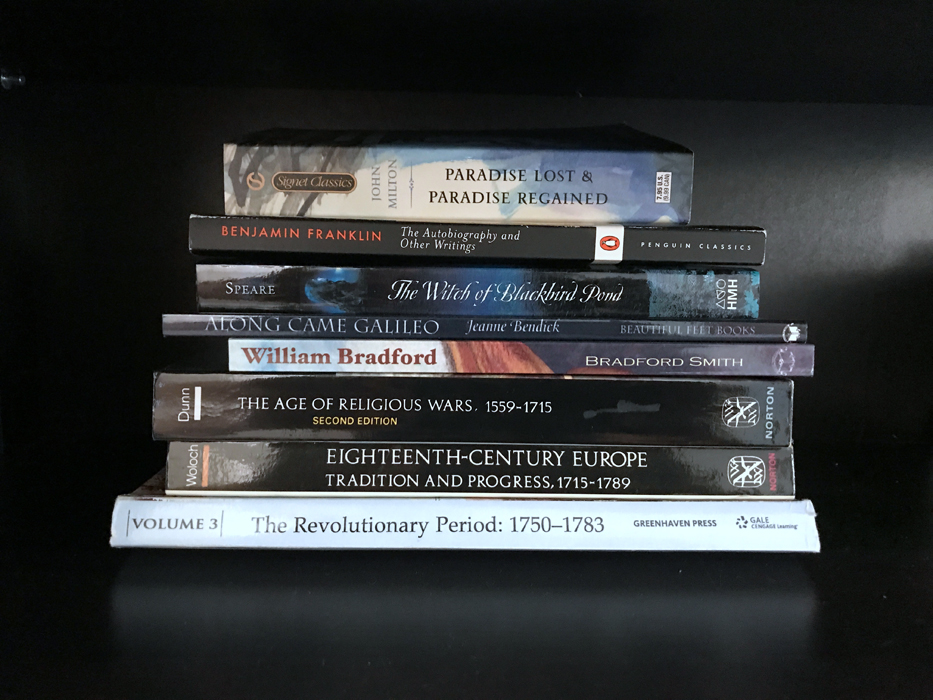 2. Take classes online or away from home.
Funny, once upon a time I thought it was a sign of failure on my part to delegate some of the teaching to other people. I mistakenly worried that I was "less" of a homeschooling mom if I farmed out writing, foreign language, and science.
Turns out it was the best thing I could have done.
We have really benefited from online classes from Visual Latin and Brave Writer as well as Classes by Beth and Classical Learning Resource Center. I love having others pick up my slack, albeit for a fee.
This school year, CLRC is picking up a lot of the slack and I am so appreciative.
Additionally, we have had great women in our community willing to take on the responsibility of lab science. It has been wonderful!
Not only d0 I have more time to devote to subjects where my strengths lie, but my sons get experience dealing with other personalities, meeting deadlines, and reaching the expectations of someone else besides Mom.
In some cases this has proven to be just the thing a kid needed to get with the program.
3. Take standardized tests regularly.
Since the first child learned to read, I've signed my kids up for standardized testing every few years. This gives us documentation of their progress as well as a guide for where we need to fill in the gaps. I tell the kids that it's really a test of my teaching, not necessarily of their learning.
Additionally, regular testing has acquainted them with an institutional test setting that is quite different from taking a test at home.
This year we'll be using an online testing service.
4. Prepare for the SAT.
So far three FishBoys have take the SAT. The first two didn't really want to, but were glad they did it. Each worked through the official SAT-prep book in the months previous.
Our third son embraced the challenge and spent hours in Khan Academy, studying for the test. As expected, he had the best score of the bunch, albeit with a different SAT than his eldest brother. (The test was reformatted during that five years.)
One thing that we learned with my eldest son was to be sure to be on track for math. I messed up his math sequence in his freshman year by changing curriculum and then switching back. This put him behind a year and subsequently not well into Geometry by the time he took the SAT. You need geometry for that test!
Recently, I asked my son what we could have done differently for his high school; math was his answer. He didn't fare as well on the math portion of the test and had to take a placement test for the university.
With my second son I hammered the math progression and that fared him well on the SAT. The next two kids down the line were a little behind in the progression, so we outsourced math a few years ago in order to get them up to speed. Thanks to CLRC they are right on track now.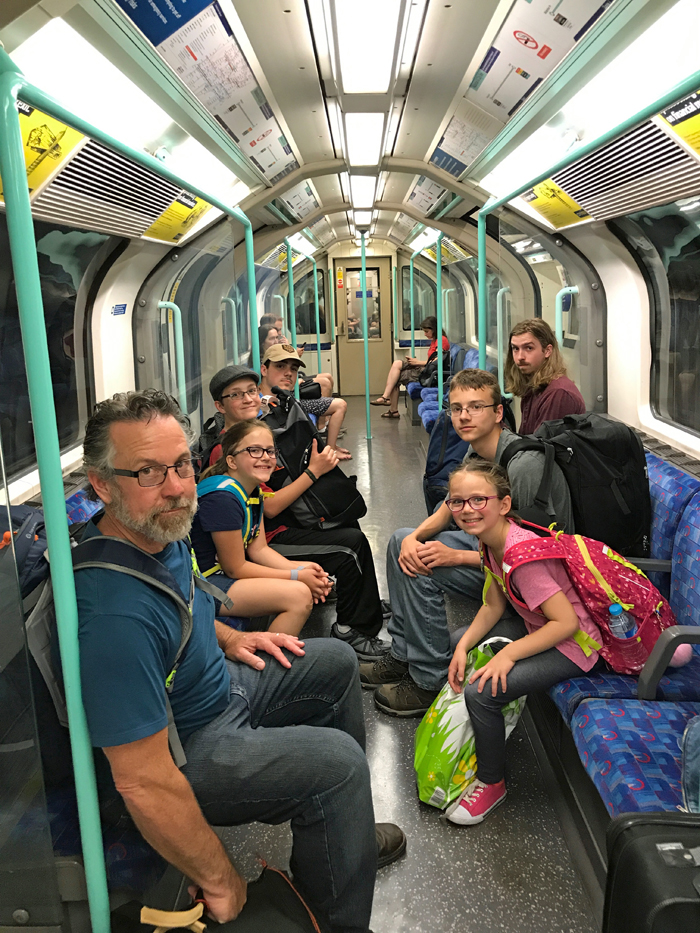 5. Get practice on public transportation.
Since we don't have three cars, our college kids either carpool with my husband (who works at the university) at the crack of dawn or take the light rail train to their classes.
Traveling around Paris and London has helped all my kids be better able to travel via public transportation. Better to do this now when there's no pressure than on the first day of classes when being late might be stressful.
I've also had the new kid on the block do a few trial runs before the first day of class to make sure his comfort level was on point.
6. Prepare the transcript as you go along.
It really helps if you start building the transcript as you finish each year. I followed the transcript-writing tips from HSLDA. It is super helpful to have this done before filling out college applications.
With our last high school graduate I purchased a lifetime membership to Fast Transcripts. This provides an electronic delivery of transcripts, something some colleges now require.
7. Take an application essay-writing class.
Brave Writer offers a college application essay-writing class each fall. Despite his hesitation, I signed my eldest up for the class. We are both thrilled that I did. The essay he wrote? Floored me. It took a simple, everyday topic and elevated it to something truly insightful and profound.
Having that essay already produced made the college application process super easy. All my other kids are or will be taking a similar class from now on.
Pro-tip: Take our advice and don't wait until the day before Thanksgiving weekend when the app is due on Sunday to start. We had questions that couldn't be answered until after the deadline.
Update 2019: the CSU system, our default college for our kids, does not require an essay, so we have not had sons 3 and 4 take this class.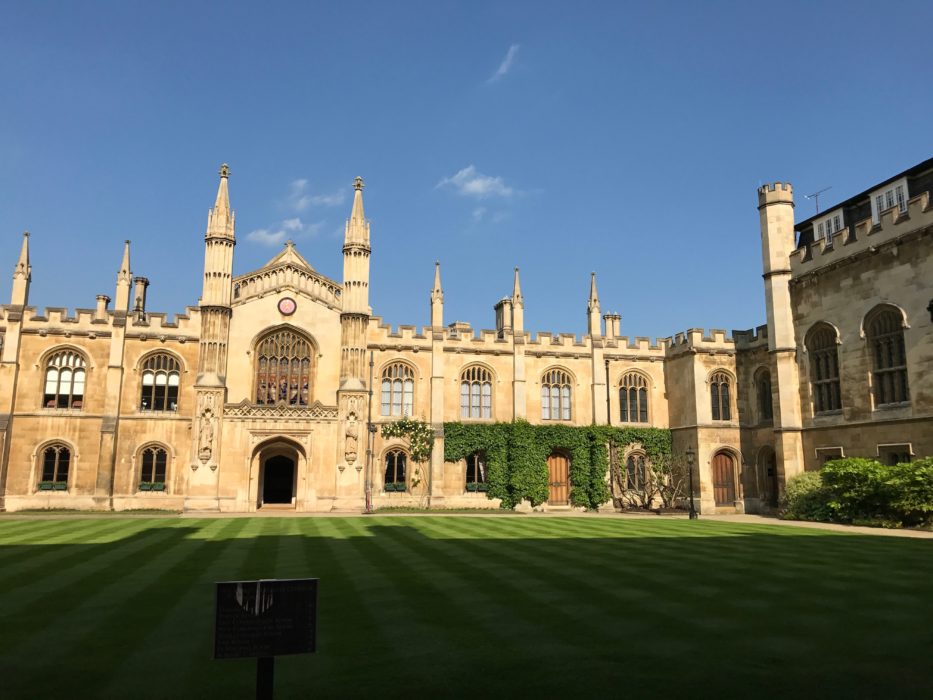 Cambridge, UK
8. Visit prospective colleges.
Several years ago we as a family visited my alma mater, UCSB. Prior to applying for college, my eldest took a tour of the local university. Walking around the campuses really helped him make the leap in his mind about college.
And yes, even walking around colleges overseas counts as envisioning kids for the future.
9. Take dual enrollment classes at the community college.
Now that two sons have taken classes at the community college, I am convinced of the benefits. Not only is it much cheaper than online classes, but it's giving my kids a real taste of what college is like.
Trust me when I say the trigonometry instructor is a ball-breaker and I don't envy my son the experience. We learned early on to keep track of drop dates or "last chance to audit" dates so that we could make adjustments for a student who wasn't quite ready for the rigor of a college course.
At the end of this summer semester, son #3 commented that he felt like a different person.
That said, it's a great trial by fire with a little less pressure.
10. Keep track of passwords and deadlines.
A reader mentioned this tip late years ago and I didn't know what she was talking about. Once I saw HOW MANY ACCOUNTS you need to open with different government entities to apply for the various financial aid programs, I understood what she meant. Heavens!
Make sure you keep track of all those passwords!
11. Equip them to live on their own.
For financial reasons, my college kid(s) thus far, are living at home. This might not be the case for future Fish College Kids. Regardless of their leaving the nest at 18 or 22 — because YES, they will leave the nest — I want to make sure that they can manage the basics of a household on their own: laundry, food preparation, and general housecleaning.
I also consider said household contributions to be part of the rent if they are, indeed, living at home. Ha!
For this reason, the kids do their own laundry, have regular chores, and participate in meal prep.
Can I tell you how awesome it is when your 20yo offers to make you a homemade ham and gruyere crepe? Like you have arrived, my friend!
12. Focus on relationships.
Obviously, the bulk of my list is focused on tangible and/or academic things. That's obviously not the whole enchilada. To prepare an individual for college is to prepare him for the meeting place of ideas of all kinds. Including those that go contrary to everything you've ever taught him.
What about when he encounters prejudice or bullying on the college level? What about facing professors who totally don't jibe with what he knows about morals and ethics? What about all those scary things that I've shielded him from these past 18 years?
I have no idea.
Well, my eldest son assured me he wasn't as ignorant as I think. That is probably true. I also know that I was one of the ditziest, book-smart 18-year olds alive in 1990. God's grace was big enough to shield me from some bad mistakes as well as save me unto Himself. I have to trust that God's plan for my son is bigger and better than my own.
I can only hope and pray that our relationship is one in which he can come to me when he's confused or needs help working through issues. I can only hope that my opinion is one he deems worth hearing.
I've heard the hardest parenting years are yet to come; the years between 18 and 24 are the most shaping of our lives and have huge ramifications for life.
I know this from experience. In those years of my life, I traveled to France alone, got married, earned a master's degree, started a career, and became pregnant with my first child. Those were HUGE decisions of which my parents had very little choice in the matter.
I've told my sons this analogy:
Your life is a bus. For a long time, we've been driving the bus and loading it with the things we think you need. Right now, we're changing seats. We'll still be right behind you. We want to be on your bus forever. We might give you advice where to turn or where to stop, but you get to drive. We hope that you won't kick us off the bus.
And that, my friends, is part of this journey called parenting.
Clearly, I am not a seasoned expert at sending a child to college. So, I'd love to hear what more experienced moms have to say about it.
How have YOU prepared your child for college?