Can You Do Legoland California on a Budget?
As an Amazon Associate I earn from qualifying purchases. For more details, please see our disclosure policy.
Want to visit Legoland in San Diego? Not wanting to spend a lot of money? I get you! Traveling to California can cost a pretty penny, so one would assume that Legoland would also be pretty pricey. Can you do it on a budget?
Thankfully, there are ways that you can save. Check out these tried and true tips for enjoying Legoland on a budget, from tickets to food to accommodations. Legoland California is one of those fun places to go with kids; let's make the most of it!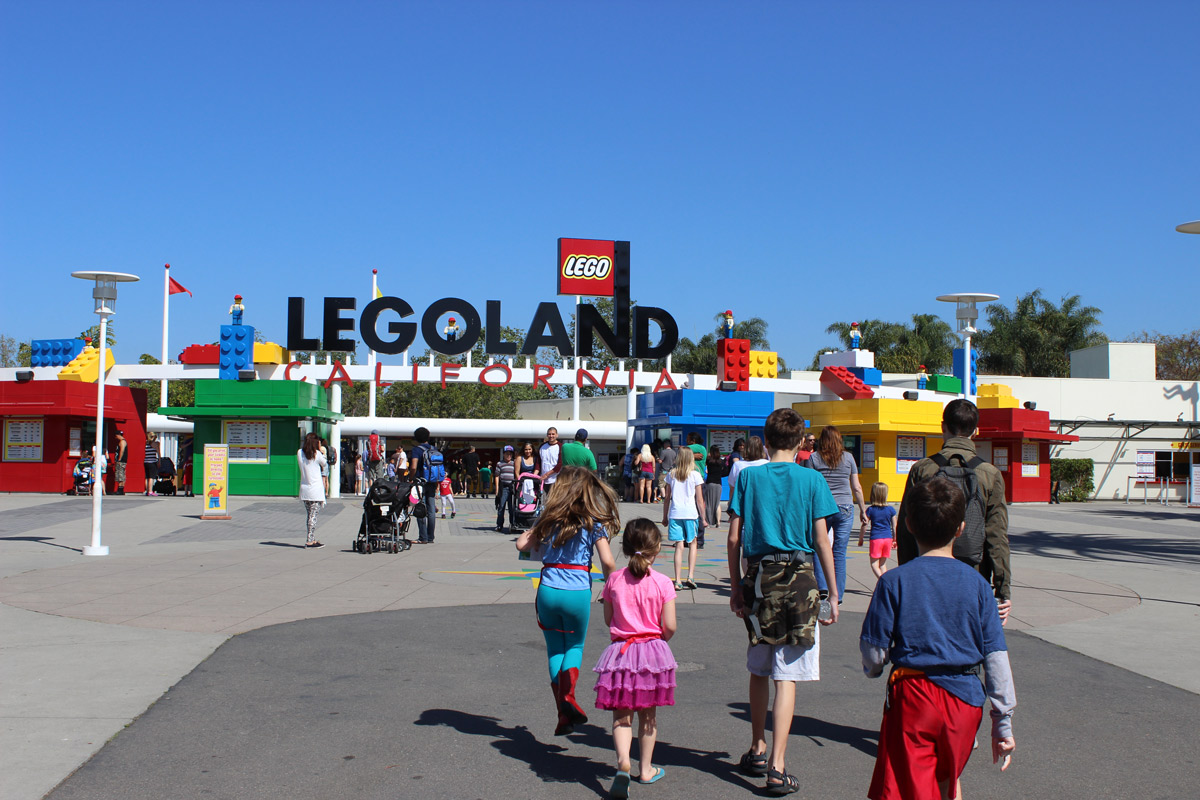 I once asked my kids which they liked better: Disneyland or Legoland? I was stunned when most of them — except the child who wanted to get on Mama's good side — said Legoland. They said that it is more relaxed and, therefore, more fun to go to it.
I have a couple theories as to why this is, but mainly I think it's because their mama is a Disneymaniac and it's go-go-go from the time we arrive to the minute we leave because I love it so much.
The irony is not lost on me that my Disneymania may be one of the reasons why they prefer Legoland!
Admittedly, I am more relaxed at Legoland for many reasons, one of them being that Legoland California is easier to do on a budget thing than Disneyland. Yes, really. Though the regular ticket prices at both parks are sky high, it's easier for me to make the day great without spending a ton of money.
Please remember that your mileage may vary. Promotions change from season to season, as do park practices. Verify all links and deals for Legoland cheap tickets before you go.
Save on Legoland tickets.
There are a number of ways to save on Legoland tickets. It's generally cheaper to buy your tickets online, however this varies with the day and season. Legoland offers a variety of packages for their different parks (Legoland, SeaLife, and the Water Park) as well as "come back again" pricing from time to time.
Currently advance reservations/dated tickets are required.
Online pricing starts at $94.99 for those 13 and over; $89.99 for children. This is subject to change without notice and varies from day to day. Notice the "starts at".
In order to keep your adventure at Legoland on a budget, it's in your best interests to find tickets at a discount.
Here are some of the discounts available:
San Diego CityPass
A CityPass is like buying a multipack of attraction tickets. While Legoland is located in North San Diego County, about an hour's drive from the city, you may want to visit other San Diego attractions which will make a San Diego CityPass worth it.
The passes come in different combinations, allowing you a range of choices, including Sea World, San Diego Zoo/Safari Park, USS Midway Museum, City Cruises, Old Town Trolley Tours, Birch Aquarium at Scripps, and Maritime Museum of San Diego.
Costco Passes
This probably isn't a nationwide deal, but San Diego area Costcos sell Legoland hopper passes for a discounted rate. I know because I saw them in the Vista Costco in July.
If you're coming in from elsewhere, never fear, there is a Costco located just around the corner from the Legoland California park as well as two other Costcos within 20 miles.
If you haven't purchased tickets online, hit up Costco and see what the deal is.
As of July 2022, a 2-Day Park Hopper ticket was available for $119.99 at Costco.
Hotel packages
A number of hotels offer accommodation + park ticket packages. Since Legoland now maintains its own hotel properties, the Legoland website no longer lists local options, but does provide booking for vacation packages at its own hotel properties.
Educational Visits and Homeschool Days
Previously (in the Before Times) Legoland California extended discounts to schools and homeschools for STEAM field trips and educational visits. This doesn't appear to be a current offering, though that may change as the pandemic issues subside.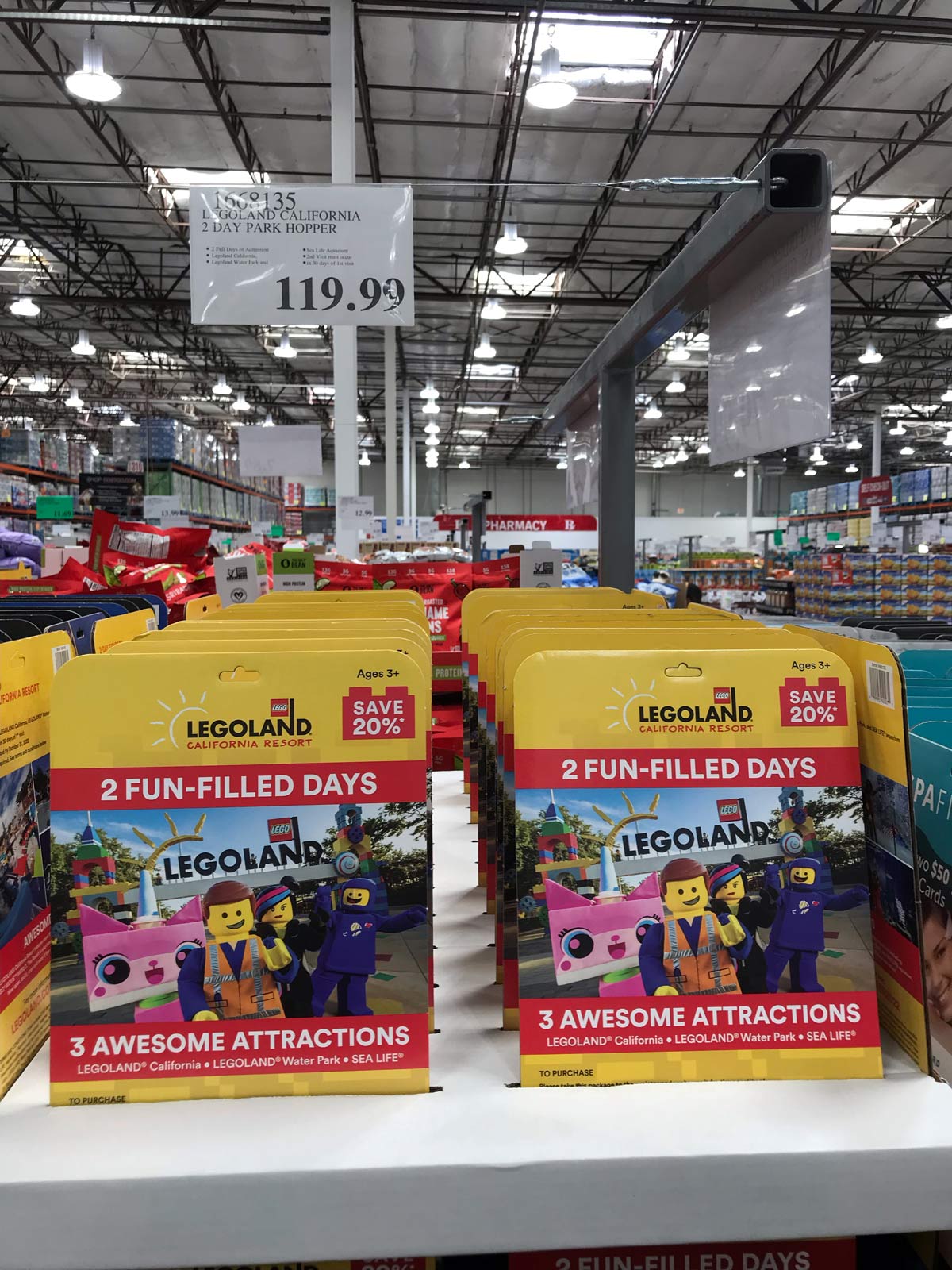 Military Discounts
Discounted pricing is available to US Military, Veterans, and their families.
Membership
Legoland annual passes range over three levels from $179 to $299. The upper level passes (gold, platinum, and premium) get you into all three areas of the park (regular park, water park, and aquarium) with free parking as well as discounts on accommodations, food, gift shop purchases and special events.
If you live nearby and want to go often, then it's worth your while.
Note: membership is for the California location only.
Save on snacks and meals at Legoland.
Okay, so you got in. I bet you someone will be hungry within 20 minutes. Food is not cheap in the park! Oh my!
While we do not typically buy meals inside the park, there have been occasions when we needed to. Kids meals (either a burger or sandwich plus chips, treat and soda) are $8 to $10. Adult meals start a few bucks higher.
That said, years ago we had gift cards for the Aquarium cafe. The food was quite good, especially for theme park dining! FishBoy13 loved his Castle Burger, and I must say the ice cream shop was primo.
While food in the park is pricey, it's better quality than typical canteen food.
However, I recommend that you pack a picnic lunch or send a parent to the nearby Costco for pizzas. Costco is literally a short walk from the park with an outdoor food court. I'm not sure if they require you to have a membership to buy food outdoors.
Usually I pack sandwiches, chips, and drinks and keep those in a cooler in the car. There are several shaded, grassy lawns outside the entrance to the park where we sit and picnic. This is what we did last week. It's a nice, quiet break from the sunny walkways inside Legoland.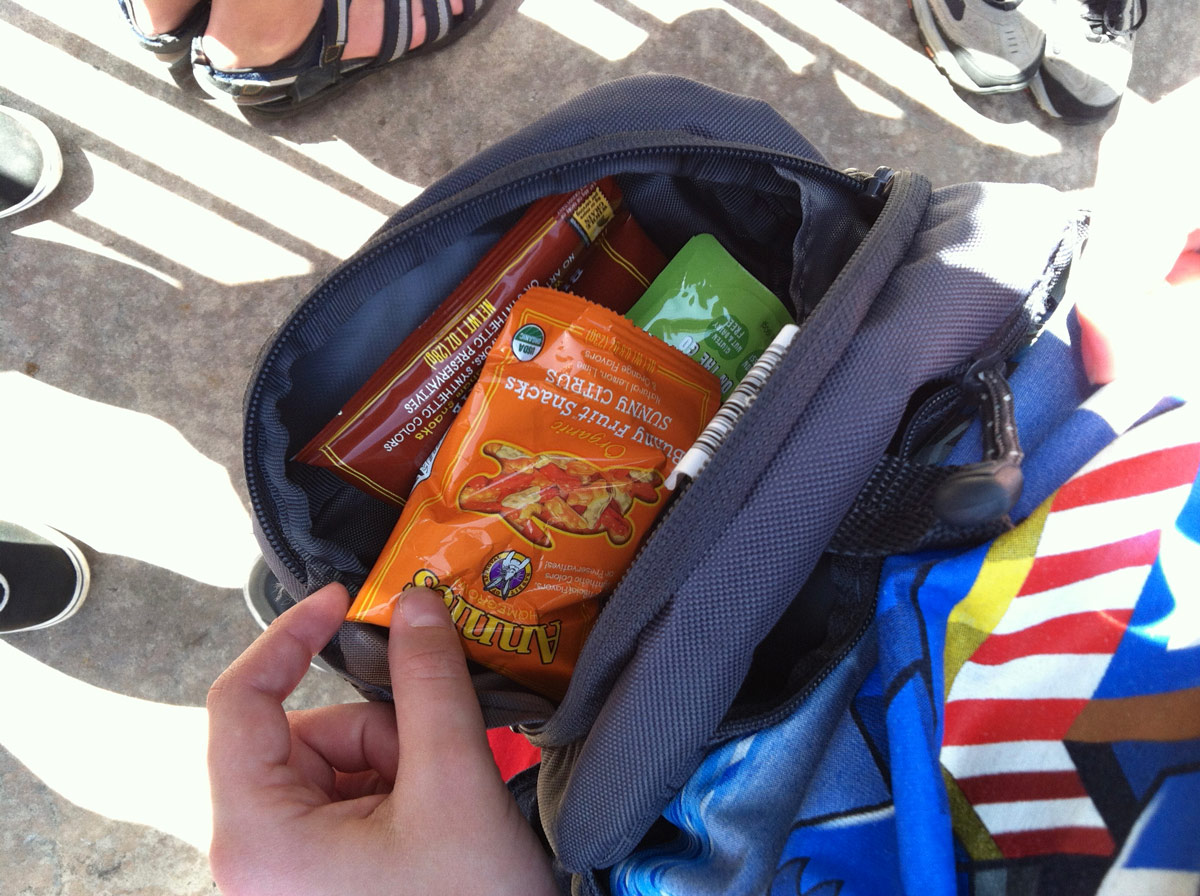 Inside the park my kids wear fanny packs (yes, really!) equipped with all the snacks they want. I stock up on treats like gummies, applesauce pouches, and bunny crackers. The kids fill their packs, and they can have what they want when they want it.
Without bugging me for food. (And yes, small snacks are permitted inside the park. Learn more about their bag check policy here.)
This idea is thanks to the wonderful Unofficial Guide to Disneyland that I bought years ago based on reader suggestions. Trust me, that book will pay for itself.
I bought these fanny packs for the smaller kids and some like these fanny packs for the bigger kids years ago. They've been super useful for years and have more than paid for themselves.
We actually have a range of quirky, but effective practices for making amusement parks safe, cheap, and more fun for our kids. Check out my Amusement Park Survival Guide if you haven't already.
I do think that it's part of the memory-making to splurge on some fun food at amusement parks. If I were at Magic Mountain (where I worked as a teen), it would be the waffle cone or the big soft pretzels. At Disneyland: the beignets or the frozen lemonade.
At Legoland the apple fries are a must-do. Their churros with chocolate are amazingly good as well!
Save on photos at Legoland.
Personally, I steer clear of the peeps with the cameras at amusement parks. I'll just take my own pictures, thank you.
But, my friend Sharon, a professional photographer, buys the photo pass every year. She gets unlimited digital images of the kids on rides, at the entrance, with the Lego people, etc. It's a GREAT value, she says.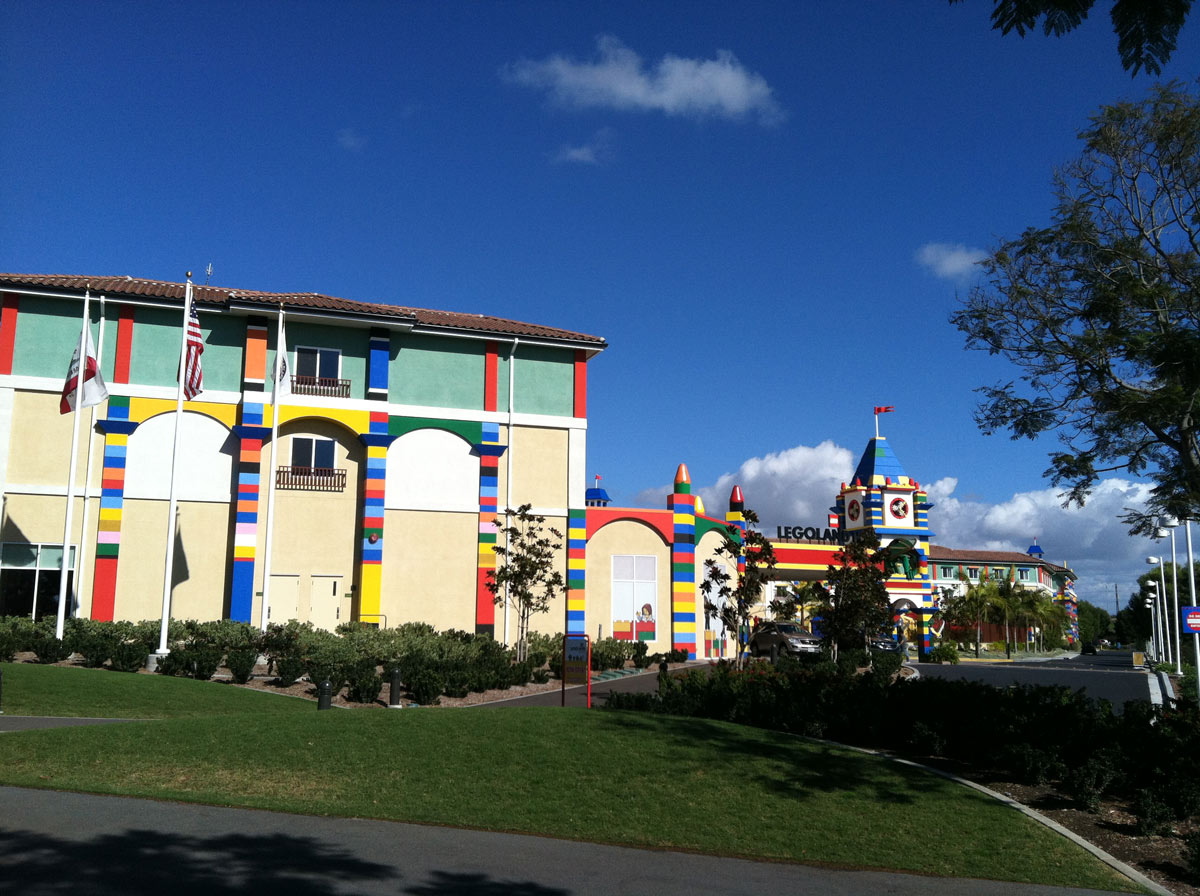 Save on accommodations near Legoland.
We live about a 20-minute drive from Legoland, so it's not necessary for our family to have accommodations, though I would really like to stay at one of the Legoland Hotels sometime.
On one occasion our family had the chance to stay at the Grand Pacific Palisades across the street from Legoland. It's a time-share type resort, but non-owners can still find accommodations there. My brother and his family often stay at Las Brisas on the other side of the park.
Both resorts have plenty to do without even going to the theme park. They have a number of special packages to offer reduced rates depending on the length of your stay or what you want to do in the area.
Since all rooms have kitchens, you can save money on food costs. This is why we usually rent a condo on vacation; we save so much on feeding this crew!
There are a number of local hotels that have partnered with Legoland who offer reduced rates. My friend Christie stayed at the Carlsbad by the Sea Hotel and had this to say:
Carlsbad by the Sea hotel was good!! Much cheaper than the ones on the hill, free hot breakfast, free parking, free shuttle to the gate and directly across the street from the Outlets. It was only 15 minutes to walk there, which we did, but it wasn't the easiest of walks with two little ones.
It's also a good idea to keep an eye on Groupon deals. I've seen package deals that include hotel and park ticket packages as well as hotel only discounts.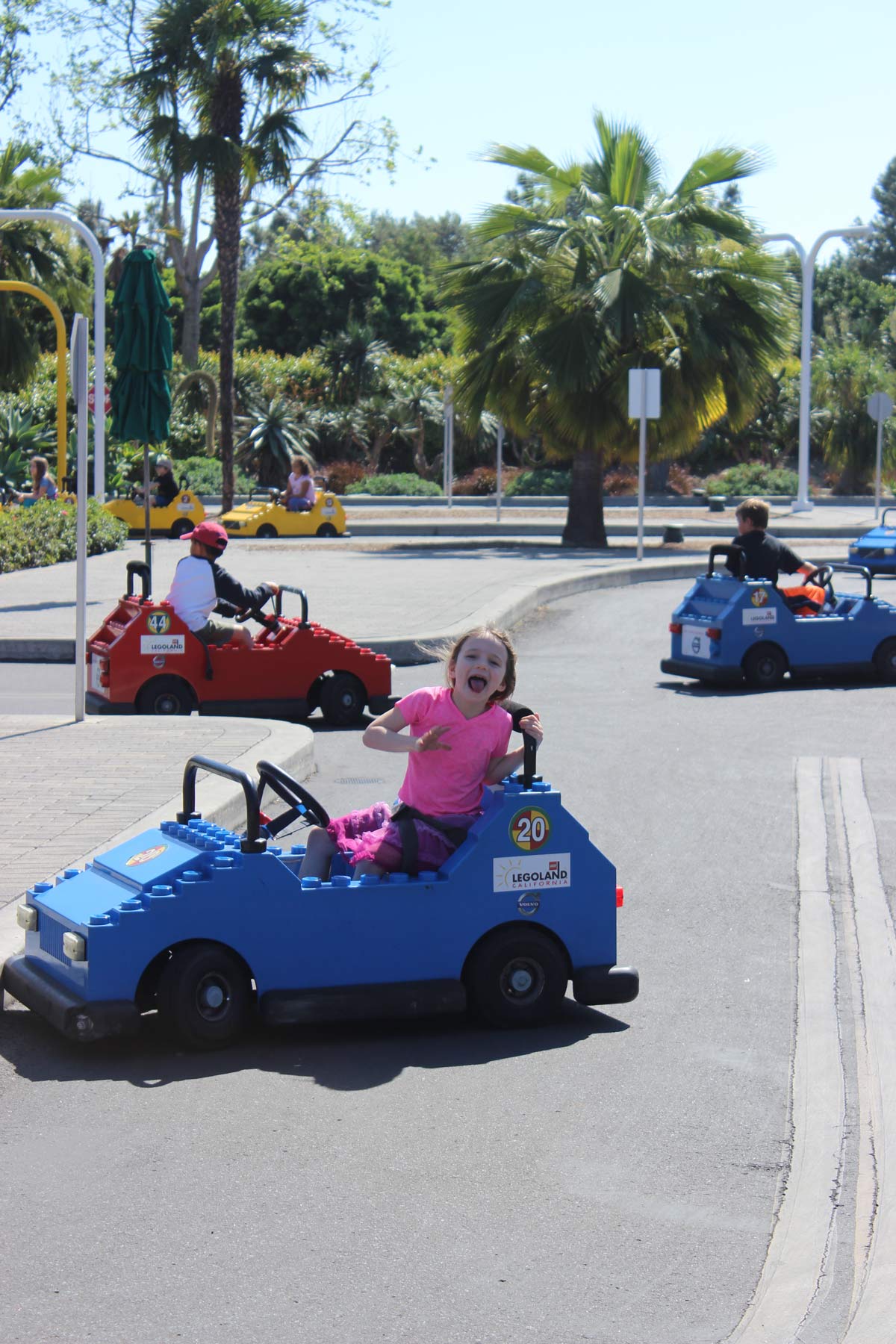 Make the most of your day at the park.
Part of getting a good deal on something is getting out of it all that you hope and imagine. So, even if you don't get cheap tickets, you can "get your money's worth" by enjoying Legoland California to the fullest.
Here's how:
Go early.
At Legoland California Resort, the hours are staggered for the three parks. Current summer hours are as follows:
Legoland – open 10 to 8
Water Park – open 10:30 to 6
Sea Life – open 10:30 to 8:30
Once school starts, the resort operates on reduced hours.
Legoland California is not very big but the wait times can be long, even when it's not crowded. Do not expect the high tech speed of a Disney park. We rarely go on many rides in one day, but again, Legoland is very relaxed, especially if you go in the off-season during the week.
For better or for worse, this is not Disneyland.
You can upgrade your ticket to the new Reserve 'N' Ride Electronic Ride Reservation System.
Additionally, you can also download their mobile app to get news, deals, and updates during your visit. This allows you access to current wait time so you can better plan your day.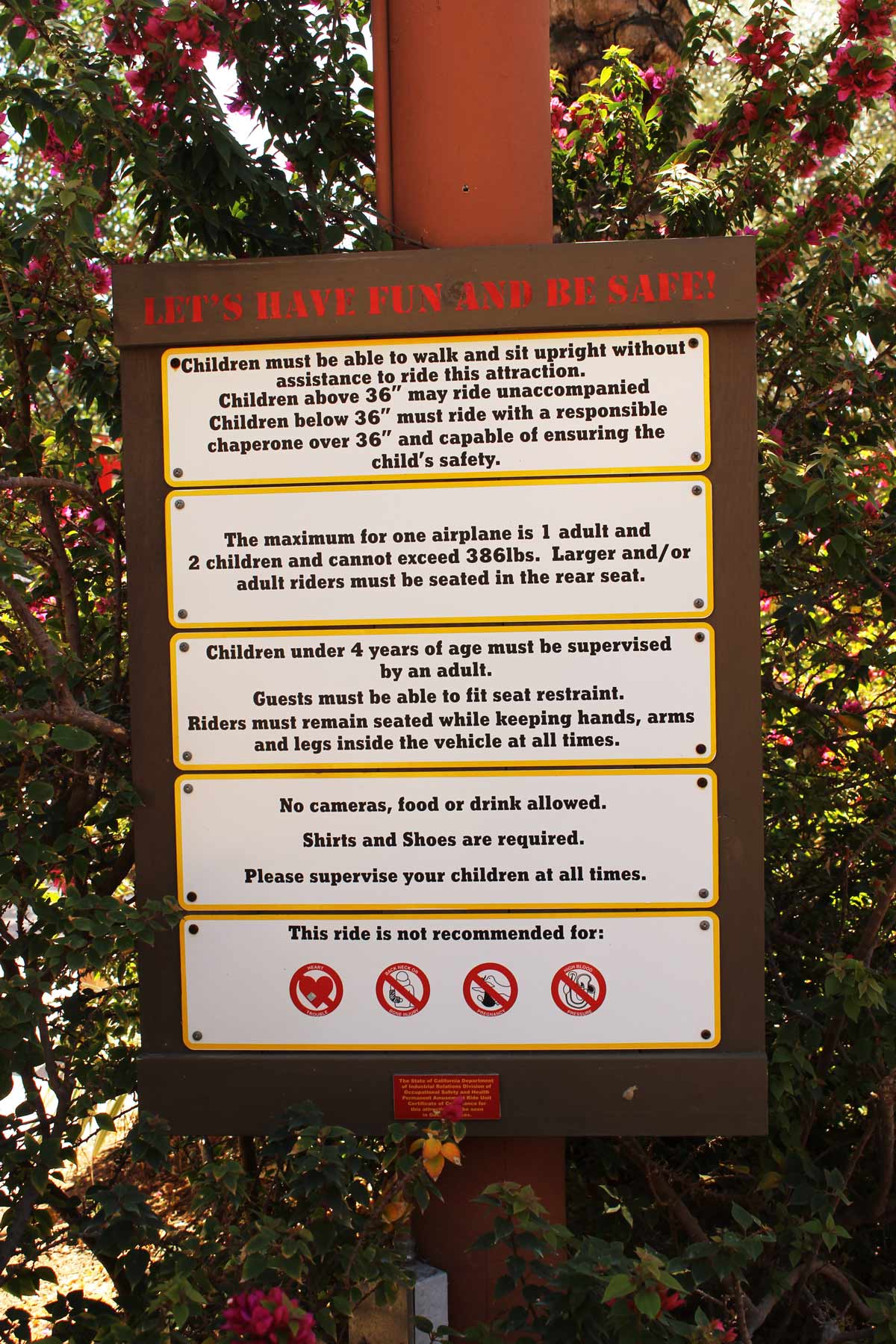 Be aware of ride restrictions.
Legoland is rife with ride restrictions. You can't take belonging on some rides. You can't take small children on others. There are height as well as age requirements on the rides.
All these things slow down the ride — they interrogate children as to their ages — and make it difficult for families with many small children to go on rides.
Many times one adult is required for each child under a certain height. Oy!
Extra reading: Legoland with a Two-Year Old. God bless you.
Ride your favorites first.
Moving from ride to ride is pretty slow going, so make sure you hit your favorites first. My kids love to be able to drive. They all love the Beetle Bounce. The boys particularly love the Project X roller coaster.
If your kids have some high-priority rides, go on those first. You don't know what the day holds, so be sure to hit the important things.
Avoid the high ticket items you can do elsewhere.
There are many things to do at Legoland that you can do elsewhere, like carnival games, mini golf, and a climbing wall. Not only do these things cost extra, but they are attractions that you can do somewhere else, most likely for cheaper.
Unless it's really an important part of the outing, I'd save those for when you've done all the free things or for another time.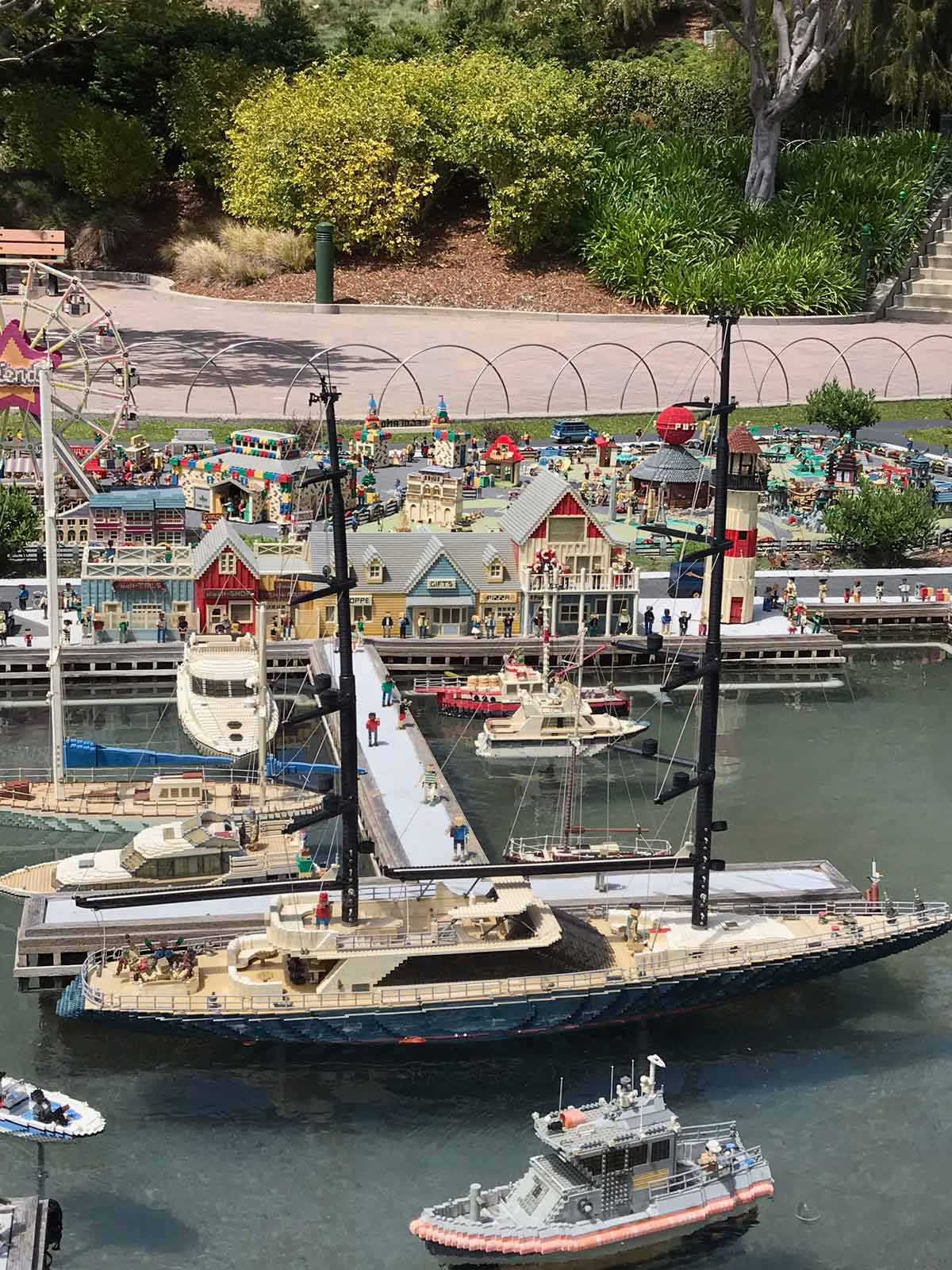 Enjoy the quiet spaces.
There are lots of restful places throughout Legoland. That is one of its beauties. While it doesn't have the energy of Disneyland, it doesn't have much frenzied chaos, either.
Unless you go during Brick-or-Treat. God bless you.
Our kids have always loved playing in the Knight's Kingdom Playground, a quiet, shaded spot at the north of the park.
The Miniland is another fun space to walk through, particularly for Lego Maniacs of all ages. Seriously, grown men geek out in here.
Legoland really is a quaint amusement park. In my experience it's vastly different from its Anaheim cousin, Disneyland. However, if you plan well, you can have a great day and not go into hock.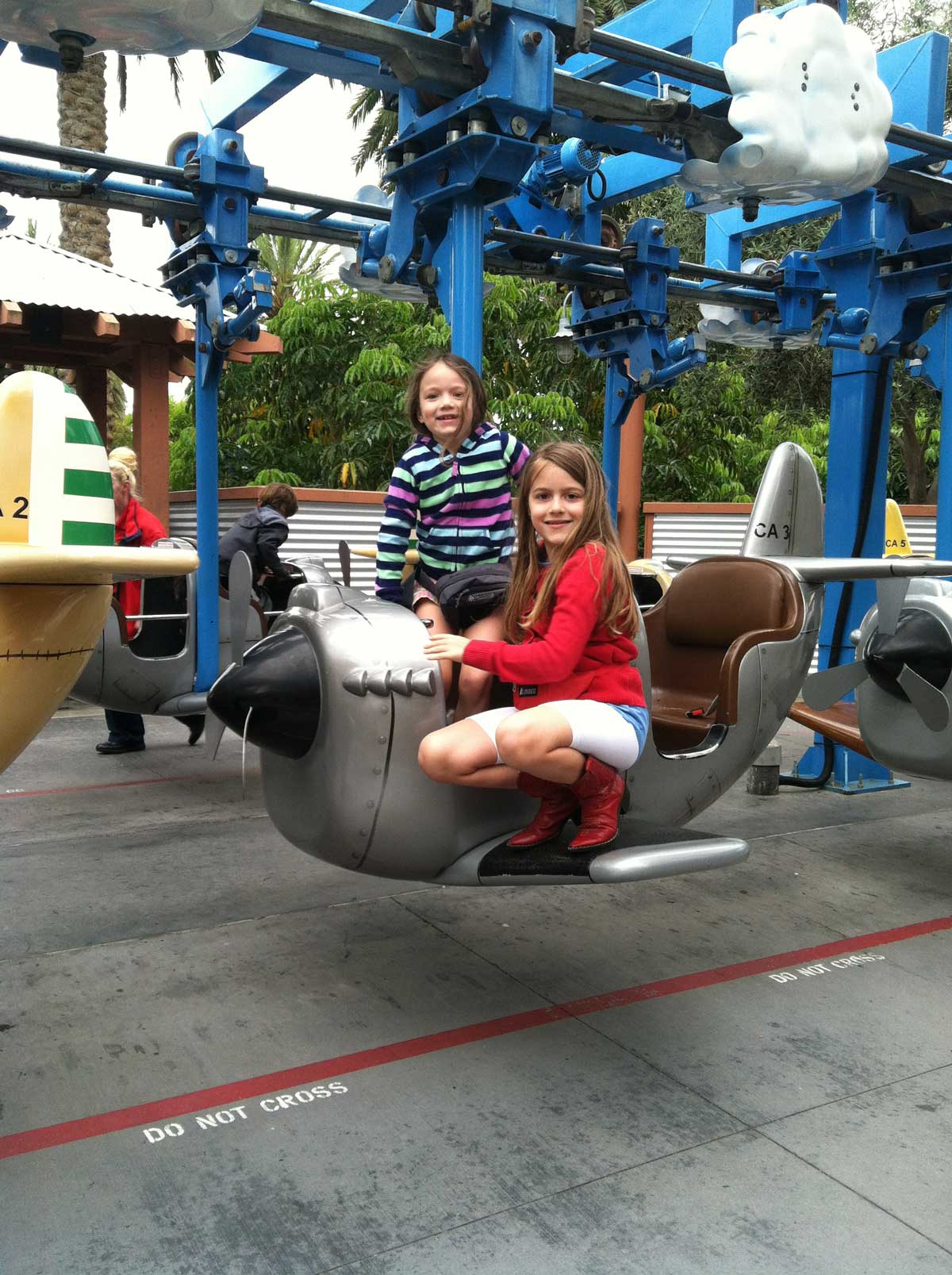 More Amusement Park Tips
This post was originally published on March 26, 2015. It has been updated for content and clarity.