Time Management Without a Schedule
As an Amazon Associate I earn from qualifying purchases. For more details, please see our disclosure policy.
photo source
Remember the love-hate relationship I have with schedules? Well, a few months ago I gave it a go. I really did. I wrote up a schedule and I ran it through the paces.
And ya know what? It really didn't support what the players on my team were doing. It wasn't good for morale. It really rankled the coach. So, I cut it from the team.
Yes, yes, I did.
But, am I throwing all caution to the wind? Have I thrown in the proverbial towel? Have I given up in the last quarter of the game? No, no, I haven't. But, I've found a way to manage my time without an hour-by-hour schedule.
And it. is. amazing.
Time is Our Currency
Years ago, this song by Chris Rice was on my regular playlist. And even then, I wondered how to budget my time. We're given 24 hours. How do we spend them? At the time, I was really struggling.
I remember that season of having moved cross country, selling a house, and knowing no one in a new town. I remember having a newborn. I remember having six children under twelve.
But, I really don't remember much else. It's all a blur. And, it has been really, really hard to get back on my game.
Yet I know the days are fleeting. My eldest child is going to be 14 in a few months. Surely, he was just a newborn. I don't want to miss out on these days.
One help has been to put my household notebook in order. Every six months or so I need to give it a makeover, but a household notebook and planning pages help me keep things in order.
Another thing to help me manage life better has been to investigate other methods of time management. I've consulted with friends, read helpful posts, and examined books on the topic.
Between things that I've learned from my friend Crystal and what I gleaned from the ebook, Tell Your Time by Amy Lynn Andrews, I've put together a little system that I is helping me.
Budgeting My Time
Following Amy and Crystal's lead, I made a list of all the regular things I do in a day:
Sleeping
Bible Reading/Journaling/Praying
Reading
Exercising
Shower/Dressing
Laundry
Schooling
Coupons/Meal Planning/Shopping
Writing/Blogging
Meal Prep/Meals
Housekeeping
Margin (Crystal had to remind me on that one)
Then I alloted each of those activities a time limit or allowance. The numbers had to total 24 hours, no more and no less.
And quite honestly, it took me awhile to learn this. I read Amy's book. I read Crystal's series on Time Management. It wasn't until Crystal and I were on the phone talking about it that it finally sunk in. That's when she reminded me that it all needed to add up to 24 and that there needed to be margin for error/emergencies/whatever. Apparently, I really was trying to accomplish more than 24 hours of stuff everyday.
Yes, I'm a little slow.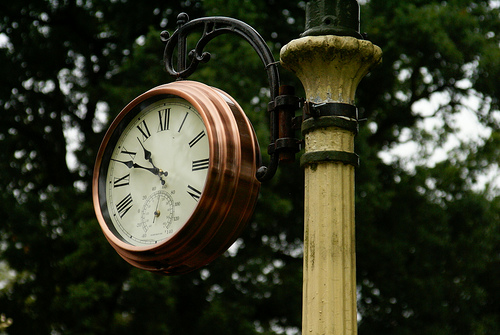 Having an allowance
I tend to be an "all or nothing" kind of person. I want to finish all the laundry. I want to give the kitchen a thorough scrubbing. I want to answer every email.
But, if I did that, nothing else would get done in a day. So, by limiting myself to 30 minutes of laundry each day, I am able to work on the task and feel like I can mark it off my list, even if I haven't matched every sock. I'm doing the laundry. I'm just not doing all the laundry.
This allowance of time helps keep me efficient and moving from one task to the next.
Not only that, but I feel the freedom to spend time on things I wouldn't normally think I had time for. For instance, I gave myself 30 minutes for shower and dressing. Each morning I set the timer on my phone for 30 minutes. If I'm showered and dressed, but the timer hasn't rung yet, then I have time to do "extras" like give myself a facial, paint my toes, or put on lotion — things that I usually neglect.
Since I've given myself this "allowance," I'm feeling more "put together" and practices that I had relegated to the "pre-children years" are happening again.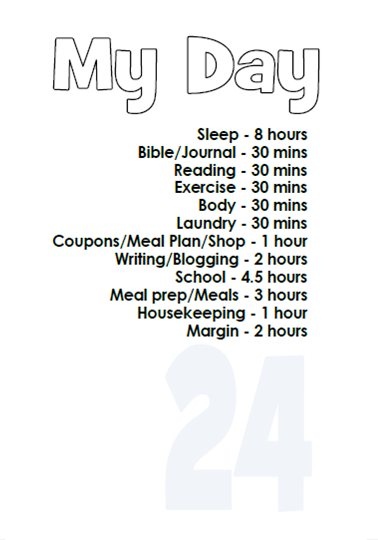 But, I don't have a "schedule."
The one thing that I'm not doing is assigning times of the day to when these things should happen. I'm not even creating a sequence of when these tasks should be done. No schedules, no "routine." THAT makes me always feel behind.
I realized in all this time management study that if the important things are getting done, then it doesn't really matter when they happen or in what order.
This has been so freeing to me.
Remembering to DO it
Now the trick to any kind of budget, whether it is time or money, is to actually follow it. And I confess, since I am slow and easily distracted, some days I forget my time budget exists. But, there are increasingly more days when I remember. And I'm trying really hard to remind myself.
I even went so far as to print it all out on a card so that I could remember what I needed to be doing throughout the day. It's a condensed version of my daily to-do list. And I carry it around with me. It's small enough to fit in my pocket so I have no excuse for not consulting it.
Yes, I am slow and easily distracted. But, this helps me.
Living without a "schedule" but still being productive and responsible in my home is a great feeling. I haven't "arrived," but I feel like I'm on the right path.
What method works best for YOU?