DIY on a Dime: Origami Fish Valentine Card with FREE Printable
As an Amazon Associate I earn from qualifying purchases. For more details, please see our disclosure policy.
Origami, an ancient paper craft, is a fun way to add interest to this year's Valentine's cards. Fold a school of fish to adhere to these free printable cards.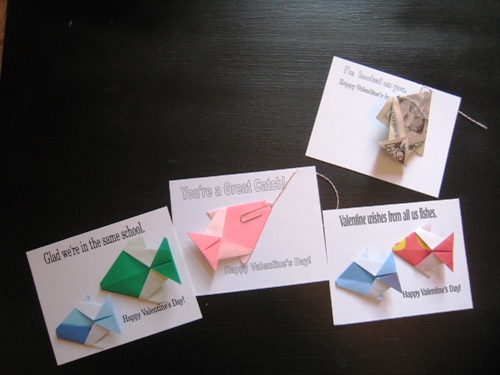 Since the day after New Year's, the store shelves have been stocked with all kinds of pink and red. Valentine's Day is on its way. And while a cheapo box of Valentine Cards is certainly easy to give out to your child's classmates, the price is rarely cheap.
If interest, time, and budget allow, consider folding a school of origami fish to adhere to the Valentines you give out this year. It's easier to do than you think.
I found the process to be quite therapeutic and my six year old daughter was able to fold fish right alongside me. This is a fabulous craft to do with your kids!
You'll need the following supplies:
origami paper (I used both 4″ and 6″ squares, cut in half)
cardstock
glue stick
string or baker's twine
paper clips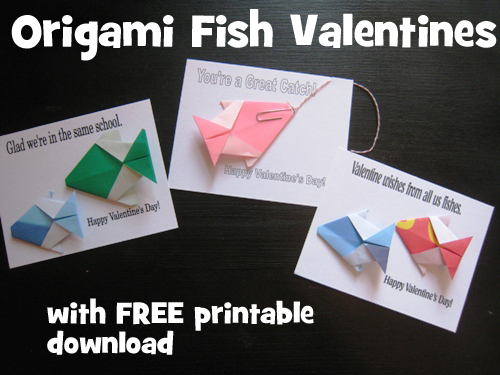 How to assemble Origami Fish Valentine's Cards:
Watch this video on how to fold an origami angel fish. I am not affiliated with that youtube channel in anyway, so use caution while clicking.
Fold your fish according to the directions in the video. You will need to cut the origami paper into rectangles to mimic dollar bills. Or you can fold dollar bills. (Scroll down for the back story on that.)
Download and print out your cards. Cut in fourths.
Adhere the origami fish however you like. You can glue them onto the cards with glue stick or tie string around a paperclip. Clip the paperclip to the fish. Cut a slit in the card to wrap the string through.
Be sure to sign the cards and/or write a message on the back.
These cards will fit standard invitation envelopes.
Dollar Bill Origami Fish Alternative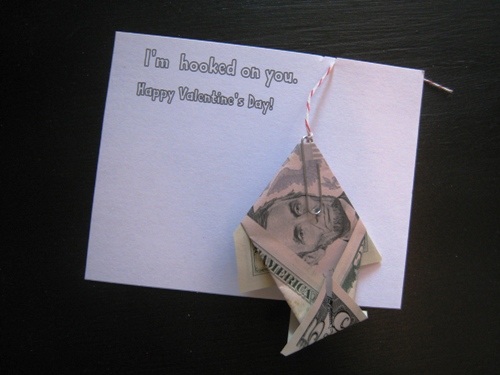 At Christmas time, The Great Aunt Cass sent the FishFam a collection of fish made from dollar bills. She has a marvelous way of making a money gift fun and interesting, doesn't she?
While you may not want to give greenbacks to all your children's classmates, it's a great gift idea for a close friend, child, grandchild, niece, or nephew. What a fun way to gift money!

DIY on a Dime
This is part of the DIY on a Dime: Valentine's Day. For more easy and frugal gift ideas, check out the list.