Saving Money on Vacation Eating
As an Amazon Associate I earn from qualifying purchases. For more details, please see our disclosure policy.
Spring Break dining doesn't need to be expensive. There are plenty of ways to eat well without breaking the bank.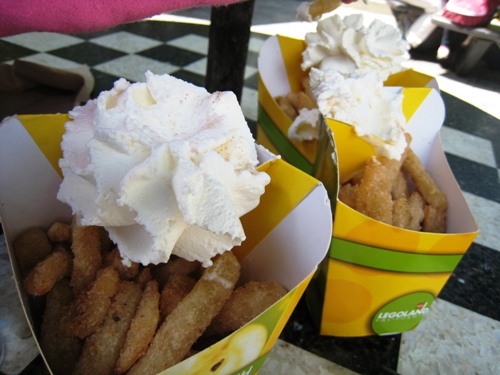 I didn't really plan a Spring break. I was going to skip it actually. I know that random stuff can happen at any moment that could throw our schedule off, so I didn't have a plan.
As it turns out hubby is taking an extra long weekend with some vacation days and a state holiday. We also have a field trip on Monday, so voila! Instant Spring Break!
Obviously, ours is of the staycation variety, but nonetheless, we're taking a break. And it's needed.
On the eve of Papa's first day home, our seven-year old said, "If Papa's not going back to work until next week, we should be eating at restaurants!"
Ha! The kid knows how we operate, doesn't he? I must confess, I just haven't been able to keep up with the cooking load lately. I was wondering if it was legal to sneak in a freezer cooking session during vacation. Whaddya think?
Regardless, we're taking a few days off the norm, hoping to go kite flying and ice skating. My parents are also coming down for a few days, so there's plenty of fun to be had.
Here are some of the ways that I'm hoping we can save some money and still enjoy this break from the norm.
1. Eat FUN food at home.
The restaurant idea is quite tempting, and I'm sure we'll be doing that throughout the weekend. But, it's more fun to eat at home if there's some fun food. I'm looking at cheeses and breads, yummy salads, homebaked cookies, and maybe some steaks on sale.
Even if I spend a little extra on groceries, that is still a savings compared to dining out and makes a staycation more fun. Even if your spring break takes you elsewhere, buying or packing portable "fun food" is a great way to save money on good eating.
2. Use coupons or other restaurant deals.
We have some BOGO coupons for kids meals at a local Chinese restaurant that expire this weekend. Now is a great time to use them! Also, another local restaurant is offering free breakfast sandwiches on Friday morning. Fun food without paying full pop – Yeah!
I don't have the best luck with Groupon. Although we have discovered two local joints that we really like thanks to Groupon purchases, many of the other purchases have expired before we were able to use them. But, I like checking the "NOW Deals" especially when I know we're going to be out and about. If you know you're going to use them "now," it's a pretty safe bet.

3. Raid the pantry.
Our cupboard is looking pretty bare these days — I just can't keep up with the consumption around here. They must all be having a growing spurt. But, even with a shortage of convenience items, I have a lot of baking ingredients on hand. So, we'll be baking cookies, cakes, and cheesecake this weekend as well as popping lots of corn.
4. Pack food for amusements.
We're heading out on a field trip on Monday. I know from experience at this zoo that food is pricey. So, I'll be packing plenty of snacks as well as a lunch to avoid the high price of eating on site. We make a regular habit of this as well as packing snacks in the kids' waist packs. It's such a wonderful way to avoid, "Can we buy" syndrome.
For us, good eats on vacation are part of the experience. So, I'm looking forward to a great weekend. 😉 And hopefully, it won't be too pricey, either.