DIY on a Dime: Flower Pot Place Cards
As an Amazon Associate I earn from qualifying purchases. For more details, please see our disclosure policy.
Set a pretty Easter or spring table with these easy-to-assemble flower pot placecards.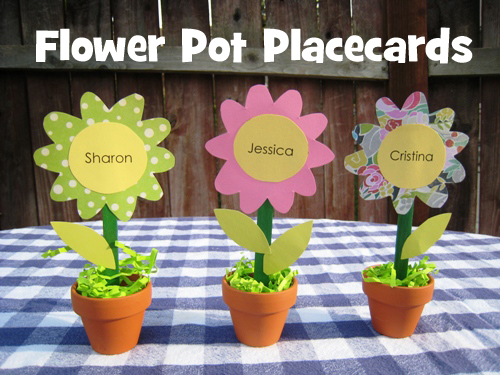 With Easter just around the corner, Mother's Day quickly following, and a flurry of baby and bridal showers that typically arrive in the Spring, it's nice to have an easy tablescape in your back pocket.
Please note: I am not the tablescape designer in the family. That would be my sister, Jamie. Usually she has grandiose visions in her head that she somehow pulls off all the while cooking a three course meal. I don't know how she does it.
I'm lucky to get all parts of the meal hot and ready at the same time. And that's usually at least an hour after I said it would be ready.
This year, however, my girls have expressed a great desire to make the table fancy. So, we started early making flower pot place cards. This craft is easy to pull off — especially with the free printables included in this post — and is very kid-friendly.
I made a few samples on scrapbook paper to show you the possibilities. But, for our family celebration, I let my girls color at will. With markers. That is love, my friends. (The marker part.)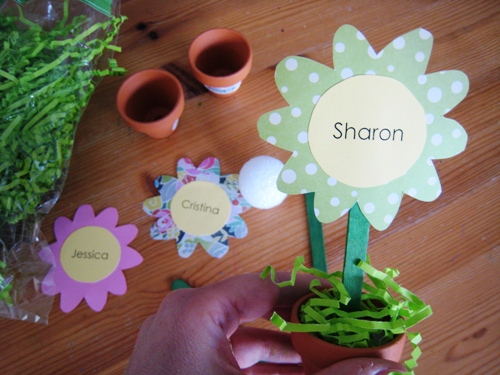 How to make flower pot place cards:
You will need the following supplies:
this free printable to make the flower
white and colored cardstock, scrapbook paper
markers
scissors
gluestick
tape
mini flowerpots ($0.50 at Michaels)
1 1/2-inch styrofoam balls
green craft sticks
green paper grass or shredded paper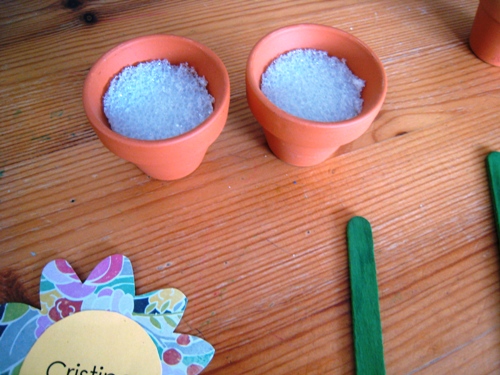 How to assemble the flower pot place cards:
1. Download this free template to your computer.
2. When you open the file, you'll see blue boxes. Type the names of your dinner guests into the boxes.
3. Print out the circles with the names and cut out.
4. Print out the flower shapes onto cardstock. If your cardstock doesn't fit your printer, print out one page of each so that you can use the shapes as a template. If that's the case, cut out a template of each shape. Trace onto the back of your colored/printed paper.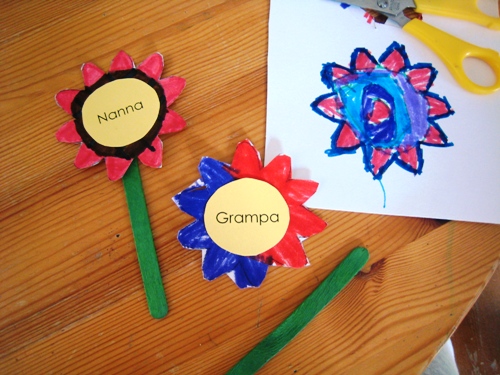 5. If children are going to color the flower shape, allow them to do so now. Cut out the shapes.
6. Glue the name circles onto the flower pieces.
7. Tape or glue a craft stick to the back of each flower.
8. Cut the styrofoam balls in half. Place one half flat-side up inside each flower pot.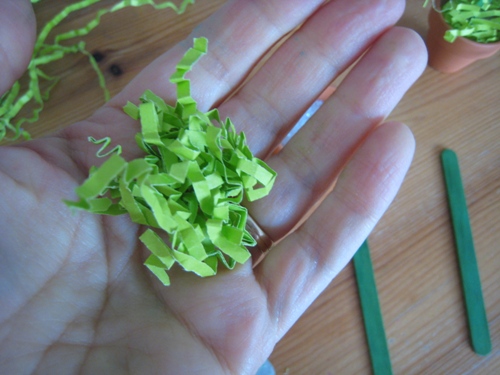 9. Crumple a handful of paper grass into a small ball and place it atop the styrofoam. Insert the craft stick into the flower pot.
Your flower pot placecards are done! Since the paper grass is not glued down, beware of curious hands. Even if it were glued down, beware curious hands. (I remember the toddler stage!)
DIY on a Dime
This is part of the DIY on a Dime: Easter. For more easy and frugal ideas for celebrating the holiday, check out the list.