Homeschool Away from Home
As an Amazon Associate I earn from qualifying purchases. For more details, please see our disclosure policy.
Homeschool doesn't have to be at home. Here's how learning happened during our European vacation.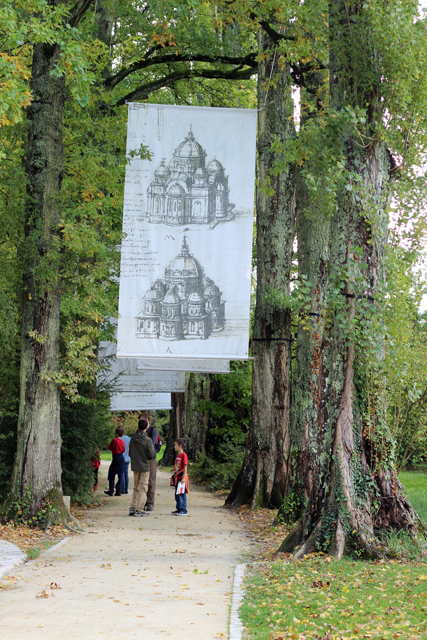 Home education can look lots of different ways. Some people replicate a public school education, complete with workbooks and the Pledge of Allegiance. Others eschew textbooks of all kinds and let the world be one's teacher. We typically fall somewhere in the middle.
Our school year officially started in August. We had four to six really great weeks where we buckled down and I felt like a really organized woman. In late September, we changed our rhythm. We left home for a month and lived in another country.
And we still did school.
No, we didn't haul math books and science experiments on our European vacation, but I would hazard a guess that our family learned as much abroad as they would have at home — if not more.
We continued to homeschool even when we were away from home.
Homeschool away from home
Interestingly, had my kids been enrolled in public school, I'm pretty sure some administrator would have made my kids do book work to make up for missed days. Yet, the reality is that they had one of the richest learning experiences they could have had!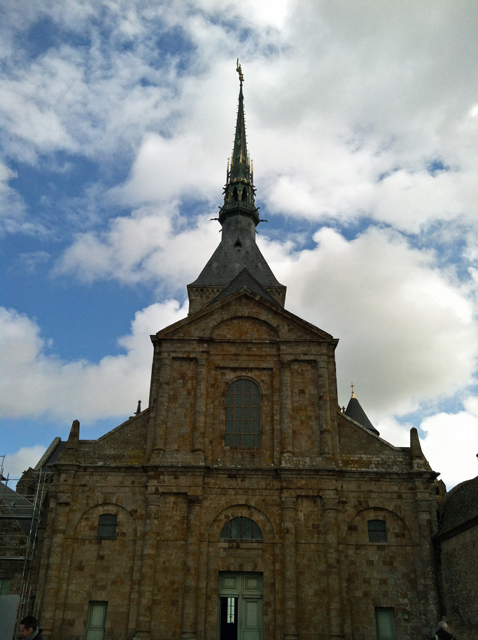 Learning can be done everywhere. Anywhere. You don't have to have books to learn something new. You have to have eyes to see. It helps to have folks to talk about things with.
Here's what the kids studied during our big European vacation:
1. Literature
We packed the Kindle and a couple iPads loaded with books for the kids to read. The beauty of e-readers is that we never ran out of reading material, and no one ever lost a book.
FishBoy12 and I had a great time reading Lord Peter Wimsey mysteries together on the train from Paris to London. It was perfect for the locale!
While there were certainly bouts of video game playing, we tried to keep everyone reading every day.
2. History
Seeing as we walked in the paths of William the Conqueror, Napoleon, Leonardo da Vinci, Joan of Arc, and a host of other famous folks from the past, our family was deeply immersed in history. We visited chateaux, museums, and monuments that have played a role in the shaping of the world we know today.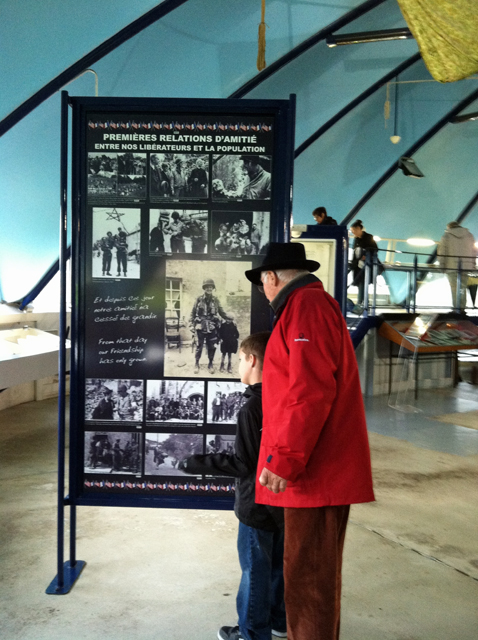 We met a French Commando soldier as well as spent a day with an octogenarian who was 10 years old on D-Day. We met living pieces of history who brought the past and present alive for us.
We walked on Omaha Beach and through the ruins of a village destroyed by the Nazis. We saw things up close that we could never experience from home.
3. Art
From the Louvre to an outdoor sanctuary dotted with da Vinci paintings, our family got to see some of the most beautiful and amazing pieces of artwork in the world.
What fun it was to hear our 7-year old cry, "There's the Wedding at Cana" and correctly identify a fairly obscure painting that she'd seen in a book! FishBoy12 who's been devouring Europe 101 by Rick Steves was constantly pointing out different styles of architecture or works of art that he recognized from his reading.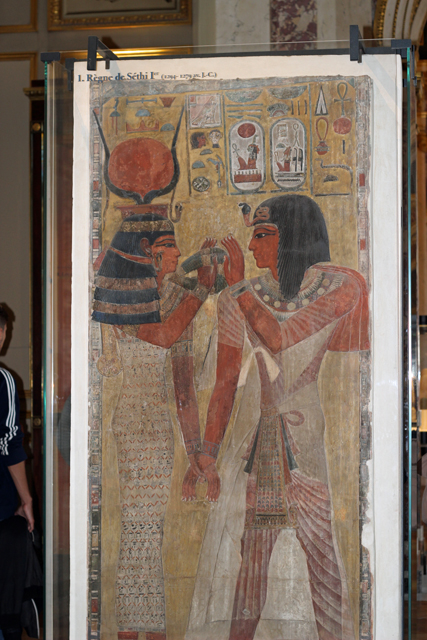 4. Math
Paying for things in two different currencies (British pound sterling and Euros) was a feat of great mathematics and lots of counting. The UK has no end to the number of coins they mint. I still don't think I have it figured out. We gave the kids practice making change and counting since we ourselves needed it as well.
5. Science
The younger kids created a huge rock collection based on pieces they had found along the shores of the Mediterranean. One of their older brothers got up close and personal with a sea urchin. We walked along the Med as well as the Atlantic and hiked in the Pyrenees.
On the road we crossed a huge cable-stayed bridge whose visitor center went into great detail about the creation of such a bridge.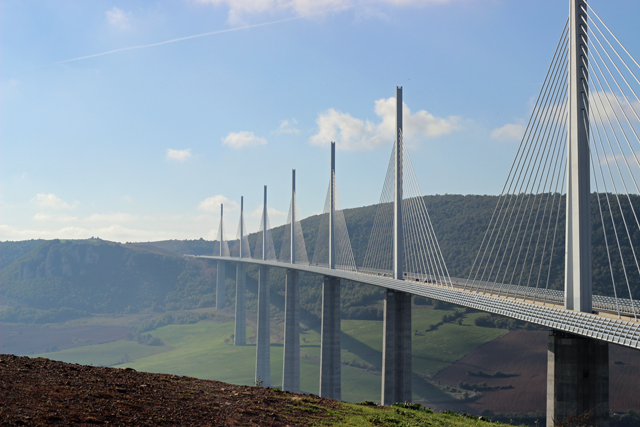 6. Popular Culture
We drank butter beer and walked through the Great Hall at Hogwarts.
7. Politics
As our kids saw or heard things different from what they know, i.e. immigration policies in England, or security procedures in a train station, or soldiers walking with machine guns through the Arch de Triumph, we had ample time to discuss the workings of the world.
8. Foreign Language
While I was the main one learning and relearning a foreign language, the kids did a great job working on their skills, which we had started before we left.
They had opportunities to play with French kids who didn't speak a ton of English, so they made things work. The kids came home all wanting to improve/learn French.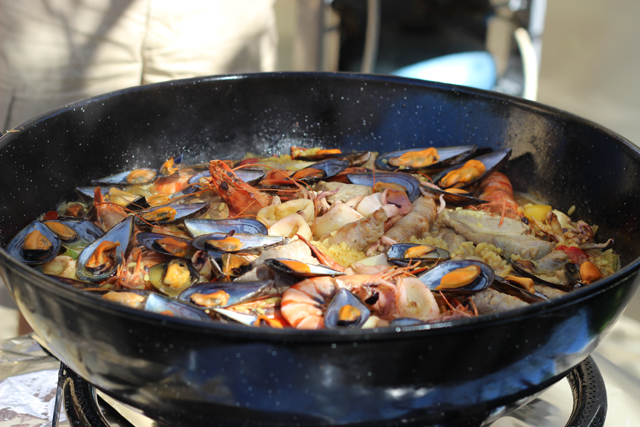 9. Culinary Arts
We tried lots of new foods that we might not have tried at home, including anchovies, blood sausage, calamari, and seafood that hadn't been shelled, boned, or deheaded. The kids explored different flavors as well as different styles of food preparation. Even Mr. Picky got brave and was the first to try Camembert cheese.
10. Life Skills
Transplant California kids from the burbs into a busy city and they'll be shocked at the crowds and the hustle and bustle. They'll also learn to adapt. Our kids became pros at navigating the subways, trains, and buses. They now read maps and know how to avoid pickpockets.
They picked up life skills that they couldn't have gained any other way.
Some would say that a month's vacation in Europe doesn't count as school. I disagree. Our kids have learned more in four weeks than I could have taught them at home. Plus, they did it immersed in other cultures with the smells, tastes, sounds, and sights of another world at their fingertips.
Homeschool away from home is pretty awesome.