Things to Pack to Make Travel with Kids Easier and More Fun
As an Amazon Associate I earn from qualifying purchases. For more details, please see our disclosure policy.
Hitting the road with kids in tow? Consider taking some of these items along to make the trip easier and more fun — for everyone.
When we moved back to California six years ago, we found ourselves within driving distance of both sets of grandparents as well as good friends. We knew we'd want to get into the car and visit folks, but honestly? It seemed like such a chore to pack everyone up.
Once we started staying at my in-laws where the kids are spoiled and the parents are pampered, we decided we needed to figure out what it would take to make the road trip easier. It was worth the trip!
Gramma Marilyn and I brainstormed the contents of these activity bags. With these bags packed at all most times, we found it easier to load the kids up for a day at the beach or a weekend with friends.
I've taken the same concepts and translated them into a list of things to pack for a longer vacation. These are things that I think will make our trip easier and more fun as a family.
As you plan your next family trip, think about the things that will increase your enjoyment and decrease your workload.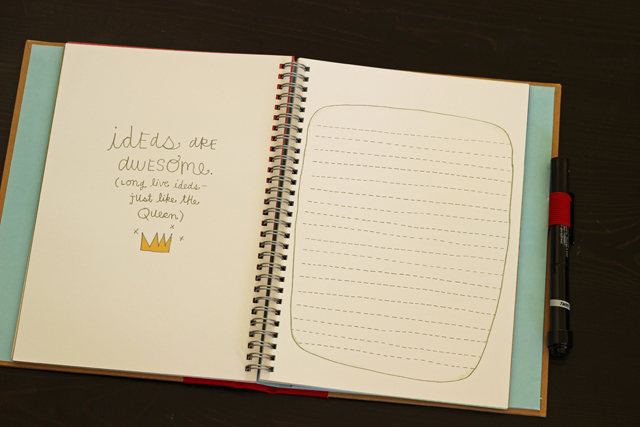 A Family Journal
When FishPapa and I traveled through France years ago, a friend gave us a blank book to journal our adventures together. We took turns writing in the book about the different things we saw and learned each day. And yes, sometimes, he dictated and I wrote, mainly because my writing is faster and neater. Ha!
I originally bought a hardback journal for this trip, but decided it wouldn't leave us room for souvenirs. Since my girls (6 and 7) still don't have scrapbooks, we can reasonably guess that I won't get this trip scrapbooked any time soon.
I bought a Smashbook from Amazon which comes with a pen with a gluestick attached. That way we can adhere little keepsakes, tickets, pictures, etc, without too much hassle. I've had everyone sign the cover page already and am hoping that I can get each kid to do some writing each day.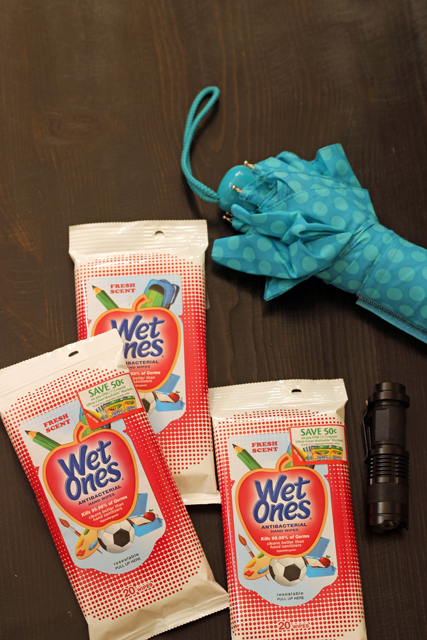 Wet Ones, Umbrellas, and Flashlights
Can you ever have too many of these things? I stocked up on small wet ones packages at back to school time and snatched up small collapsible umbrellas.
Last Christmas I gave each kid a mini flashlight. I have hope that I'll be able to recover enough of them so that everyone has one in case of an emergency.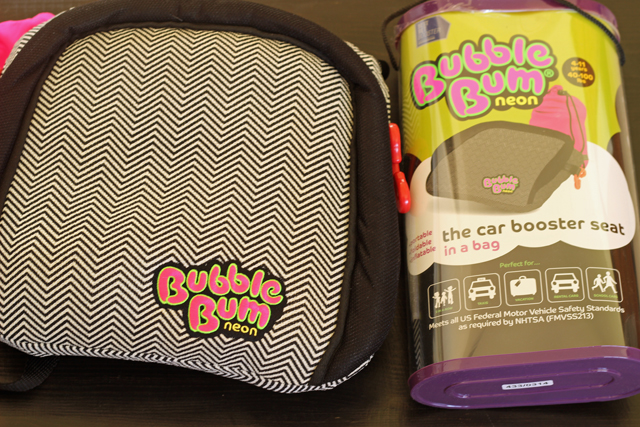 Car Booster Seats
Since we'll be driving part of our journey in a rental vehicle, I needed to do some research on car seat laws in France. My girls need to have boosters. Bubble Bum sent me a couple of their car booster seats to review.
These seats are inflatable so you can deflate them for storage, making for easy, easy transportation in a suitcase or backpack. They are perfect for playdates, taxi rides, a second car, trips with the grandparents, and of course, vacations.
We've tested them out and they are good to go.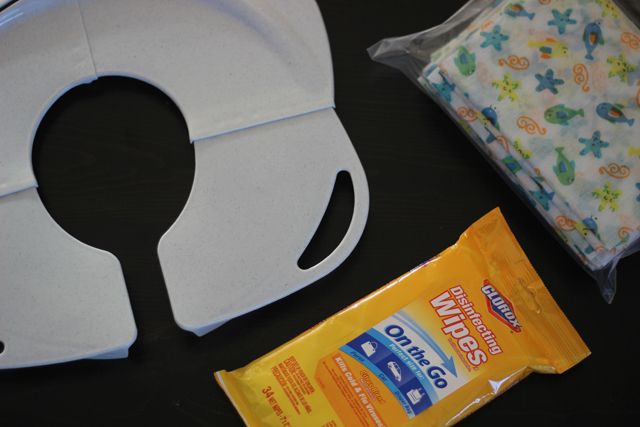 The Potty Stuff
Obviously, if you have a baby, you'll need to pack all kinds of potty stuff. Ever since I had girls, I've kept a travel potty seat in the car for when the public bathrooms just aren't conducive to avoiding germs. I've also stocked up on disposable, paper covers as well as disinfecting wipes.
I'll buy toilet paper when we get there. I'm not counting on French bathrooms having improved a lot in 20 years.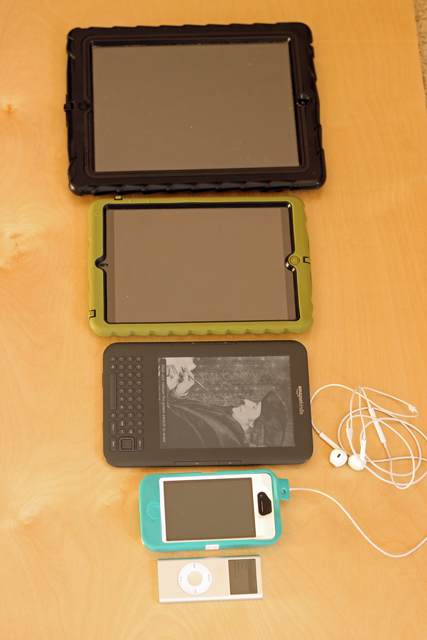 Entertainment Devices
Thanks to the advent of the ebook, we'll be able to read as much as we want on vacation. Between Kindle Unlimited and our local library, I'm stocking our Kindle account with books to read overseas. Be sure to read Janel's post on how to do this on the cheap.
We have a handful of devices to take with: my iPad 2, an iPad mini that FishPapa just got on sale at Best Buy, a Kindle that I won years ago, my iPhone 4, and four vintage iPod Nanos. (We bought two really cheap on Ebay to add to the ones we had from the old days.)
We should be set on books and music — and hopefully be able to share. Ahem. I suppose four people can read at one time and the other four can listen to music.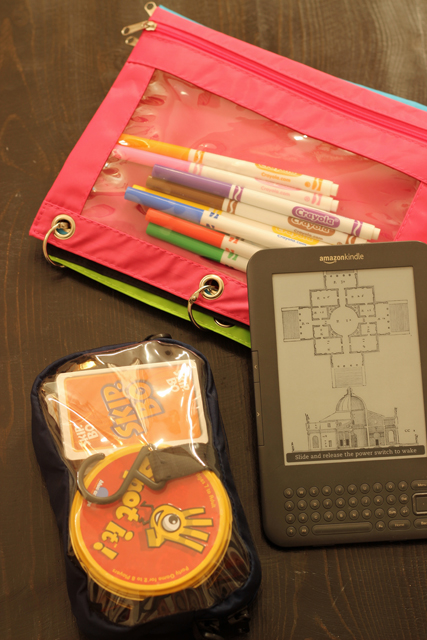 Other entertainment
Since we're packing light, I'm not bringing too many things for entertainment: the Busy Book, the kindles/tablets, and a few small card games like Spot-it and Skip Bo.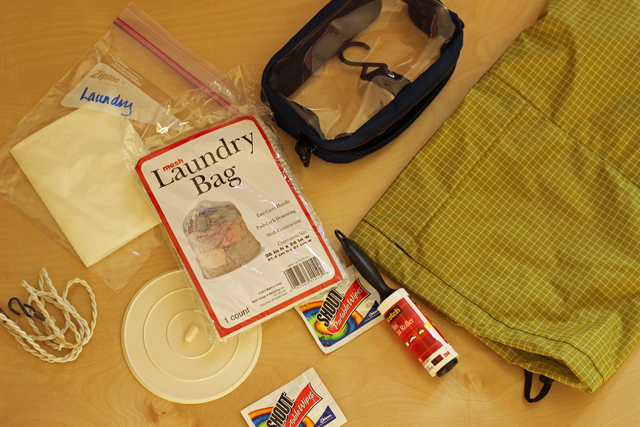 A Laundry Kit
We are only packing about a week's worth of clothing for each person. This means I'll be doing laundry at least four times if we can find a washer and dryer or in hotel sinks, if need be.
I'm bringing along my 20-year old stretchy clothesline from my year in France, Shout wipes, a lint roller, a rubber sink stopper, Dizolve laundry sheets, and lots of laundry bags. Everyone has their own laundry bag so that he can haul his own dirty clothes.
Tom Bihn sent us the green one pictured to try out. It has a moveable bottom so you can put clean clothes in one side and dirty in the other. Can't wait to try it out!
First Aid Supplies
I've had a migraine in a rain forest. FishBoy13 got one at the Aquarium. We've had kids spike fevers on fun vacations. We have a daughter with severe allergies.
I'm not taking the whole medicine chest, but I am taking the basics.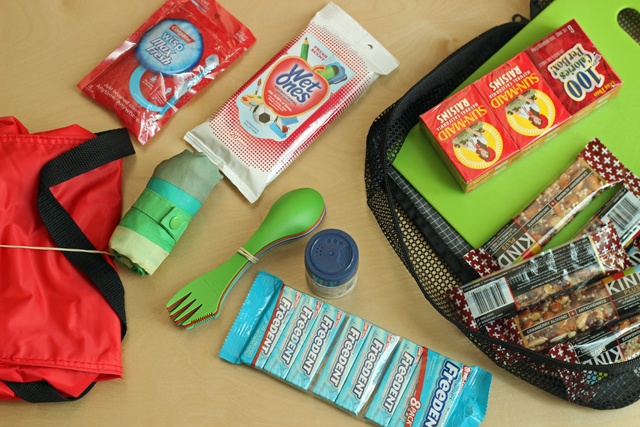 A picnic kit
I explained our picnic kit in greater detail the other day. I'm packing the basics to be able to prep simple, no-cook meals on the go. This will save us money as well as some crabby tempers.
What do YOU pack to make travel with kids easier and more fun?
Travel with Kids
This is part of the Travel with Kids series. Every day in October, I'm posting tips, tricks, and tutorials for making all your travels fun, frugal, and family-friendly.
Be sure to read through the archives in case you missed a post.