A Review of Disney's California Adventure
We are a participant in the Amazon Services LLC Associates Program, an affiliate advertising program designed to provide a means for us to earn fees by linking to Amazon.com and affiliated sites. We participate in other affiliate programs as well. For more details, please see our disclosure policy.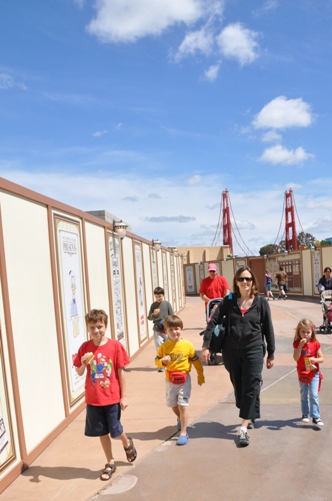 photo source: JGV
A few weeks ago our family went on a little adventure, a California adventure. At Disneyland Resort's California Adventure.
Know this: I am a diehard Disneyland fan — to the core, no Disney World for this chick. I'll take the real deal, thanks. So, while I could spend a week inside the classic Disneyland park, just strolling along, taking in the sights, and riding the Matterhorn 52 times, I realized that there were other Disney experiences to be had. Right in our backyard.
And my husband sighed with relief.
You see, I am a diehard Disneyland fan — to the core, no Disney World for this chick. I'll take the real deal, thanks. I could spend a week inside the classic Disneyland park, just strolling along, taking in the sights, and riding the Matterhorn 52 times.
The poor man. His wife morphs into another creature when Disneyland is in sight.
We can't leave yet. I've only been on the Matterhorn twice.
You get the picture.
So, we ventured off to sights unknown, and my sister Jamie met us there, to be our escort and another pair of hands when it comes to "FishFam crowd control at an amusement park." FishChick 2 is not quite tall enough to go on many of the rides. And Jamie was gracious enough to sit it out with her, explore the grounds, and take pictures with her niece.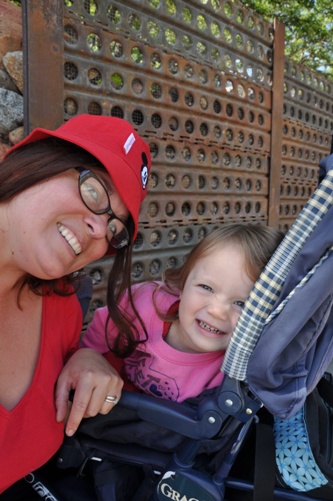 photo source: JGV
Visiting California
For those who don't know, California Adventure is just that — a taste of the Golden State, packed into an amusement park. Various famed areas of our great state are represented, from oceanfront carnivals to a Hollywood studios backlot to the great redwoods of the north. You can get a taste of the entire state from one location.
And each area of the park really does evoke the feel of the place it's supposed to represent. Paradise Pier is a little loud and crazy with its ferris wheel, roller coaster, and carny-like Midway. Yet, the Redwood Creek Challenge Trail is calm and peaceful.
We chose a Monday in mid-May before the crowds settled in for the summer. Since we are a crowd all on our own, we try to avoid busy times. Our particular day at the park turned out to be a rather slow one.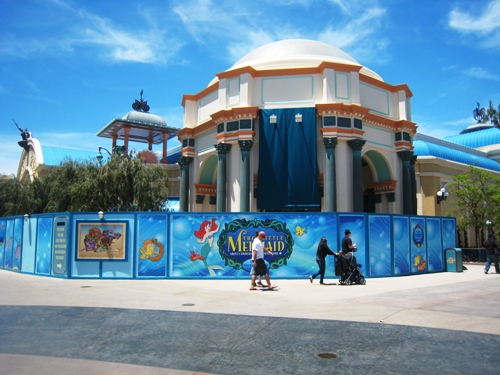 See? No crowds. The traffic did pick up in the afternoon as those who had park hopper passes crossed the Esplanade from Disneyland to check out California Adventure.
I was really impressed with the cleanliness of the park and the openness of California Adventure. Even though it is still expanding and under construction in some areas, there is still space to move around and not feel packed in. Lots of new things are coming to California Adventure. The Little Mermaid ride opens later this week which promises to be amazing. (You can visit the Blue Sky Cellar to get the low-down on what's new or in the works at California Adventure.)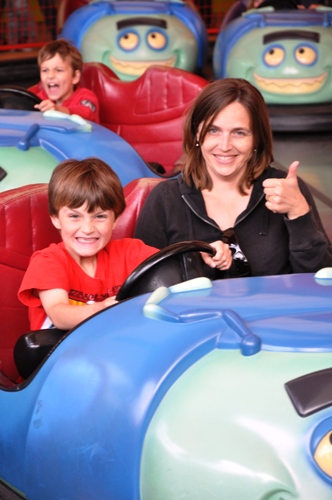 photo source: JGV
Fun Rides
My kids got to experience some rides that were new to them. FishBoy6, now 7, was absolutely stoked to be driving his own bumper car in "a bug's land," an area planted with huge bushes and trees to make you feel really small.
My girls loved "a bug's land" as there were plenty of rides that they were tall enough for. Adults should be prepared for pint-sized rides, though. They really are short and sweet.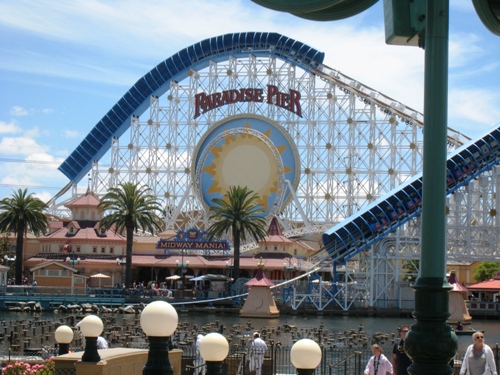 I went on that roller coaster there. Yes, yes, I did.
My jowls have almost fully recovered. The G-force to get up that first hill is amazing — I thought I was going to die. After that, the rest of the ride was a piece of cake.
It's called "California Screaming." And you don't need to scream, it screams for you. FishBoy8 was the only kid brave enough to venture it — twice! For a roller coaster first timer, he rocked it.
The "Soaring Over California" ride is a must-do. It's a simulated ride by air over the great state of California. I got a little motion sickness over San Diego Bay, of all things, but it is really fun. Most of my family went on it twice. FishChick4 went on it three times!
While my sister kept the girls, me and my men went on the Grizzly River Run, a roaring rapids kind of ride. Since it was a chilly day — high 50s low 60s are chilly for Southern California! — we were a little apprehensive of how soaked we would get. Only the folks by "the door" got drenched. Plan accordingly. On a hot California day, say 95, it would be quite refreshing.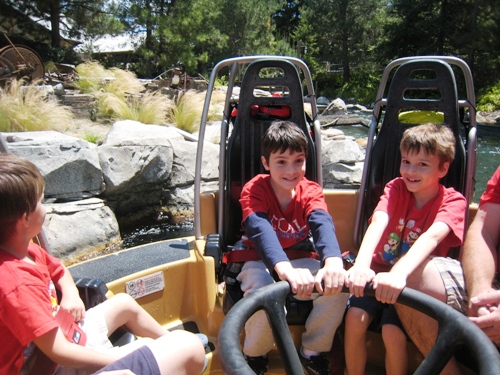 FishPapa took most of the kids on the ferris wheel. You can choose to have a car that rocks or one that stays stationary. The line for the stationary ride is much shorter.
photo source: JGV
Across the board, the favorite ride was Toy Story Mania which is a 3D video game and ride combined. It's really fun to ride and play for points. We went on it twice, but everyone would have gladly gone on it a few more times. Something to remember for next time.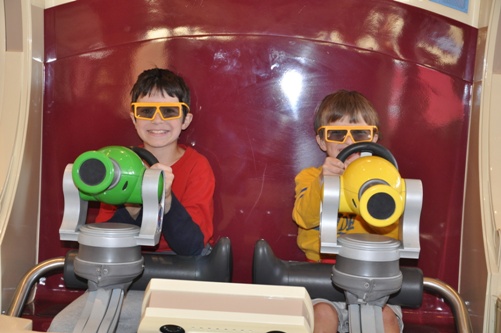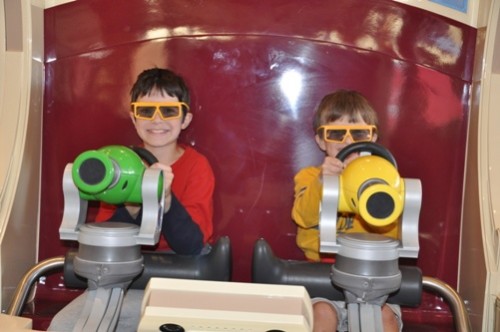 photo source: JGV
Planning a Visit
Getting There
The Disney people make it really easy to plan your visit to the Disneyland resort. The parking is super convenient and straightforward; Downtown Disney, a shopping district, is located conveniently nearby; and there are plenty of hotels within walking distance of the parks.
Paying for It
Last year, I shared some ways to tour Disneyland on a budget. Granted, that is a big budget compared to staying home. But there are ways to cut costs. Food is allowed inside the park; security checks your bags upon entrance. There is a picnic area available adjacent to the Esplanade.
Eating
AllEars provides menus and prices for all Disneyland, California Adventure, and Downtown Disney eateries. This was immensely helpful in planning. We had originally thought we'd have dinner in the park, but we ended up leaving about 7 pm and grabbed dinner on the road. But, I would have been fine with a little splurge if we had stayed later.
Maximizing the Fun
The Unofficial Guide to Disneyland has been an amazing help to me. It provides a general heads up about the parks as well as a touring guide to help you maximize your day for more fun and shorter line waits. The guide gives great tips on how to make the most of the fast passes and what to see first.
An insider tip: get fast passes to the light show, World of Color, as soon as the park opens.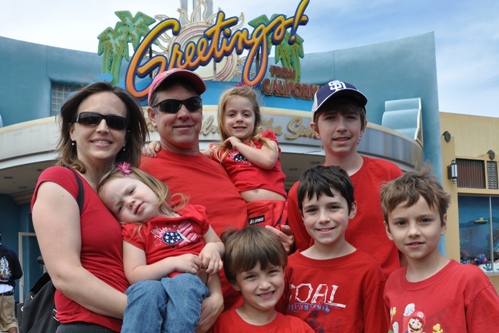 photo source: JGV
I am a diehard Disneyland fan — to the core, no Disney World for this chick. I'll take the real deal, thanks. I could spend a week inside the classic Disneyland park, just strolling along, taking in the sights, and riding the Matterhorn 52 times.
That said, we had a great time at California Adventure, Disneyland's younger sister. California is one of my favorite places on Earth, so it's fun to see how it's been reinterpreted in an amusement park. I'm eager to see how the Disney Imagineers grow this park in the coming months and years.
Have YOU had a California Adventure yet?
Disclosure: I entered California Adventure via a complimentary press pass. However, I was not required to post about my visit, nor was I compensated to print positive remarks.
Photo credits: mine, unless marked JGV, in which case, those photos are credited to Jamie Getskow Voeltz.