Last Minute Costume Idea: Hawkeye from the Avengers
As an Amazon Associate I earn from qualifying purchases. For more details, please see our disclosure policy.
Make a last-minute costume that will please the Avenger in everyone.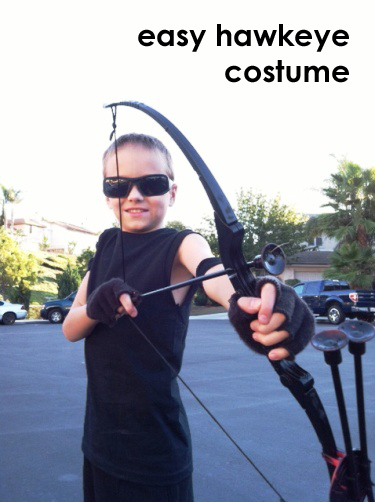 You know already about our family's deep and abiding love for the Avengers. The boys have told me that it's their top 3 of all-time favorite movies. I have to agree. We had a blast last month watching it on Blu-ray and have watched it many times over since then.
I was hoping that they'd all want to dress up as Avengers this year. Wouldn't that be cute? I could picture each of my six kids as one of the characters. But, no, for a variety of reasons they turned it down.
Except one. FishBoy10 decided to be Hawkeye. Of course, he decided this about 2 hours before we were to head to Legoland for their dress-up party.
No worries.
Seriously, this was one of the easiest costumes I've ever put together — and it met with rave reviews as we walked through the amusement park Saturday night. It might not be the Mother of the Year award, but I was pretty proud of myself.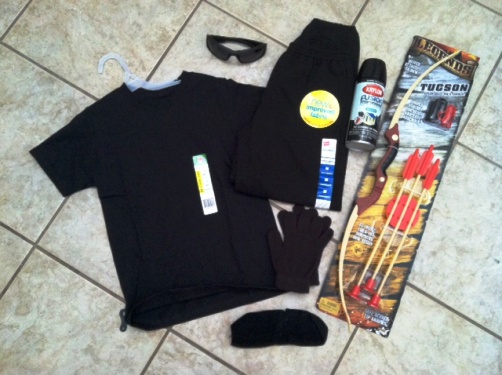 We bought some very average items at Walmart that afternoon. If I had had more time, I probably could have found much of it at home already. You'll need:
a black tshirt, preferably a little snug, to show off the beefiness that is Hawkeye
a pair of sunglasses
an old black sock
a pair of black gloves
black pants or sweats
black spraypaint for plastics
a cheapo plastic bow and arrow
scissors
So, what did I do?
Roused FishPapa to spraypaint the bow and arrows.
Cut two strips off the sock for armbands.
Cut off the sleeves of the tshirt, leaving just an angle of the sleeve.
Cut the fingers off the gloves.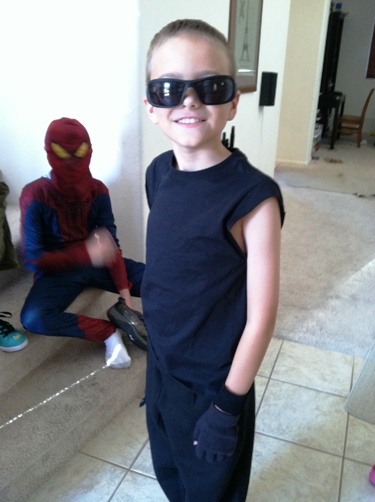 Except for the time that it took for the paint to dry, this costume took a total of ten minutes to pull together. It was easy to make and relatively cheap to create, especially if you already have black clothes and gloves to use.
Got a favorite quick costume idea?