A Mom's Capsule Wardrobe for Travel
As an Amazon Associate I earn from qualifying purchases. For more details, please see our disclosure policy.
What we moms wear matters. It effects our day and our disposition. Consider a capsule wardrobe for making travel with kids easier.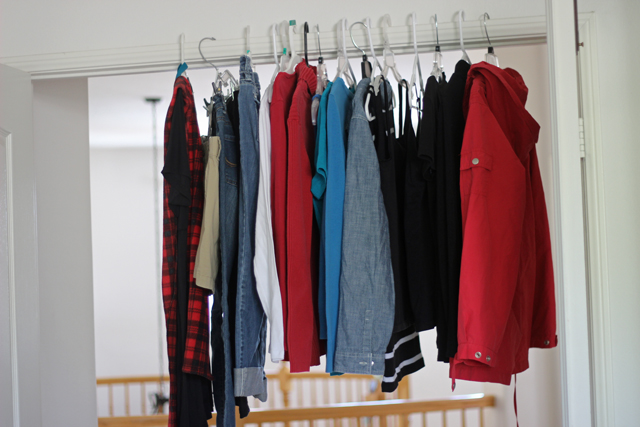 Earlier this summer, I started to think about what to pack for myself on this trip. I started culling different items into one corner of my closet, in the hopes of creating a little capsule wardrobe for our big vacation.
A capsule wardrobe is one in which everything goes with everything else. It's all mix and match which gives you lots of options. It's a great way to pack light yet still have lots of options.
As you can guess, Pinterest was a huge source of inspiration for me in deciding what to pack and what to leave behind. While I was really tempted to buy many new things, I ended up with only a couple new tank tops and a tshirt.
(Don't get me wrong. I ordered more than that and then returned the bulk of it since it wasn't as pretty on me as it was on the computer screen.)
We've been living in an eternal hot California summer for the past year or so, so it has been really hard to envision ever being cold again. But, weather in London and France is different than here, so I got to bust out some fall pieces that might not otherwise see the light of day.
After much hemming and hawing, I narrowed it down to a small capsule wardrobe that will fit into a tiny suitcase. Really! I'm excited about all the clothes and the variety I'll still have without too much weight.
While this topic might not be strictly "travel with kids", I consider it pertinent. As moms, we'll feel better about our experience out and about when we feel good in our clothes. The easier it is to get dressed each day, the quicker it will be to get out and see the sights.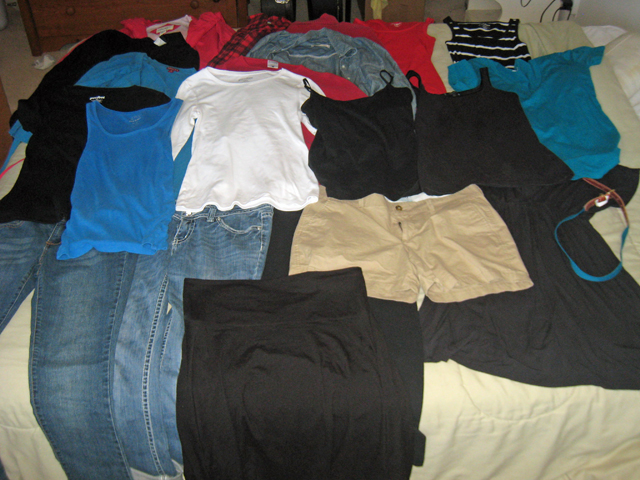 A Mom's Capsule Wardrobe for Travel
Here's what I'm taking:
1 pair skinny jeans
1 pair capri-length jeans
1 black leggings
1 black skirt
1 khaki short
1 black dress
black camisole
4 tank tops: black, teal, red, and black-and-white striped
2 short sleeve tshirts: black and teal
3 long sleeve shirts: red, white, and chambray button-down
2 cardigans: teal and black
1 red sweater
1 red rain jacket
1 teal belt
1 red and black scarf
3 bras
6 unders
6 socks
1 pair black Vans with Superfeet inserts
1 pair black Toms slip-ons
I'm no mathematician, but I've figured that I can easily make fifty different outfits with what's here. I think I'm set, don't you?
While I might not have everything I'll need, this will certainly get me by. Plus, any holes will give me an excuse to go clothes shopping in Europe. Ha!
Do YOU have a capsule wardrobe for travel or every day?
Travel with Kids
This is part of the Travel with Kids series. Every day in October, I'm posting tips, tricks, and tutorials for making all your travels fun, frugal, and family-friendly.
Be sure to read through the archives in case you missed a post.