Setting aside an emergency fund is a great way to buy yourself peace of mind as well as funds to deal with that crazy thing you didn't plan for.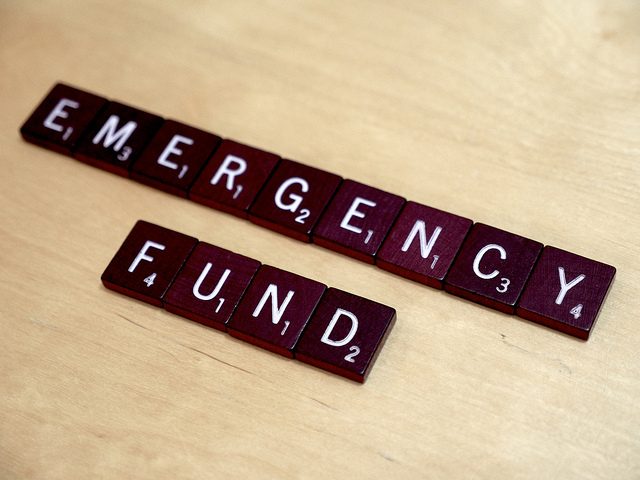 About eight years ago, I was pregnant with our fifth child. My husband was self-employed. I made zero income. We'd made some good money in the California real estate boom, relocated to Kansas City, invested in both a home and a rental property, and then….
And then, slowly the money that was left slipped between our fingers.
We didn't buy a yacht, go on a big vacation, or drive fancy cars. We were frugal spenders and it showed. But, we were a mess with our finances. While we had a "cushion" in the bank, we did what we wanted. However, we didn't have a budget or much in the way of financial goals.
That wasn't what we wanted, but we didn't know any better. Once the cushion dwindled, things started to looked bleak. Since then, we've changed our ways and readjusted our trajectory. We live debt-free except for that lingering rental property and we've got some money tucked away in the bank. We will probably never be "rich", but hopefully we won't be destitute, either.
As I've mentioned over the last few weeks, now is a great time to get your own financial house in order. If you've got debts, if you have misgivings about your spending, if you wish that you had a better handle on things, now's the time to make some changes.
In case you've missed a post, here's what we've talked about so far:
Build an emergency fund.
This week we're talking about building an emergency fund.
An emergency fund is basically monies that you've set aside for unexpected, urgent expenses. Fixing a broken down car when you only have one car counts as an emergency. Paying for your kid's cast is an emergency. Buying a new dress is not.
Having an emergency fund has been one of the biggest things to bring us peace over the last six or seven years. At first it was a Dave Ramsey-endorsed $1000 emergency fund. Once we quit using credit cards and worked up a budget, we started squirreling away money until we hit $1000. It was in a separate account that we could access but couldn't easily spend.
Even though you might have debt or other goals to hit, having the emergency fund creates a buffer between you and more debt. It also calms the nerves tremendously. Knowing that we had that money in reserve helped us focus on the work at hand: getting out of debt.
Once you get your initial emergency fund started, you focus on paying off the debts. Later you return to the emergency fund to build it up more so that it's available for bigger emergencies like disability or the loss of a job. Most financial experts recommend three to six months.
Since ours was a one-income household when we started ours and that one income was subject to California state layoffs, we aimed for the higher end amount. It's proven to be a confidence builder and a financial safe guard during tough times in our state.
How to Build an Emergency Fund Quickly
If you don't already have one, I highly suggest that you start a little emergency fund. Do it as quickly as you can. Consider these ways to drum up quick cash:
sell extra cars and big ticket toys
have a garage sale
take a second or seasonal job
collect all the coins and stray cash in the house
check to see if you've got unclaimed funds
consolidate random bank accounts
I promise that if you have a little nest egg set aside for the next rainy day, you'll be able to be less stressed and deal with the real emergency without freaking out, as we say at our house.
What's YOUR experience with an emergency fund?