3 Things You Need for a Great Family Picnic
As an Amazon Associate I earn from qualifying purchases. For more details, please see our disclosure policy.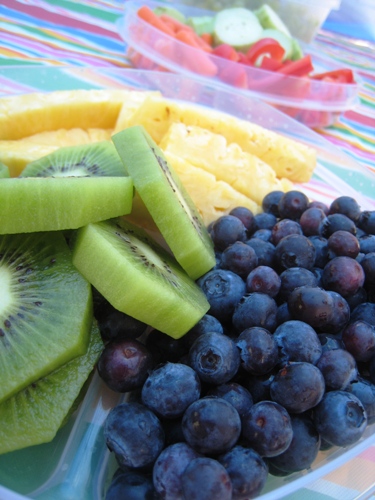 With longer days and better weather, summertime is ideal for a picnic with the family. It doesn't need to be complicated, but there are several things that you can do in advance to set yourself up for success and make things easier.
When something is easy to do, we do it more often. And frequent picnicking is a good habit to get into, especially if you have small children. The kids can play and breathe the fresh air and parents don't need to worry about the mess or noise.
Fresh air is good for parents, too.
1. Have the right gear.
Be prepared with the right items to make your outdoor meal a pleasant adventure. Tablecloths, disposable serving ware, sunscreen, bug spray, and some kind of shade are ideal. Sure, you can make a go of it without those items, but they do make things easier.
For those impromptu picnics, I keep a bag packed with picnic supplies, so that I don't have to bustle about trying to find stuff when really we just want to get out the door.
2. Have the right food.
Picnic food doesn't have to be elaborate. Simple food is usually better for packing and eating out of doors. The most important part is to bring along food that you know your crowd enjoys. Picnics aren't usually the best place to experiment with recipes unless you're bringing along a loaf of bread and the jar of peanut butter as back-up.
Some of our favorite picnic foods include:
Turkey Baguette Sandwiches
Hot dogs
I usually also pack along portable juices, chips, cookies, fruit, and veggies.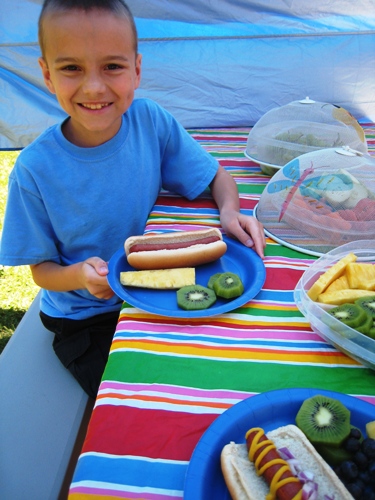 3. Have the right attitude.
Wind, rain, or bugs may put a damper on our picnic. Kids may fuss and argue. You might forget a crucial part of the meal.
A picnic in real life is never like those elegant affairs you see in British movies where all the children are dressed in immaculate white, and there are no bugs, and the butler is standing by to serve you.
But, it's just a picnic. So keep perspective. Even if things don't go exactly according to plan, you and your family can still have a great time.
What tricks do you have for a great picnic?

This post is sponsored by Mott's. As a Mott's Mom I have been compensated for my time spent writing. Participation in this program is voluntary; all opinions are my own.
Like  Mott's on Facebook and share your own picnic tips and connect with other moms.