Creating an Afterschool Happy Hour
As an Amazon Associate I earn from qualifying purchases. For more details, please see our disclosure policy.
As a Sara Lee MOMent Maker, this post is part of a series on making family moments. Sara Lee has provided me with compensation and coupons in return for this post. Participation in this program is voluntary; all opinions are my own.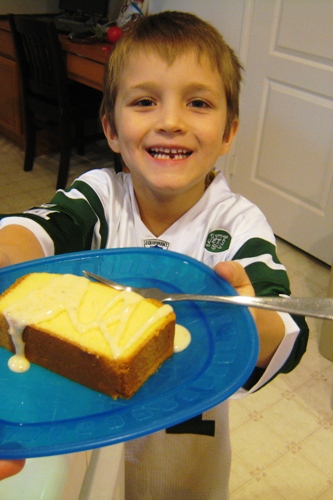 On a good day at our house, school wraps up by about 3 o'clock. The house is quiet. The girls are napping (hopefully). The boys are finishing their independent work. We do a quick pick up to signal the end of lessons and the transition to afternoon activities.
One fun thing to make that transition fun — and delicious — is to share an afterschool "happy hour." You could call it a coffee break, an afterschool snack or tea time.
The important thing is that we take a moment to unwind, share a snack, and reconnect.
We do this at the end of our homeschool day, but I imagine that families who school outside the home would enjoy this just as much. It's a great chance to catch up, share funny stories, and refuel for afternoon activities.
Take a moment to unwind
I find that school days can be full days. My kids have chores and school lessons to do. I have to hit the ground running just to keep up. While each child may not be busy the entire day, my minutes are filled, transitioning my attention from child to child and tackling home tasks.
Taking a break can be so refreshing — for me and the kids.

Share a snack
On a good day at our house, meals are planned in advance. The kids have had a good breakfast; we eat sack lunches. Dinner is scheduled for about six pm. Lunch seems hours ago, and it's still too early to eat dinner.
So, it's nice to have a snack to hold us over.
Some snacks we like:
Cheese and crackers
Graham crackers and applesauce
Popcorn with butter
Cake and hot cocoa
Cookies and milk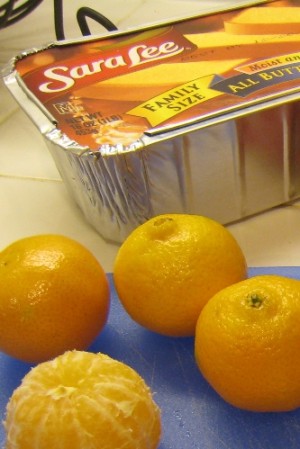 Sharing Sara Lee
Recently, our happy hour featured pound cake from Sara Lee. This dessert is a sweet memory from my childhood. My mom often bought one for me and my four siblings.
I love the convenience of having this snack in the freezer. It's a great last minute treat, especially since it thaws so quickly. I prefer it cold.
Drizzle it with an orange glaze, and it's even better!
Orange Glaze

1 cup powdered sugar
1 teaspoon orange zest
1 – 2 Tablespoons orange juice

Combine all ingredients in a small bowl, adding enough juice to create the consistency you desire. Drizzle over slices of pound cake and serve.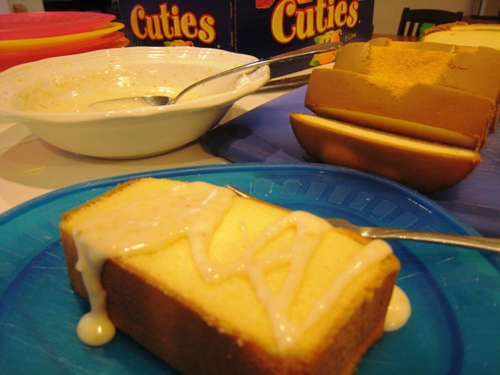 Reconnect
Even though I spend all day every day with my kids, there are still times when I feel a disconnect. If I've been busy cleaning or we've had company, I feel like I've been away from them. I miss them when we haven't had a chance to talk.
Snack time is a good way for us to reconnect.
Looking at good days
The reality is that "good days" are hard to come by. At least in the "everything-is-going-as-I-planned" kind of good day.
The house might be a wreck. Tears might have been shed over math problems or phonics reading. Piles of laundry may be waiting in all corners of the house. FishChick 2 might have gotten into who-knows what.
But, hanging with my kids? Reconnecting after a hard day? Enjoying a little pick-me-up together?
That can make every day a good day.