Homeschool Curriculum for the Year and a Very Long Discussion on Our History & Literature Study
As an Amazon Associate I earn from qualifying purchases. For more details, please see our disclosure policy.
Wondering what homeschool curriculum for five kids aged 8 to 15 looks like? Here's what we're studying this year as well as mom's take on classical history and lit.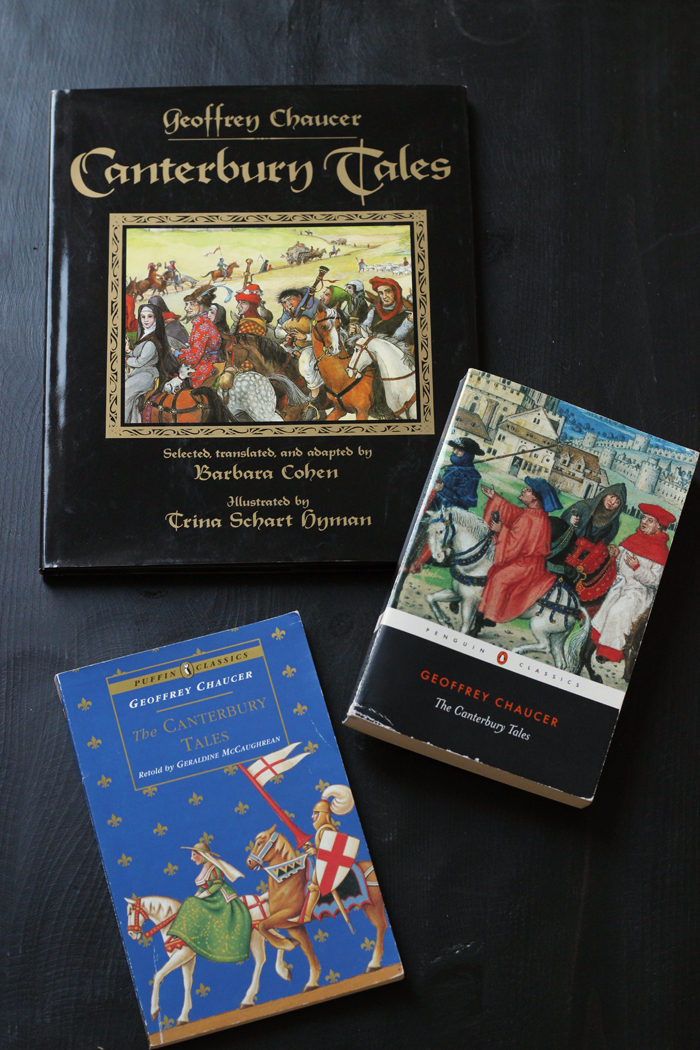 It's our 9th week of school and I'm finally getting around to sharing our curriculum choices with you! For once it's a good thing that I took so long. I would have written a very different post two months ago or even two weeks ago.
This week we made some MAJOR changes in the lineup for all levels, in part thanks to two curricula that I'm ready to throw out the window. Ha!
I guess I'll explain those changes first since they are major and have me restructuring and rewriting lessons plans. It's a little frustrating to be doing this during week NINE, but better that we realize something's not working now than to realize it when it's too late to make a change. And we've been miserable all year.
The backbone of our homeschool for eons, or at least since 2002, has been our history and literature curriculum. While this does not carry the import of reading, writing, and arithmetic, history and literature have been the sources of fun, creativity, and exploration for our family. Those are the subjects we've pursued together and which make the days more interesting and our dinnertime conversations livelier.
They are also the topics that show up during our travels. Do you know how exciting it is to have your child talk about the Song of Roland while you're driving through France or to have someone remember a story you read while walking through a London museum?! Priceless, I tell ya. So here's some back story:
Our history and literature studies to date:
For the uber curious and patient, here's my homeschool career timeline:
1998 – My oldest/only child was 1 year old when I read the first edition of The Well-Trained Mind. I was sold. I counted the days until he was old enough for me to formally teach him. That book became my homeschool guide book.
2003 to 2004 – We used Story of the World as our history spine and focused on literature from those time periods. My eldest was in 1st and 2nd.
2004 or 2005 to 2010 – We switched to Tapestry of Grace. I preferred the classic editions over the redesign, but I had borrowed the classic editions and invested in the redesigns (not cheap) because I thought they would be better. That wasn't the case. They used newer books that were harder to find at the library. During this season my eldest was in 3rd through 7th grades. Near the end I started to become disenchanted with TOG's writing curriculum and some of their philosophies as a whole.
2010 – Since I didn't own a Year 4 of Tapestry of Grace, we returned to Story of the World for one year. My eldest was in 8th grade.
2011 – We went back to Tapestry of Grace for my eldest's freshman year of high school. We were both bored to tears.
2012 – I did a homeschool makeover and returned to my first homeschool love, The Well-Trained Mind. Thanks to spending a weekend with other homeschool bloggers at Susan Wise Bauer's HOUSE, I revamped a lot of how we did things.
2012 to 2015 – We basically followed the recommendations in The Well-Trained Mind. My eldest graduated in June of 2015, having read Susan Wise Bauer's complete History of the World series in addition to college-level, modern history texts. For what it's worth, everything he has encountered in his two required state university classes has been REVIEW. He aced those classes.
2015/2016 school year – I realized I needed more structure for my high school kids, particularly for discussions. I purchased  The History of the Ancient World and Omnibus 1, both covering ancient history. I ended up using Omnibus 1 as the spine for my 10th grader and bought the Beautiful Feet Ancient History study guide for my 8th grader. The younger kids followed along with Story of the World.
This began my 4th trip through the history of the human race. I think I'll have done 6 laps by the time my last kid graduates and I retire. 😉
Overall, the year was fine. Omnibus 1 was a little more uptight than I am. Beautiful Feet was very doable for my 8th grader to complete independently, though the teacher's guide had some errors and gaps.
2016 – We started this year with Omnibus 2 as our high school spine (grades 9 and 11); Beautiful Feet Medieval History for my 5th and 7th graders; and Story of the World 2 for my 3rd grader.
And, nine weeks in, I realize that things aren't working as well as I had hoped.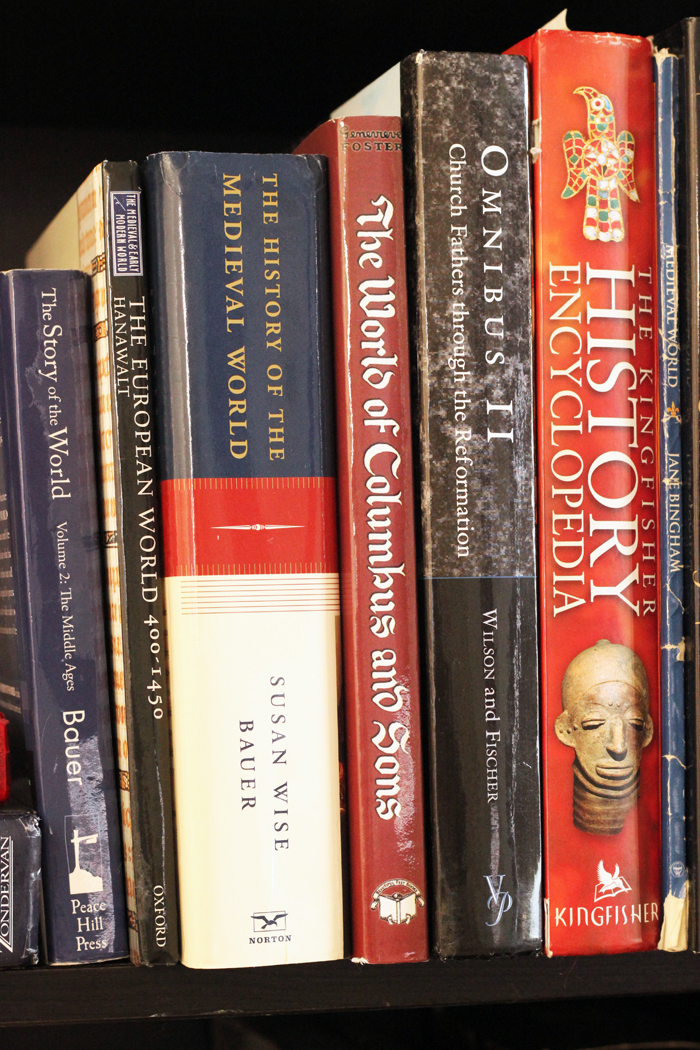 On Omnibus 2:
The Omnibus series is published by the folks at Veritas Press. While we (the Fishers and the VP folks) have some key things in common, namely our views on election, we differ on how the Christian life should be lived. For instance, while I don't plan to get a tattoo anytime ever, I wouldn't go so far as to say it's a sin for a Christian to do so. The Omnibus crowd does.
Last year for Omnibus 1 my son and I were able to overlook these differences and use their teacher's guide as a spring board for discussion. If anything, the theological/cultural differences provided more discussion fodder.
Going into the Middle Ages this year, I presumed it would be more of the same. I was wrong. With two high schoolers (a freshman and a junior), our discussions have had a different feel to them, especially since FishBoy15 and FishBoy14 are so different. One of them is happy to go with the flow, the other is ready to question anything and everything — so help me, God.
This week my younger son brought up some valid critiques of Omnibus 2, namely that the textbook offers little historical context for the primary source books we're working through. There's no timeline or way to place what they're reading within the framework of the world at large. Very fair point.
Further more, while the secondary source books have been interesting — I love Tolkien's Lord of the Rings and Sayers' Lord Peter! — the curriculum hasn't done a great job of showing the connection between these novels and the middle ages. Fair point, my son.
Additionally, the boys were spending a good 10 to 12 hours a week reading just the history and literature books, leaving less time for their other studies. Yes, son, Spanish and fine arts are necessary.
Our High School History/Literature Study for the Middle Ages
All this to say, we are changing tactics. Interestingly enough, the timing is actually great to switch over to The History of the Medieval World. The first chapter coincides perfectly with the book they are now finishing, Athanasius' On the Incarnation.
I already owned the history book and the corresponding audio book from their elder brother's study, so no new purchases are necessary. Hallelujah. I've loaded the audio book files to their kindles so they can either listen or read or both.
As regards literature, we are going back to The Well-Trained Mind recommendations list and matching it up with the Omnibus 2 primary sources texts. They actually fit very well together. The Omnibus text will provide some of the structure I need for discussions since I can't keep up with all their reading.
So far they have read Eusebius' The Church History, Augustine's Confessions, and Athanasius' On the Incarnation. We'll choose 9 to 10 more from the WTM list/Omnibus textbook mashup and call it good.
I have some work to do in terms of rewriting ALL THE ASSIGNMENT SHEETS, but the boys feel better about the direction we're going and their work load is a much more manageable level.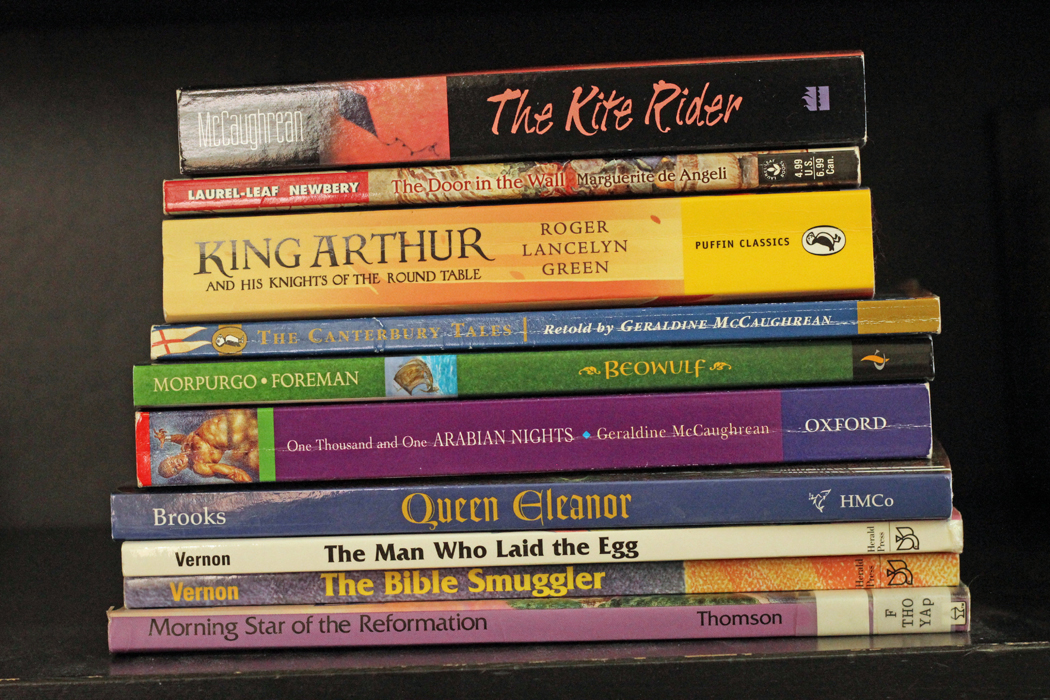 On Beautiful Feet
Last year there was a lot I liked about Beautiful Feet Ancient History:
It's literature-based.
It's easy to let a kid go at his own pace; FishBoy14, then 13 finished it two or three months early.
It has specific assignments, including history textbook readings, quizzes, and research projects.
I was really disappointed to get the Beautiful Feet Medieval History Study Guide. The layout of the guide itself is different — lots of ink to use if you buy the digital version and want to print it. It's not written to let a student have at it. The discussion questions are sporadic and not always in line with the reading.
My 7th grader did okay with it for this first two months, but again, he just wants to get his work done like his older brother. My 5th grader is more like her other older brother who wants to enjoy the process. Both of them felt like they needed me more hands-on with their work.
For myself, I've had some difficulty lining up the timelines of my middle schoolers with my third grader. Since they all want my guidance with their history and literature, this causes a problem. So again, I'm needing to switch gears.
Our Middle School History/Literature Study for the Middle Ages
The newest edition of The Well-Trained Mind doesn't have a great spine recommendation to use for the logic stage, so I'm doing what I did with the others: returning them to The Story of the World for the basics and supplementing with extra reading from a variety of sources. We'll still use the Beautiful Feet literature selections, but I'll place them in the timeline and chronology of the Story of the World. Aiyiyi.
Did I mention that I'm rewriting ALL THE ASSIGNMENT SHEETS?!
In this way, my third grader can still have her age-appropriate activities — she loves the coloring pages — but the older kids can be challenged with extra reading, timelines, and map work.
Our Homeschool Curriculum for the Year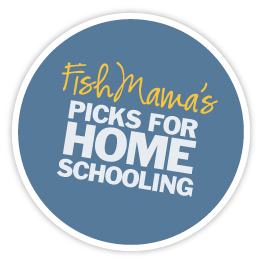 In years past, I've shared our curriculum choices in a number of ways. If you're interested in a walk through time, you can check out these pasts posts. I'm sure they show an eclectic progression as I learn my way through all the ages and stages. My kids have survived me as their teacher. So far.
One of the things I've noticed is that I continue to return to The Well-Trained Mind when things start to go sidewards. I'm not sure what that says about me, but I'm grateful for the guidance this roadmap has provided me over the last 15 years.
Homeschool curriculum by topic
Math
History and Literature
Homeschool curriculum by grade level
2013-2014 All grade levels
2012-2013 All grade levels
2011-2012 All grade levels
2010-2011 was a weird mishmash math/science/foreign language, language arts,history/literature
2009-2010 All grade levels
Here's what we're studying this year!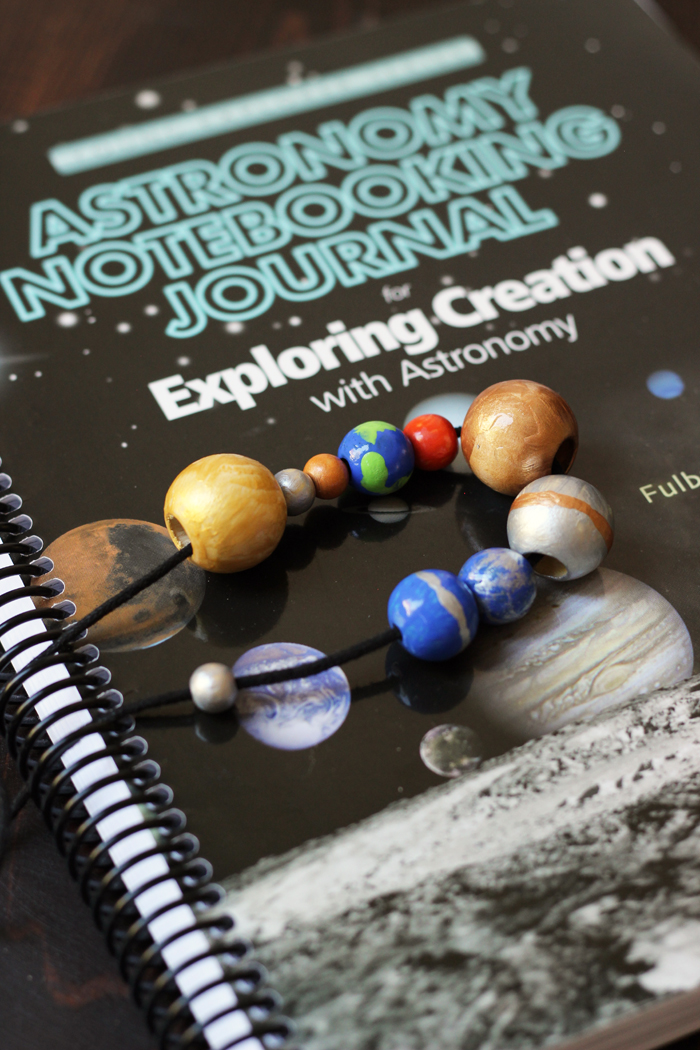 3rd grade homeschool curriculum:
5th grade homeschool curriculum:
7th grade homeschool curriculum: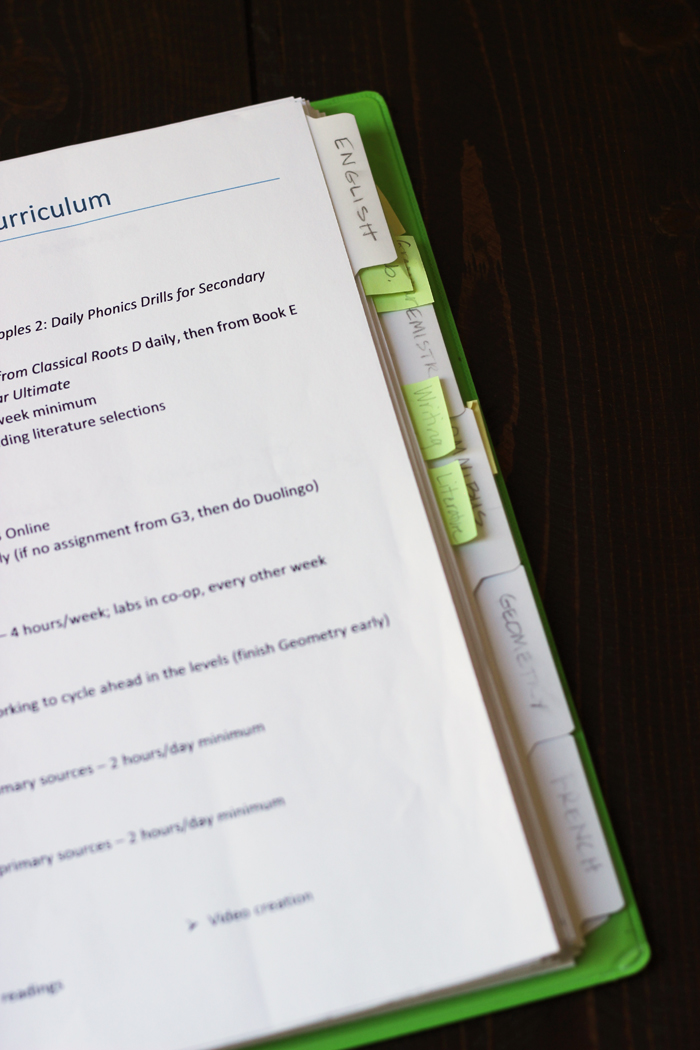 9th grade homeschool curriculum:
11th grade homeschool curriculum:
So, if you hung with me for over 2000 words, you are tired and ready for a glass of wine. Or coffee. Or tea, depending on your preferences and the time of day.
I'm a little frustrated that I'm making changes when I thought I had it ALL PLANNED OUT. But that is the nature of life, parenting, homeschooling, etc. Things happen — or don't happen — and you have to make adjustments.
At least I don't have to go back and edit a post and eat crow. 😉
How do YOU decide if a homeschool curriculum works for you?