Easy Overnight Oats for Mom
As an Amazon Associate I earn from qualifying purchases. For more details, please see our disclosure policy.
I am an official ambassador for Dole Fresh Fruit and Fresh Vegetables. I have received product as well as compensation for my time spent writing. As always, all opinions expressed here are mine alone.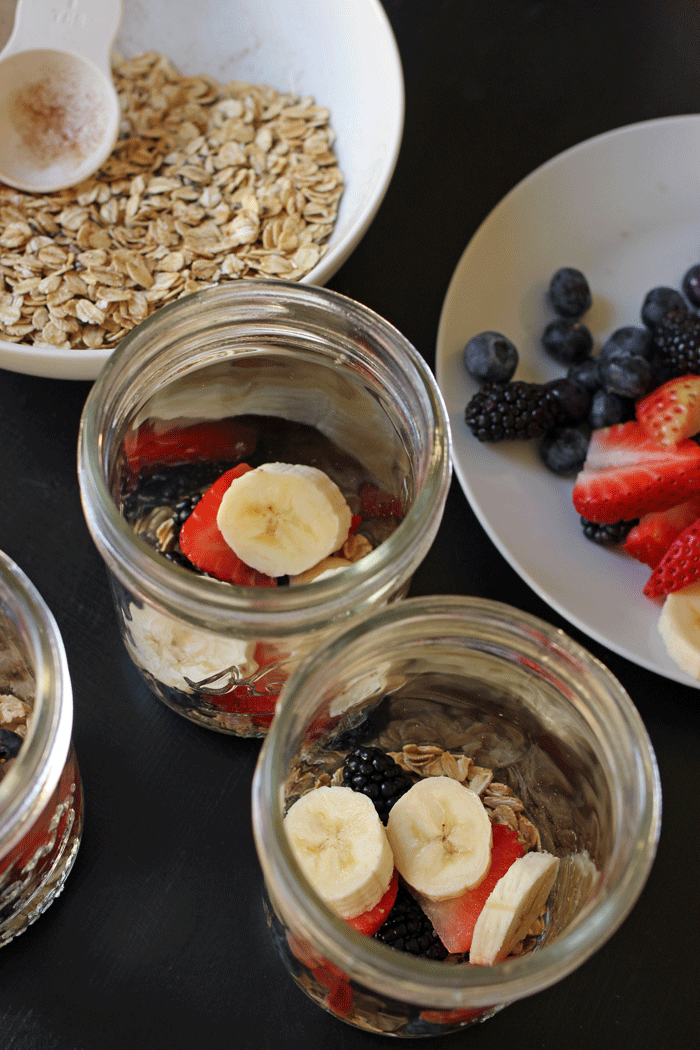 As a mom it's easy for you to put other people, particularly your children, before yourself. It's what moms do. We love, we care, we do.
And if loving, caring, and doing means that sometimes we skip a meal or forget to take our vitamins, well, we can chalk it up to that's what life in this season is.
But, have you stopped to consider that taking care of YOU helps you take care of others better?
If you've got more energy, you'll be more willing to run around at the park with your toddler. If you're not starving at pick-up time, you won't be short-tempered with your kids when they tell you about their days. If you experience better health because you eat well, you'll be less likely to get sick and find yourself unable to help anyone in the family, let alone yourself.
How you care for yourself enables and strengthens your ability to care for your family. Part of that self-care starts as soon as you get up in the morning — with a good solid breakfast.
Starting the day with a good breakfast can not only help you have better nutrition and a lower BMI, but it can also help you do better at this mom-gig. That's why I'm such a fan of Mom Food.
So, how about making some overnight oats for your next meal prep?
Easy Overnight Oats for Mom
Recently I tested out this overnight oats recipe from Dole, Wake Up Oats, that's really fun and different from other recipes I've seen. Not only is it a hearty breakfast, but it's also completely plant-based.
Instead of the yogurt that I've seen in other overnight oats recipe, these Wake Up Oats contain almond milk which is super delicious and lower in fat and calories than some dairy products. Combined with rolled oats, nuts, coconut, berries, bananas, cinnamon, chia seeds, and maple syrup, it makes for a power-packed breakfast that should go on your meal plan this week!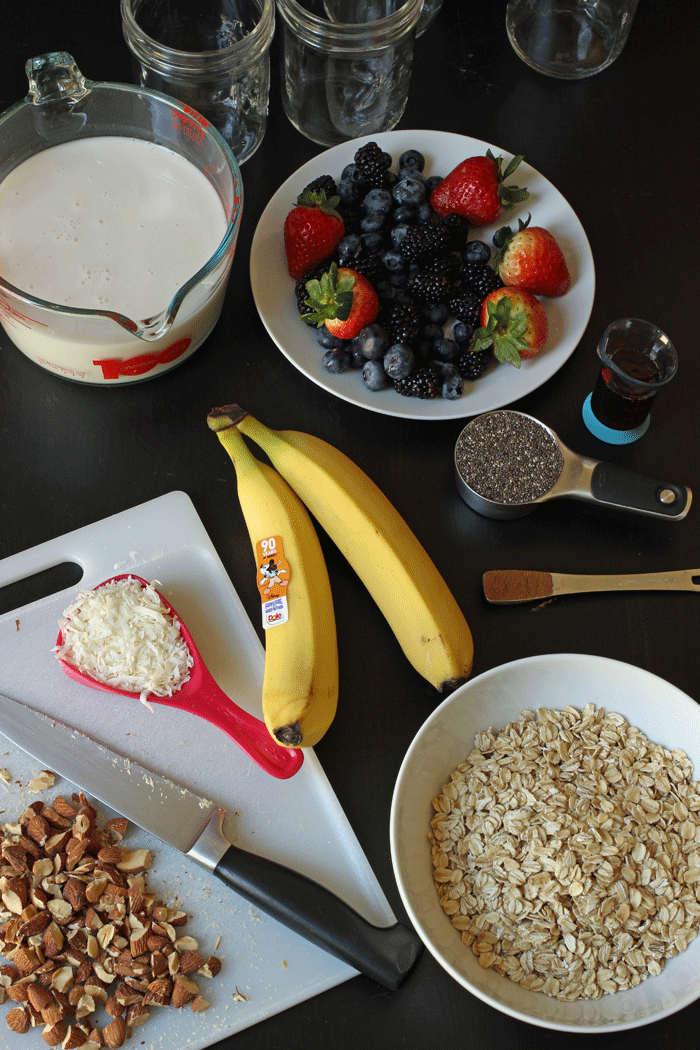 In case you've never had overnight oats before, let's handle some of the finer details.
Do you eat overnight oats hot or cold?
Since these Wake Up Oats are made with almond milk instead of yogurt, you can enjoy them either hot or cold. Pop the uncovered jar into the microwave to warm it up or dig in straight from the refrigerator.
I plan to add these into my spring and summer breakfast rotation, mixing up the fruit, based on what's on sale or in season. How refreshing to have breakfast all ready to go when you wake up in the morning!
How do long do overnight oats keep?
Prepared food is good for up to 4 days in the refrigerator. Keep in mind that the textures may change the longer you let the berries, bananas, and oats sit in the almond milk.
You'll have firmer textures in the first day or two, softer textures as the days progress.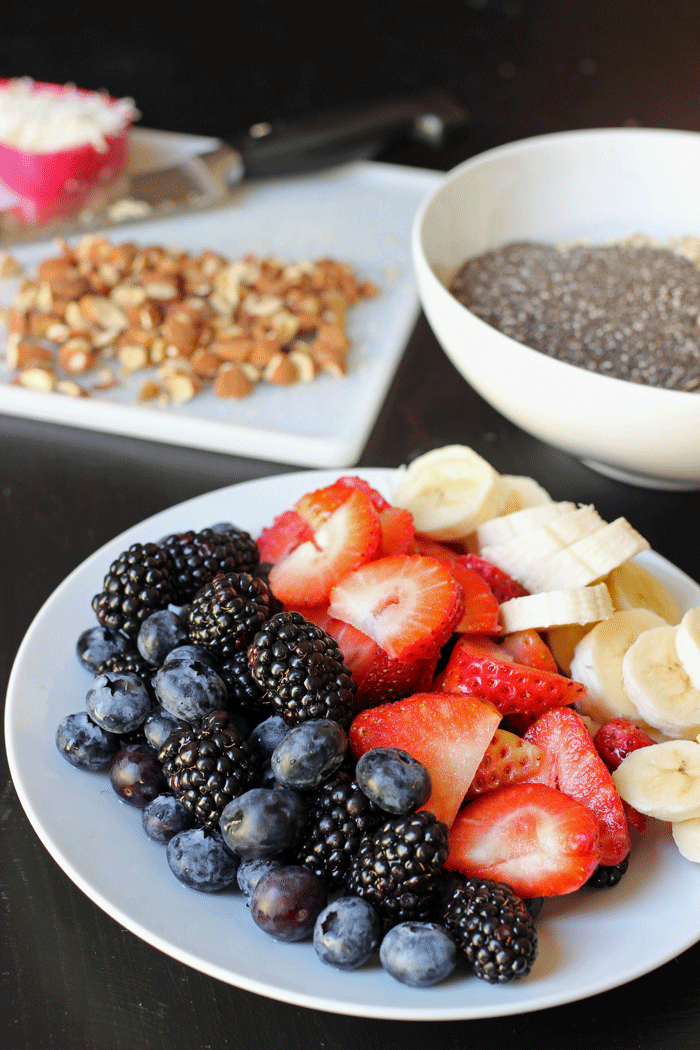 What kind of oats do you use for overnight oats?
This recipe for Wake Up Oats calls for old fashioned, rolled oats which is what I regularly keep on hand. They're super versatile as a baking ingredient and count as a whole grain which makes them better for you than say instant or quick oats.
Can I add other mix-ins to overnight oats?
Absolutely! Feel free to vary the fruits, nuts, seeds, and spices based on what you have and what's in season. Here are some flavor combinations that would be tasty:
blueberries, lemon zest, and nutmeg
pears, red grapes, and cardamom
cherries, raspberries, and a wee bit of dark chocolate
apples, walnuts, and raisins
and of course, the berries, bananas, and cinnamon as listed below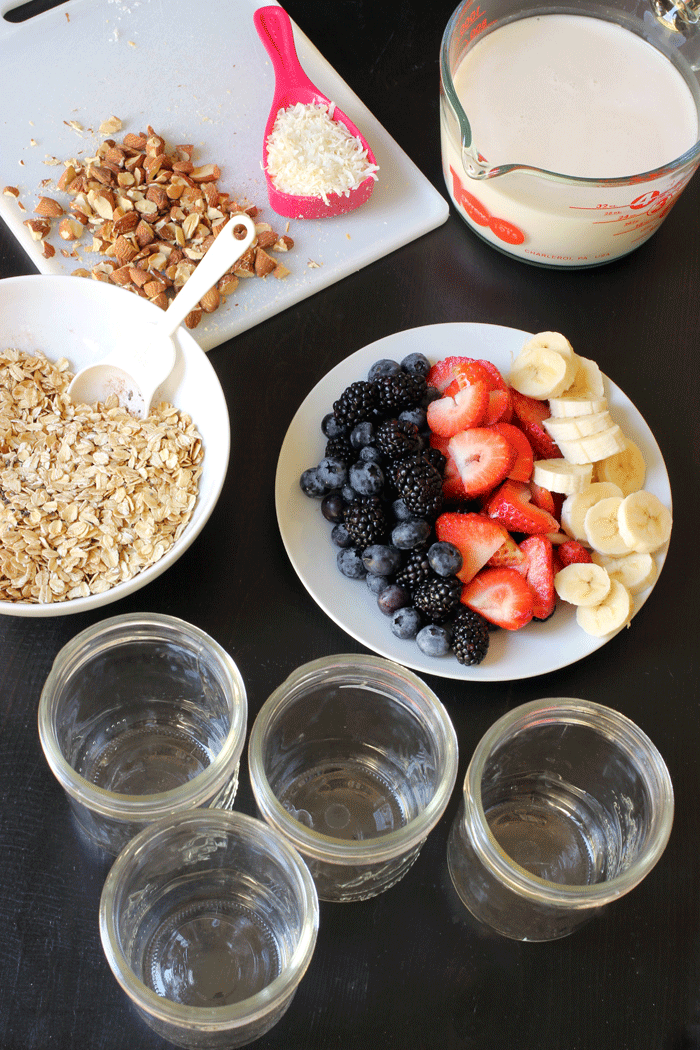 As you know, I've enjoyed partnering with Doleover the years; I love how they creatively join forces with Disney, one of my favorite brands.
This spring, in alliance with Captain Marvel, Dole is commemorating female superheroes in food, health, and wellness. As you may know, the newest tale from the Avengers universe, Captain Marvel, releases later this week. While Carol Danvers fights to save planet Earth, Dole is championing influential women on the home front: female farmers, chefs, doctors, nurses, dieticians, scientists, engineers, philanthropists, and others who have worked hard to give us a more nutritious life.
As part of the Powering the Hero Within collaboration with Marvel, Dole has developed a series of recipes to boost nutrition in women, which I'm totally digging. Now that I'm quickly approaching 47 (FORTY-SEVEN?!!) I've become more and more focused on my own nutrition.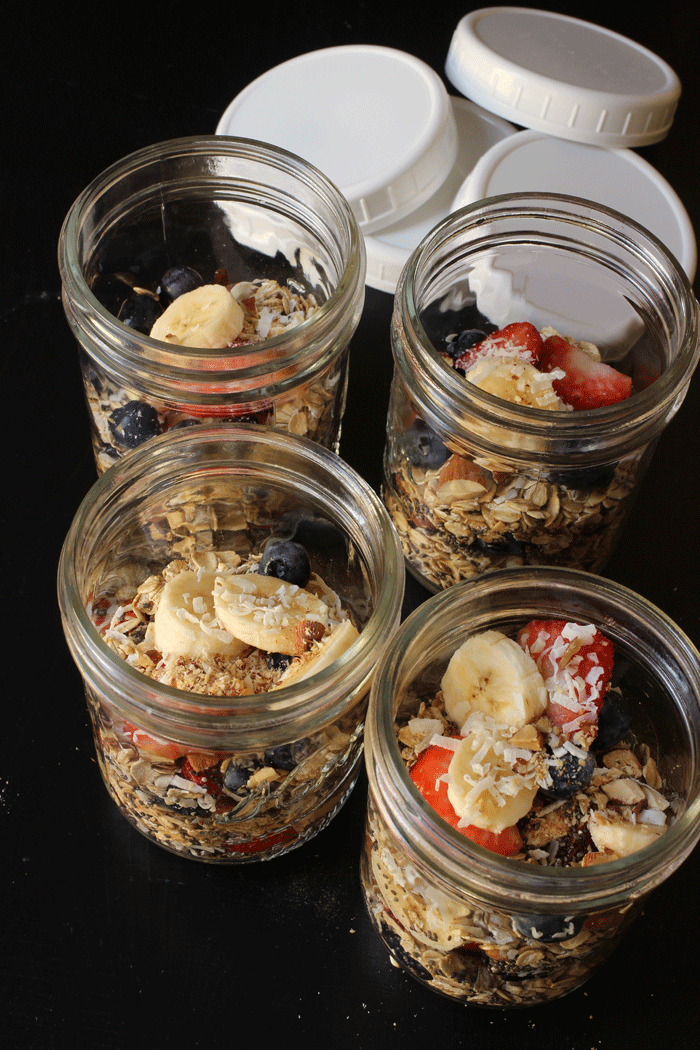 My last fall's physical revealed an iron deficiency so I've been working on getting more natural sources of iron and vitamin C. I particularly love that the Wake Up Oats do exactly that, the iron-rich cereal is topped with Vitamin C-rich berries.
For the same reason, I'm eager to try the Sweet Apple Shaved Brussels Sprouts & Lentilswhich capitalizes on the iron-absorption powers of lentils and green veggies.
Also on my list of recipes to try are the Coconut Acai Bowl(full of protein and fiber) and the Lemon-Ginger Spring Vegetable Stir Fry(fiber-rich and heart-healthy). Yum!
And of course, it's for sure on my to-do list to go see Captain Marvel! I know my girls will be thrilled to find her in the produce aisle as Dole is releasing special stickers and hand tags featuring the movies characters.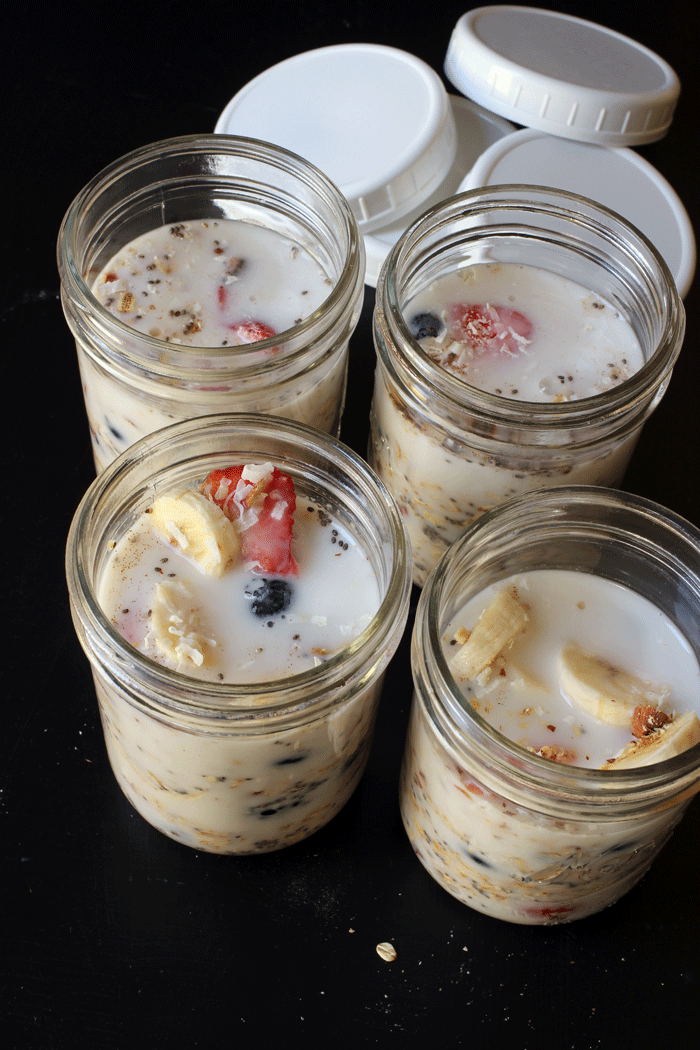 I hope you'll give the Wake Up Oats a try for your next Mom Food breakfast!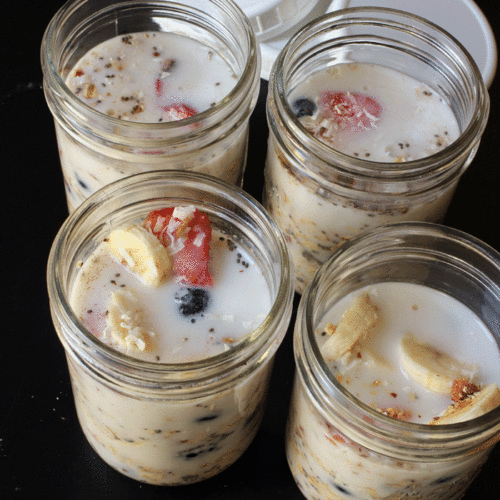 Print Recipe
Wake Up Oats
Enjoy these easy overnight oats that you make at night to enjoy fresh from the fridge the next morning. Delicious with fruit, nuts, and seeds!
Ingredients
1-1/2

cups

rolled oats

3

cups

unsweetened almond milk

1/4

cup

ground chia seeds

2

DOLE® Bananas

peeled and sliced

1/2

teaspoon

ground cinnamon

2

cups

mixed berries

DOLE® Strawberries, DOLE® Blueberries, or DOLE® Blackberries

1/2

cup

mixed nuts

chopped (almonds, pecans, or walnuts)

1/4

cup

unsweetened grated coconut

2

tablespoons

honey or maple syrup

optional
Instructions
Combine the oats, ground chia seeds, and cinnamon in a medium bowl.

Layer the oat mixture with the bananas, berries, nuts, and coconut to fill pint-sized mason jars. Pour the almond milk over the top, dividing it equally among the jars, and seal the lids. Refrigerate the jars overnight.

To serve: Remove the jars from the refrigerator and drizzle the oats with honey or maple syrup, if desired.
Notes
Note: These overnight oats are good for up to 4 days, refrigerated.