Playing Card Games with Kids (Card Holding Board Tutorial)
As an Amazon Associate I earn from qualifying purchases. For more details, please see our disclosure policy.
Card games are fun to play with kids. Make this card holding board so that little hands don't get frustrated.
Photo Source: Lilit
FishPapa and I have always loved to play games. I'm not sure if it stems from a lack of video and television for more than half our marriage or if we would have played Trivial Pursuit with a vengeance even with the TV in the background. But, suffice it to say, we love games.
And I hate to lose.
But, that's a post for another day….
And even though, Mr. TV lurks in the background nowadays, we still love to play games, only now we have up to 7 players! Our favorite games to play with the family include Skip Bo, Uno, Blink — all easily portable card games.
Early on we discovered that it was difficult for young children to hold all their cards without sharing their hand with the whole world. Not a big deal with honest parents, but somewhat disconcerting once you've got older siblings to contend with.
Enter the Card-Board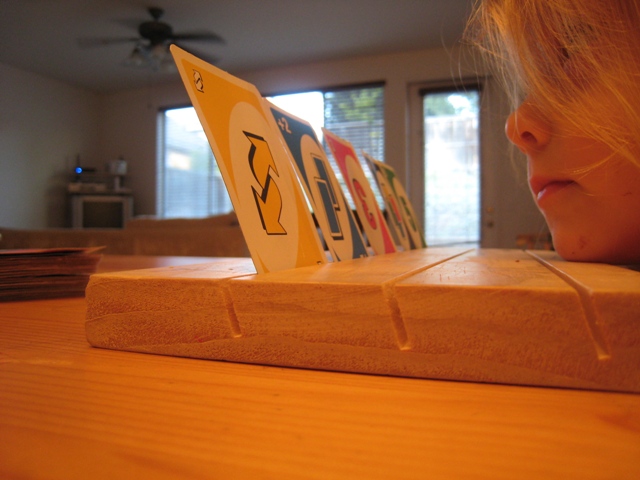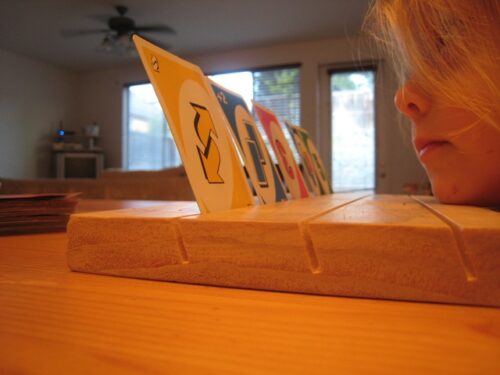 FishPapa created a set of these "card-boards" for our toddlers and younger children to use. Similar to the Scrabble tile holders, these card-boards hold any number of cards so that little people can see their cards without laying them all out on the table.
If you've got a handy man — or woman — in the family, these are quite easy to make. Well, sort of. I mean, I didn't make them. But, they look easy enough. Sort of.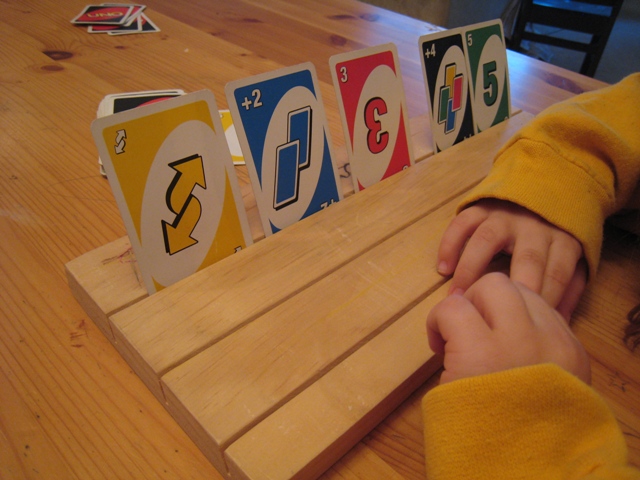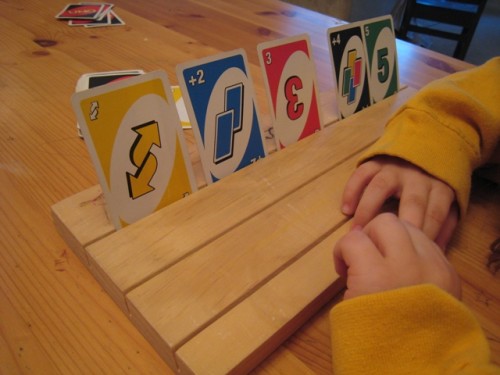 Make Your Own Card-Boards
FishPapa's directions:

Cut several large planks out of 1×6 or 1×8 clear pine. Cut the channels with a table-saw set half-way through the material at about a 10° angle. A thin-kerf blade works best. (That just means that the blade is thin so that it doesn't make too wide of a cut.) Sand and smooth any rough edges.
See? That wasn't hard, was it? And you'll have so much fun playing cards with your kids once you get tooled up with card-boards.
Got a trick to make card games easier for young children to play?