Enjoy the Daze
As an Amazon Associate I earn from qualifying purchases. For more details, please see our disclosure policy.
The days are hard, and yet they pass all too quickly. None of us is the mom she wants to be. And we all have regrets. So what do we do with them?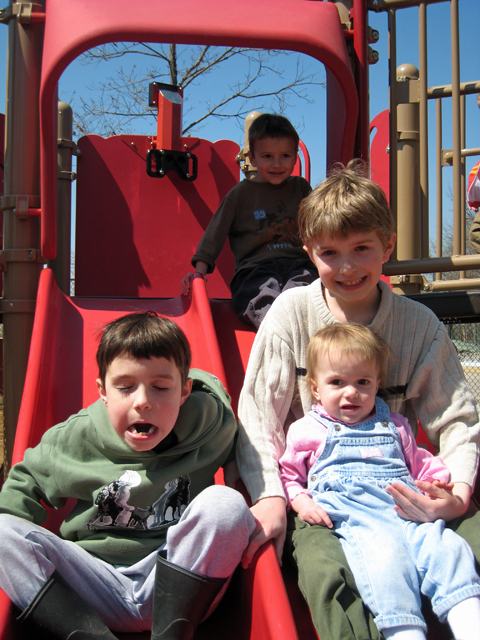 So often I wish I could rewind the clock and talk to 25-year old me. Or the 30yo. Or that chick when she turned 35. Sigh. It's so hard NOT to say, If only I knew then….
But, you don't. For some reason God makes wisdom a hard-won thing. We aren't typically born with it and we often have to make a lot of mistakes to get any of it.
As you know, my eldest son is graduating high school this spring and starting at a local university in the fall. His life is passing before my eyes. How did we get here? I remember when he turned 9 and we remarked that his homeschool was half over. It went by way too fast.
I'm suddenly SO GRATEFUL for the big age gap between him and his younger brother. I guess God knew what He was doing in spacing them not the way I wanted them. I can't tell you how thankful I am that I have three more years before the next one moves on.
Interestingly enough, it's this second child, this one that we prayed so hard for, that is currently teaching me so much. They all do, of course, but it's so fascinating to me that we're in this season. My second son has often been the one I had the hardest time relating to — he's also the most like me — and he's now the one with whom I have the deepest conversations and wrestle with life questions with. And he's only in 9th grade!
I guess some people are born with wisdom.
Anyway, recently, he and I were talking about life and how it was going too fast for my liking. I look back at his childhood and it's almost a blur. That's what happens when you have six babies in 11 years, but still. I regret not cuddling that little boy more or reading more stories or doing more.
It wasn't just the new babies every other year. It was debt. It was immaturity. It was some really sucky church situations that hurt our family deeply. Those are the things that distracted me from that season. And if I'm honest, made me wish life would go faster.
Oh foolish woman.
I cry often that I didn't savor those toddler and little boy years more. I thought I was at the time, but now I'm not so sure. I realize that I've always had something going on in my life to distract me from my kids, to pull my attention away from fully enjoying the season they're in, to tempt me to use my energy someplace else.
Part of the a-ha moment I had recently was realizing that back in the day — back when I first started this parenting gig, I was not confident in my parenting, in my money-management, or in my identity in Christ. I spent so much time worrying about things or handling them the way other people thought I should.
Instead of resting in who God made me and my children to be, I worried about being someone else.
I'm so thankful for the last few years of stepping back and letting our family be us. And I'm slowly getting over my regrets of not having been a better mom.
My take-aways from all this?
1. The show's not over. I can make some concentrated efforts not to get distracted from the season our family is in now. It's wild and crazy, but it's good.
2. I can help my kids become confident in themselves and in Christ so that they don't make the same mistakes I've made.
3. I can do the best I can where I am now.
4. I can give myself some grace. No one's born wise. I was bound to make some mistakes, right?
5. I can enjoy my life more.
What would you do?