Fighting for Christmas
As an Amazon Associate I earn from qualifying purchases. For more details, please see our disclosure policy.
This post was originally published on December 16, 2012. Seeing as I'm having a hard time getting "into" Christmas, it seems apropos to repost it. Let's fight for Christmas.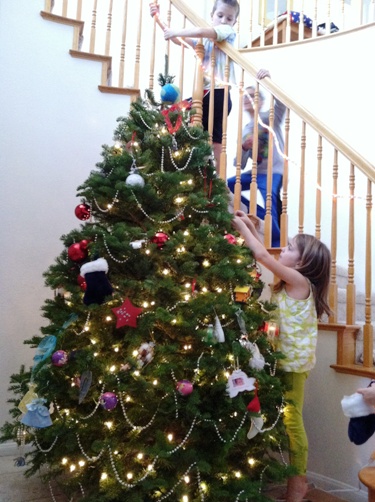 This month didn't start out all glitter and rainbows for me. I've struggled since right after Thanksgiving. It's been nothing major. Just lots of little things that got in the way of my best intentions.
Early last week I realized that the days were passing me by. The kids were excited for Christmas and the little electronic countdown card that they consult every day was telling me that the days were quickly disappearing.
Monday we went to get the tree. We also did our traditional cruise by Starbucks afterward for hot cocoa. Talk about your suburban traditions. Starbucks is in the same parking lot as Lowe's! LOL
On Tuesday the kids and I decorated the Christmas tree. They were so excited. Their enthusiasm seemed to wash away some of those blahs I was feeling.
That night we made tamales, yes, even children helped. Then they devoured the entire potful in about five minutes.
I think that's when I realized that sometimes we have to fight for Christmas. This holiday may seem like a drop in the bucket compared to my forty other Christmases past. But, my kids' buckets aren't so deep.
I'm going to fight to make this Christmas a good one.
I'm not talking about more presents or more food. I'm not talking about more stuff to do.
Instead I'm talking about making the most of the resources and the time that we have together:
cuddling our kids and spouses
singing songs
watching movies and playing kid games
making home homier, though the world proves it holds a lot of crazies
living a life of love so that others are reminded what Love is
I don't have a lot of answers. I just know there's a fire in me now to fight the good fight.
Will you fight with me?