Fruit Felt Ornaments for the Tree
As an Amazon Associate I earn from qualifying purchases. For more details, please see our disclosure policy.
Create these fun and whimsical homespun felt ornaments for the Christmas tree. They're a great reminder of the fruits of the Spirit.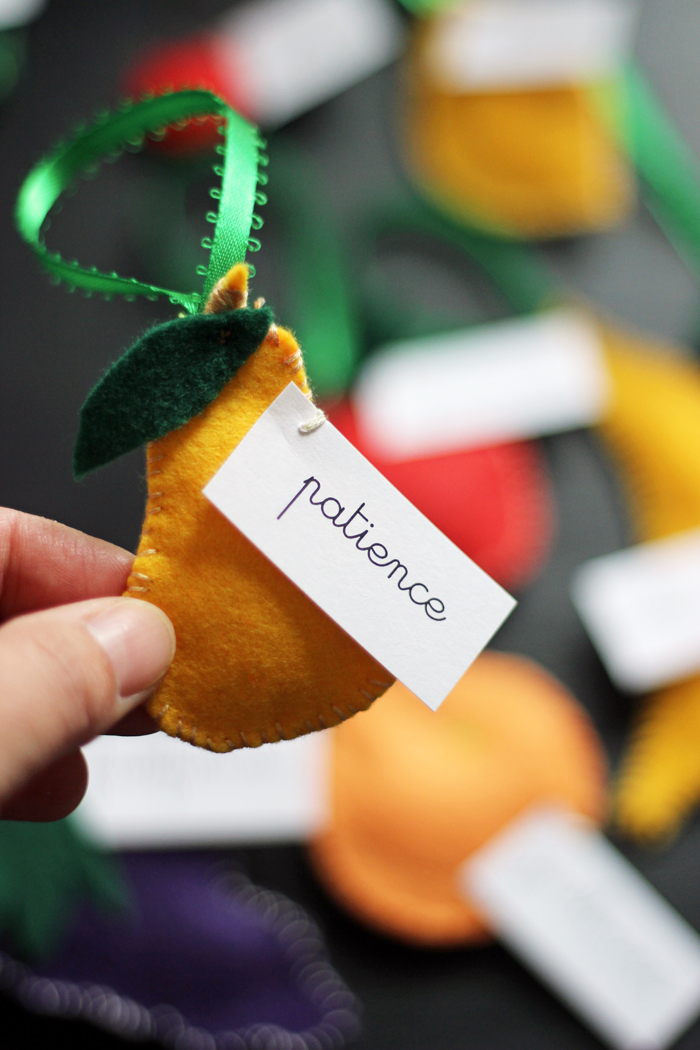 Please note: I am not a crafter. I am not a seamstress. I am most definitely not an artist. Rarely do the visions in my head actually turn out the way I, well, envision them. In fact, quite the opposite.
This time would be one of the exceptions. One of the rare, beautiful, I-could-almost-squeal-with-delight exceptions.
Several years ago, probably fifteen years ago, I bought my sisters each a set of fruit Christmas tree ornaments and labeled them with the fruits of the spirit. I wanted to recreate that for you because, honestly, I was a little proud of myself for thinking of the idea back in yonder times.
But, lo, there were no fruit ornaments to be had. Not for less than a buck a piece, anyway. So, I did what any sane woman walking the aisles of Michaels would do: I invested in all kinds of craft supplies for a project that had no pattern and no promise of actually turning out okay.
You would totally do that, wouldn't you?
Luckily for you, the next time you're wandering the aisles of Michaels you can invest in all kinds of craft supplies for a project that comes with an easy, free printable pattern and the promise that even an ignoramus (that would be me) in the sewing department could pull off.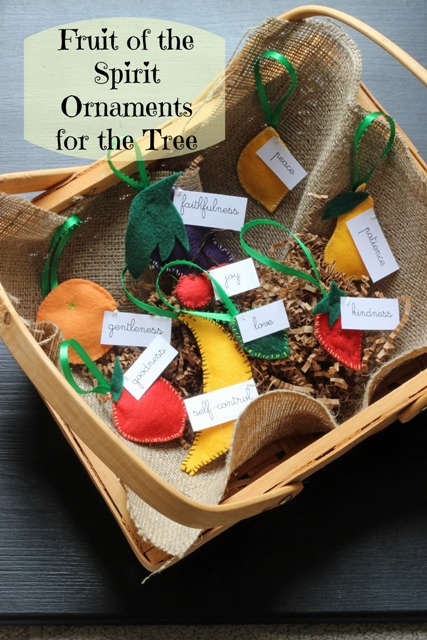 Please don't be intimidated by this project. I don't sew. And I can do this. It took me about five hours from start to finish to conceive the idea, draw the patterns, cut, sew, and finish all nine felt ornaments. Since you don't have to think up the idea or draw the pattern, it should take you much less time.
I did the sewing during a movie night, so it was fun and creative and relaxing. I didn't worry that they looked perfect; they don't. But, that's part of their whimsy.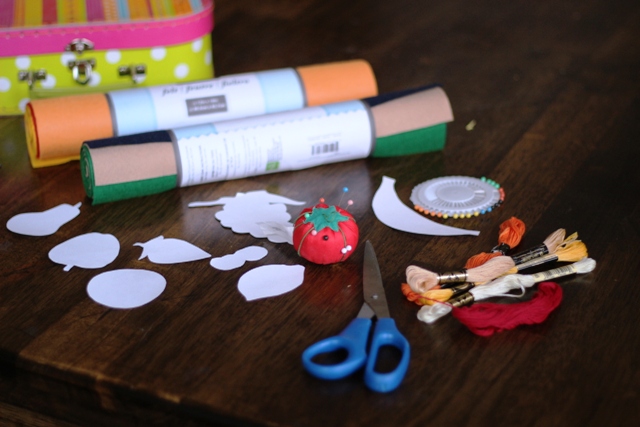 How to Make Felt Ornaments for the Christmas Tree:
Supplies:
paper or cardstock
scissors
stick pins
felt in different colors
embroidery thread
needle
cotton batting or cotton balls
thin satin ribbon or Christmas tree ornament hangers
Instructions:
Download and print out the Fruit of the Spirit Ornament Printable. Cut out each of the fruits and the word labels.
Pin each fruit to felt of your preferred color and cut out around the pattern. Cut two of each. There are nine different fruit, but if you'd rather use several of the same fruit in different colors, feel free to do so. On the pattern you will find: apple, orange, pear, banana, grapes, lemon, lime, strawberry, and cherries.
Thread contrasting thread on your needle and sew two of the same shape together. I used a whip stitch because that's basically all I know how to do, but a blanket stitch would be pretty as well. I liked the look of the contrasting thread, but if you prefer, you can use the same color. It will just give you a different look.
I particularly like how the brown thread on the banana makes it look more like a banana. And yes, I did make a trip to Walmart just to get brown thread.
Once you have most of the individual fruit sewn, stuff it with a little cotton batting or cotton balls. You will use very little so unless batting is something you always stock, I say go with whatcha got.
Once all the fruit are sewn you can add the details. I added seeds to the strawberries, a stem to the orange, stems to the cherries, and leaves to several of the fruit. Just freehand cut some leaves from green felt.
Add a loop of green ribbon for a hanger.
Stitch a label onto each piece of fruit.
See? That wasn't so hard, was it?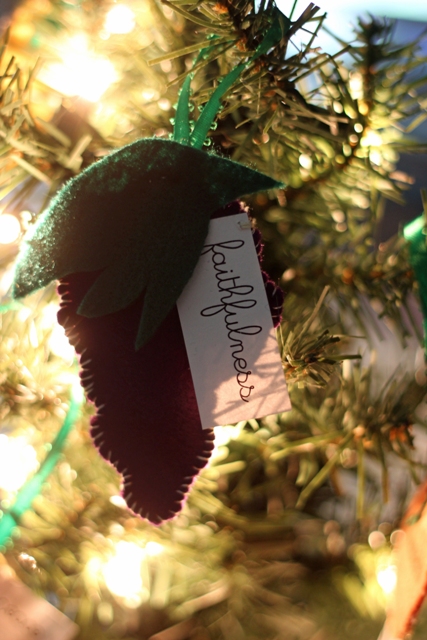 These felt ornaments are a great addition to your Christmas tree, but they are also a wonderful gift to give to friends and family. Plus, they're pretty fun to make, too. You get such a sense of accomplishment to create something from some random pieces of felt.
More Gift Ideas
For more gift ideas, check out this extensive list of DIY gifts for every man, woman, and child.