Learn to Build a Stockpile
As an Amazon Associate I earn from qualifying purchases. For more details, please see our disclosure policy.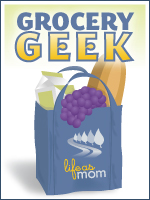 Time was long ago, that I would go to the grocery store with a list of all the things that I wanted to buy. Today, I decide what I want based on what's on sale.This reversal in my thinking has helped us trim our grocery budget enormously. Three years ago I regularly spent $800-1000 each month to feed our family of then 7. I've shaved that down to about $600/month on average.
This new way of doing things can be a little restricting sometimes, but overall it works out.
You see, I practice what some people call, stockpiling. I buy things on sale before I need them and keep them on hand in the pantry.
What Stockpiling Is Not
Now let me clarify between what I do and hoarding. You've probably heard plenty of horror stories about people who died with closets and closets of food and other belongings that they didn't really need. Due to fears, some probably very real, they didn't want to be without. And so they bought without as much purpose as they did compulsion. They bought when they didn't need it, and they never used it.
Frankly, I call that waste.
In my mind, a proper "stockpile" is one that is used. I may buy 10 boxes of cereal at one time at a great price on sale and with coupons, but they get eaten within a couple months, avoiding waste and avoiding a bigger bill at the grocery store.
You see, I could buy two boxes of cereal for five weeks at pay whatever the going rate was, usually about $2 a box. That turns out to be about $20. OR I can buy ten at one time for about $0.50 a box and spend a mere $5. Over five week's time, I've saved $15.
That is stockpiling.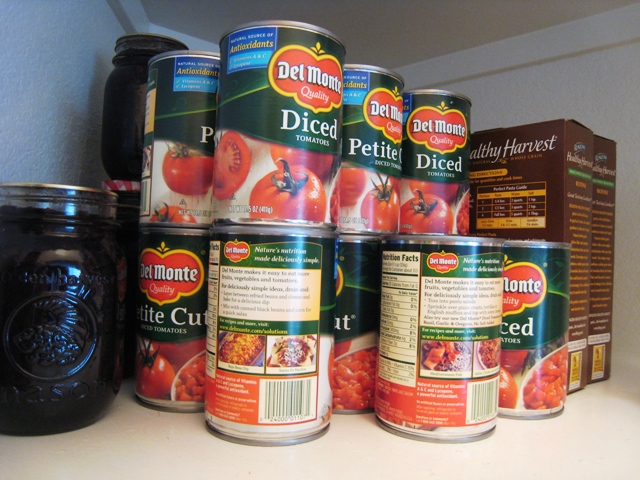 Important Guidelines for Stockpiling
There are some guidelines to keep in mind when you're building and maintaining a well-stocked pantry on a budget.
Don't buy something you won't eat. Unless you're sure you and your family are going to like it and use it, don't buy it. Even if it's a great deal. Even if it's free. Don't buy it. The only exception to this rule is when you are sure you can and will donate it to someone who will put that product to good use.
Check the expiration dates. Make sure the item is something that you can store for a reasonable amount of time.
Make sure you have room at home to store it. It's not a deal if it drives your family bonkers as they trip over said "good deals." Only purchase what you can reasonably store.
Don't eat it all at once. In the above scenario, my ten boxes of cereal should last five weeks. Well, my kids could eat ten boxes of cereal in one day. So, you need to have some kind of control over your stockpile. I have a very tall closet pantry where we store our dry goods. If I have excess of an item that the family could consume too quickly, the extras go way up high where my kids are least likely to get them. The 20 cans of tomatoes which they will not open go on the bottom shelves.
Make sure it does get eaten. Once you get a stockpile going, you may forget what you have. Rotate your stock frequently. Tidy your cupboards weekly. Build your meal plans from what you already have. And eat from the pantry yearly. It's not a deal unless you use it.
Stockpiling Happens Over Time
If you're just starting out in building a frugal pantry, your grocery trips will look kind of odd.
You'll be shopping from the sales.
Items may or may not go together in an obvious way.
Multiples of one item will look really funny in your cart.
It's okay if the checker doesn't understand the method to your madness. You do.
This past week a recent trip to Walmart produced these items in my cart:
3 bottles of Genesis Today juices ($6 – $1 coupon = $5 ea)
3 bottles of Hunts Ketchup ($1 – $0.20 coupon = $0.80 ea)
2 packages of La Creme Mousse yogurt ($2.19 – BOGO coupon = $1.10 ea)
Now that's a weird combination. Sure, I also bought a gallon of milk and some birthday party stuff. But, I browsed the aisles and saw these items on rollback. I knew I had coupons in my coupon box which greatly reduced the prices of these items. I checked the expiration dates and I knew that I had space to store these items so we wouldn't feel like we had to eat them up quicker than need be. While it may have been a weird combination, I was building our stockpile, saving us money on those items that we enjoy and will use over the coming weeks and months.
Do you practice stockpiling? Or does this sound totally wacky to you?
See ya in the comments.