Time to Make a Christmas Budget!
As an Amazon Associate I earn from qualifying purchases. For more details, please see our disclosure policy.
A Christmas budget is your first step toward a happier holiday season. Not only will it help you prioritize your expenses, but it will also you to enjoy what you have more fully.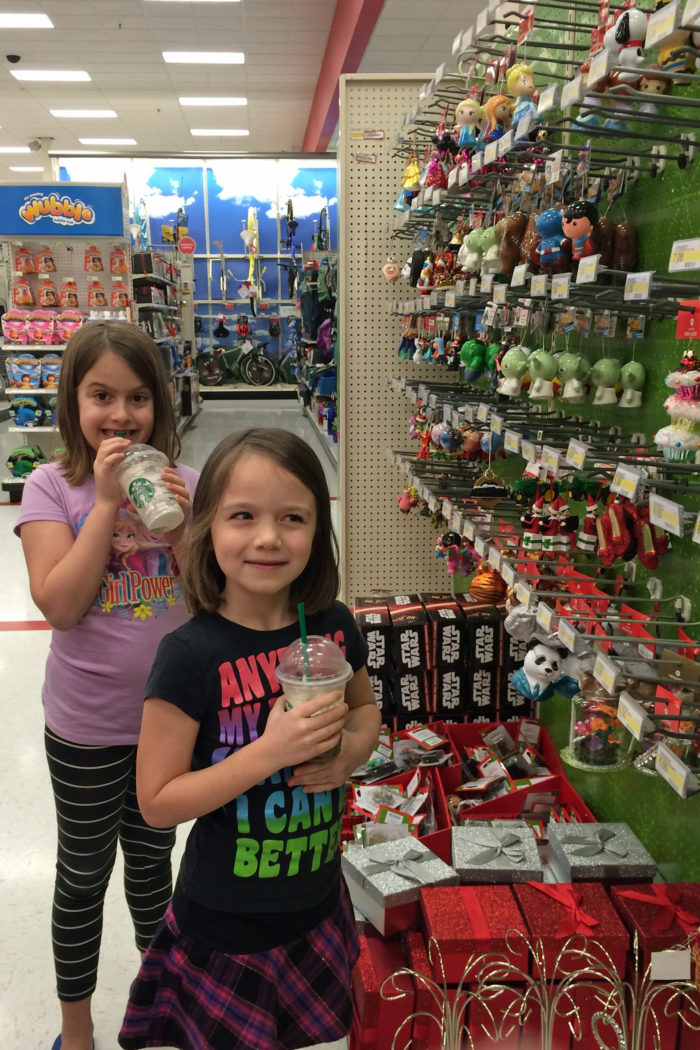 If you haven't been to Walmart or Target yet, you might not know that the Christmas shopping season has arrived. If you haven't been on Pinterest, you might not know that they've traded pumpkins for elves on the shelves.
I know. It's not even Halloween.
Even before the turkey's cooked, the marketers are pushing Christmas on us.
I'm mostly okay with that, since I love the holiday season. But, before we jump right into the jingle bells, can I just say one thing?
You need a Christmas budget.
Yep. The big B-word is reason enough for you to start thinking about Christmas. It will be here before you know it, and if you haven't planned — and budgeted for it — you will be sorely disappointed.
Disappointed that you don't have enough cash to spend on gifts.
Disappointed that you're charging expenses that you should have planned for.
Disappointed that you can't do all the things you want to do because you didn't plan on spending the money.
Every day expenses are enough to manage, don't complicate things by neglecting to plan for the added expenses of the holidays. Decide now how much you will spend on holiday extras.
Make the hard decision not to spend more money than you have this year.
Gosh, what a party-pooper, huh?
Sorry. But, I've known too many people who were still paying for last Christmas while they were shopping for this one. I've been one of those people. And it's not fun. It kinda takes the joy out of things. Those things you're buying are not really yours when they're not paid for. How's that for feeling like the Grinch?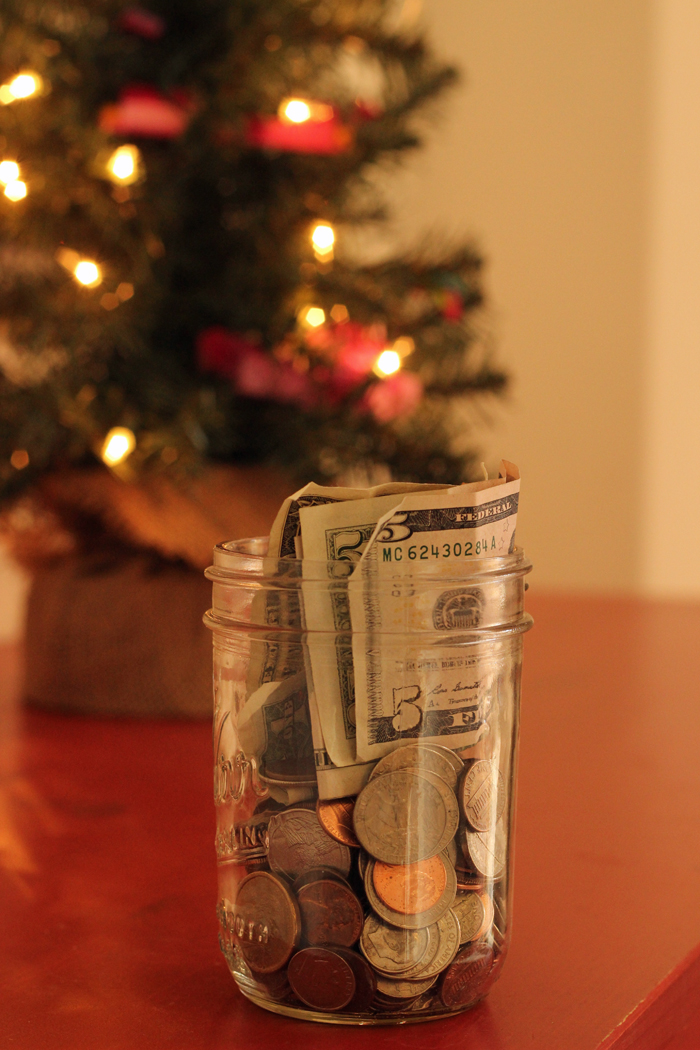 How do I make a Christmas budget?
Luckily, it's not hard to make a Christmas budget. And it's also not too late.
While it would be ideal to be saving all year long for the holidays, there's no better time than the present. So let's do this thing.
1. Make a list of expenses.
Generate a list of all the extras you anticipate coming up in the next few months. This could be family gifts, friend gifts, new clothes, Christmas cards, decorations, special activities, etc.
It can be helpful to go through last year's bank statements and financial records to jog your memory. It's easy to forget donations you made or events you had expenses for.
2. Check it twice.
Go through your list and prioritize the different expenses you foresee this holiday season. What's really important and what's a nice-to-have-but-not-necessary-to-life?
Chances are you may have to cut something. Few of us can manage to do everything we want to do all the time. Be willing to cut some things that aren't that important.
For instance, I stopped sending Christmas cards years ago and am pleased to report that I'm less stressed and $200 richer every year.
Prioritize and make room for the most important things.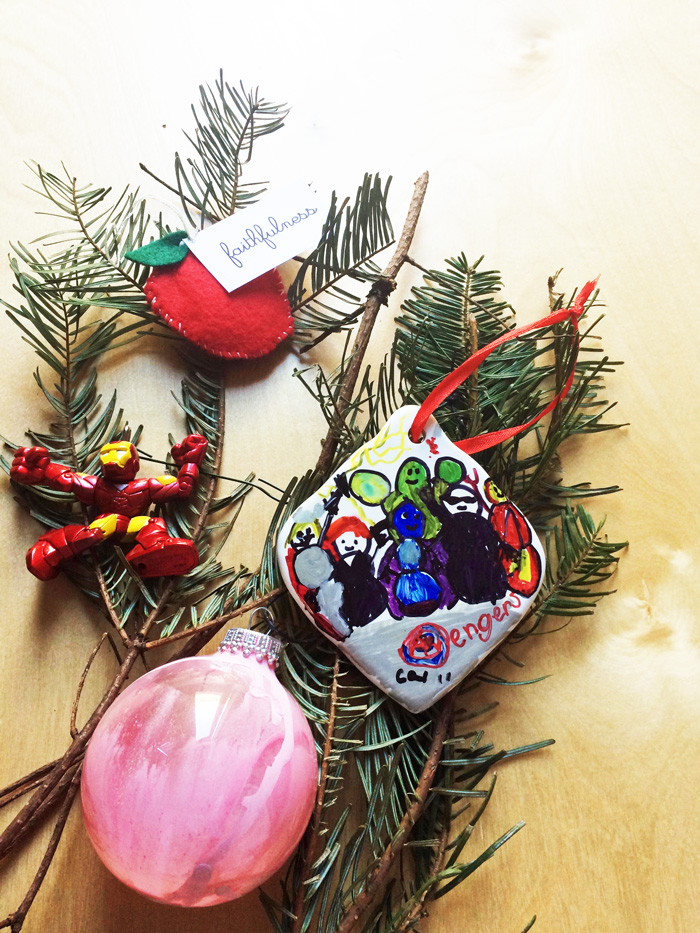 3. Decide on an amount to budget.
Once you know what's on the horizon, you should be able to estimate how much those things will cost. Look at past years to give you ballpark numbers.
Again, you may need to prioritize. Often times when we add things up, we realize that our original ideas just aren't realistic.
Don't worry. There are lots of ways to save on Christmas expenses. You may be able to have your Christmas cake and eat it, too.
4. Determine where that money will come from.
Unfortunately, those aren't money trees they sell in the parking lot of Lowe's at the holidays. You'll have to find the extra cash elsewhere.
This may mean foregoing some other monthly expenses or taking money from savings.
Consider these ways to free up extra funds for the holidays:
Do a pantry challenge. What you save on food costs can go toward paying for the holidays.
Sell unused items. Whether at a garage sale or on eBay, you can often scare up some extra cash by selling items in good shape that you no longer use.
Get a side job. A side hustle over the next couple months could generate a fair amount of cash. Get creative and think outside the box. What service can you provide that others would pay for? This list can give you some good ideas.
5. Don't be naughty. Be nice.
If you cheat and overspend, remember that you hurt no one but yourself. Don't go into debt over some dumb toy that your kid will have forgotten about three months — or three days — later.
Living within your means is actually very freeing. You will enjoy the holidays so much more, knowing that you won't still be paying for it next year.
Do yourself a favor and focus on experiences rather than stuff. You'll all be better off.
Including your bank account.
Make a Christmas budget before you do anything else this season.
If you have a list of budget items and a set amount of money to spend, your purpose will be clear: don't spend more than X amount of money.
Not only will you avoid overspending, but you'll learn to enjoy what you have all the more.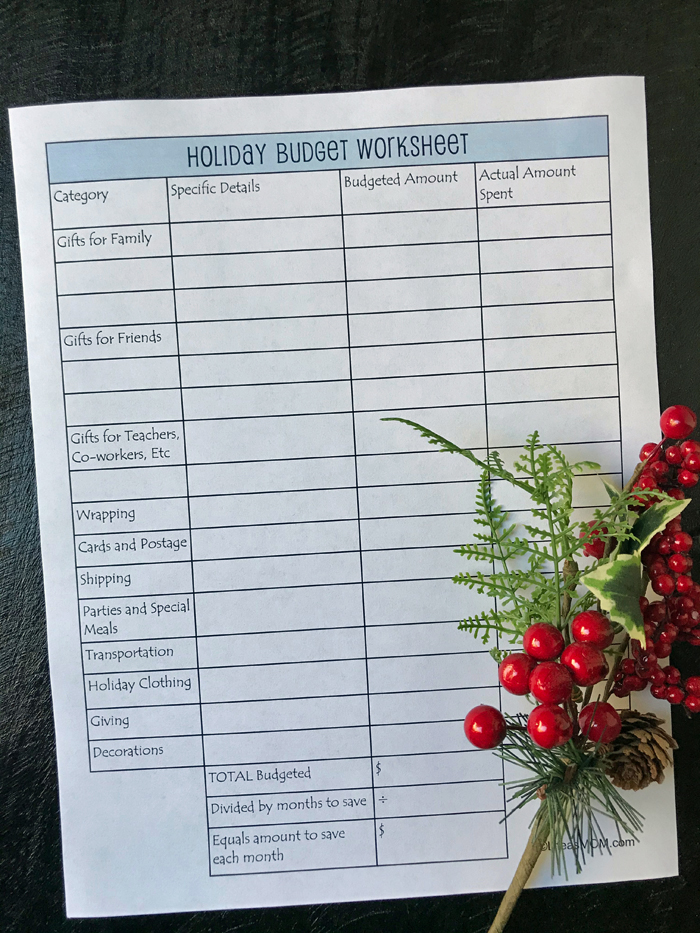 To help you better budget for the holidays, I've got a free printable holiday budget planning worksheet for ya! Just drop your email address in the form below and I'll get you started right away.
Once you've confirmed your subscription to my newsletter, the printable will land smack dab in your inbox.
But, what if you need more help this holiday season…?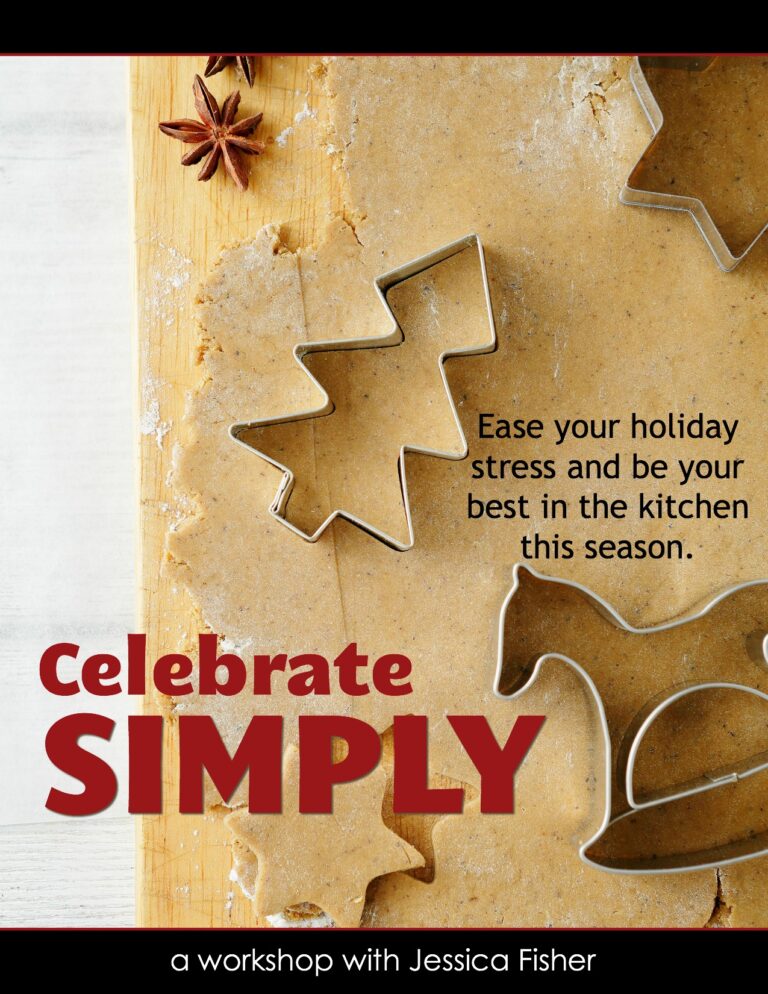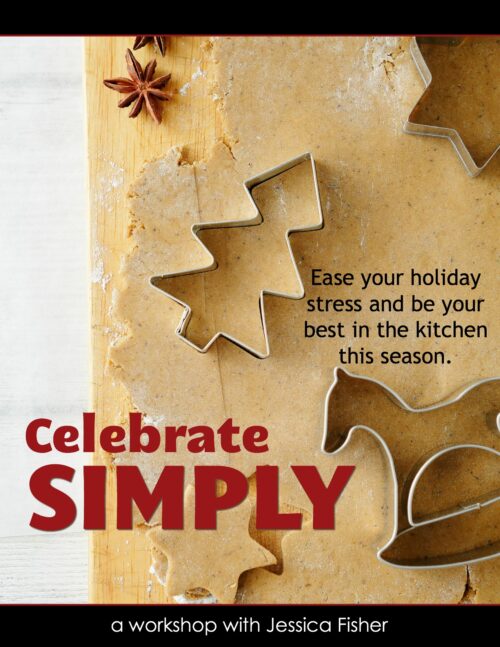 Ease your holiday stress!
Want to make the holiday season a little brighter this year?
Ease your seasonal stress by planning in advance how you will handle your holiday kitchen. By getting your priorities in line, you'll have the freedom to budget your time and money just the way you want to.
Learn more here.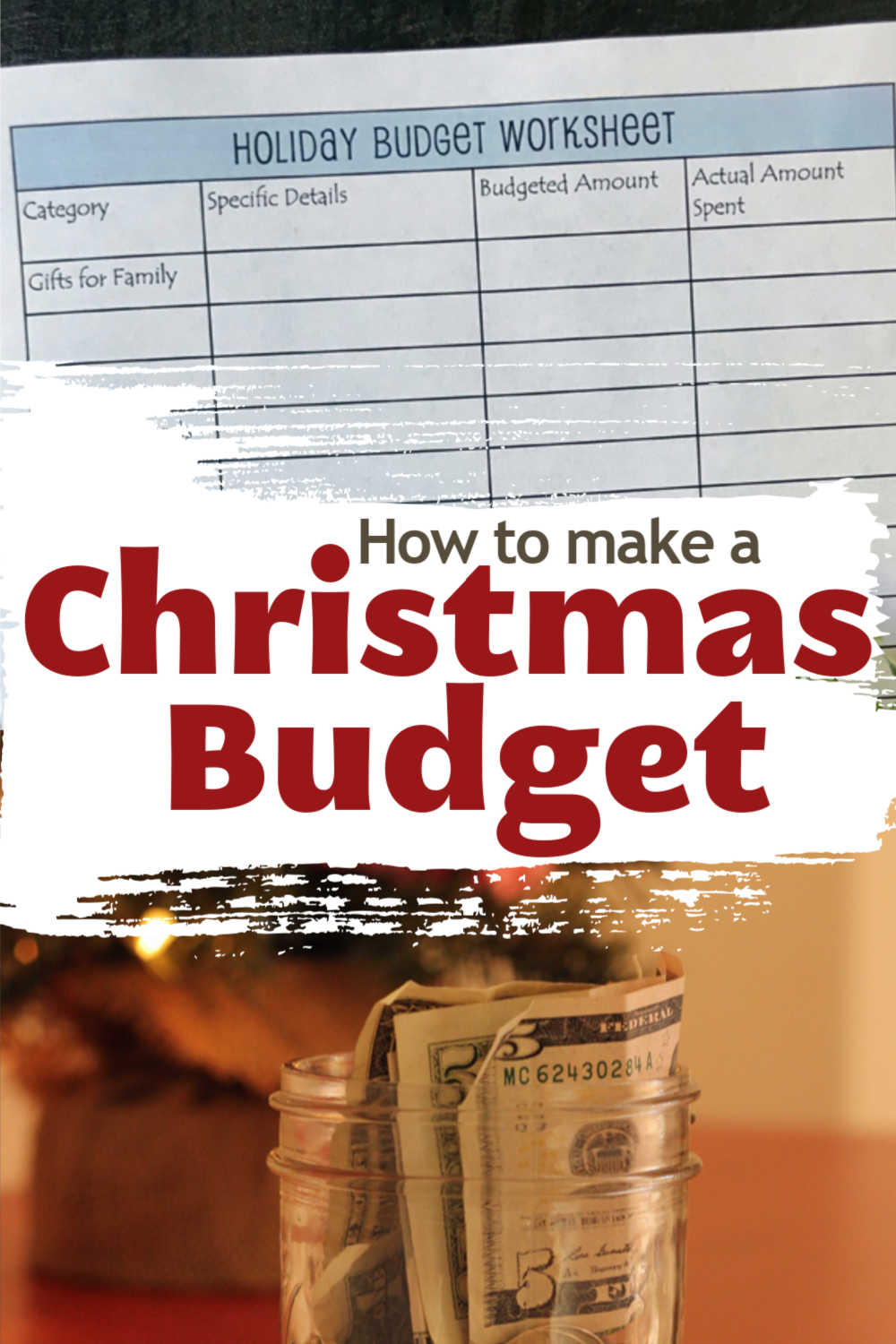 Originally published in 2013, this post has been updated for content and relevancy.