Our European Vacation: More Great Things to Do in Paris
As an Amazon Associate I earn from qualifying purchases. For more details, please see our disclosure policy.
Last fall we spent a month abroad where we visited London, Paris, and a handful of cities in Western France. We explored, rested, and learned a ton about ourselves and the world. This is the eleventh installment of our European adventure. If you missed it, go to the beginning here.

Last week I shared a brief intro to our second stay in Paris. Our first sojourn there had been punctuated by illness and culture shock. Going back, knowing that we had a full week in the City of Lights, we knew we needed to be assertive and really make the most of our time there.
In our first two days, we explored the city, playing in the Tuileries, walking the Champs Elysees, visiting Sacre Coeur. At the time it didn't seem like we were doing a lot — remember I'm the girl who wants to shut down Disneyland and get the biggest bang for my buck. Seeing how much we did in those two days makes me happy. We didn't squander our time in Paris. Paris!
In fact, we rocked it in the three remaining tour days we had there. Here are some of the great things we did in Paris:
More Great Things to Do in Paris
Again the reminder, if you want to see many things in Paris in a short amount of time, get a Paris Museum Pass. The Paris Visitor's Bureau gave us two complimentary passes which enabled FishPapa and I free entrance into museums and monuments throughout the city. Since children under 18 are free, this is an ideal way for a family to get around. We will definitely be getting passes when on our return visit. Thanks again to Paris Info for the passes.
However, don't get one the length of your entire stay. For a week, I would look into getting two two-day passes. That way you can have a break from heavy-duty sightseeing and allow for resting days in between. I'd say the passes are a great way for adults to get the biggest bang for their buck.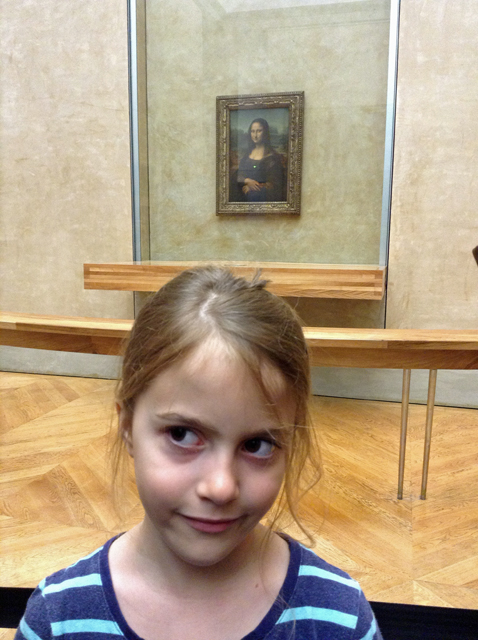 Go to the Louvre
We initiated our passes at the Louvre. Apparently, everyone else in Paris got the memo that you should visit first thing in the morning. The place was packed! We did the requisite herd march to see the Mona Lisa. Surprisingly FishPapa and FishChick8 were able to get up close and personal with La Joconde and make it look like they were the only ones there. Ha!
While you could easily spend days looking at everything in the Louvre, we spent a few hours exploring several galleries. My favorite work was probably the two sided painting of David and Goliath by da Volterra.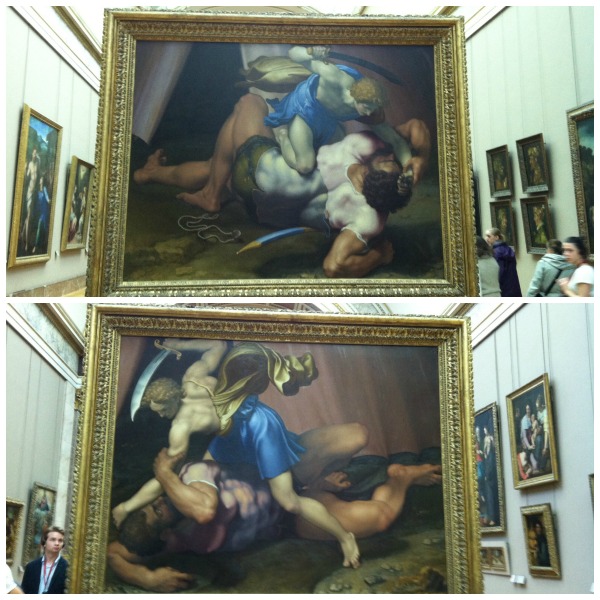 It was neat to see that the kids recognized other paintings that had been mentioned in our history and art studies from homeschool. FishBoy12 particularly loved the history behind all the works. We found that if you've got a detail person in your party, be sure to get them an audio guide. It will help everyone move along at a steadier pace.
Hanger (hunger + anger) got the best of us, though. We had packed a lunch (with frozen water bottles to keep things cool), but there's no public eating area in the museum. We went to the Jardin des Tuileries to picnic, but it was chilly. My people were getting bored with galleries and whispers of going home were circulating. I did NOT want to do that and waste half a day in Paris just sitting around.
Notre Dame isn't far, let's go there!
See Notre Dame and Climb to the Top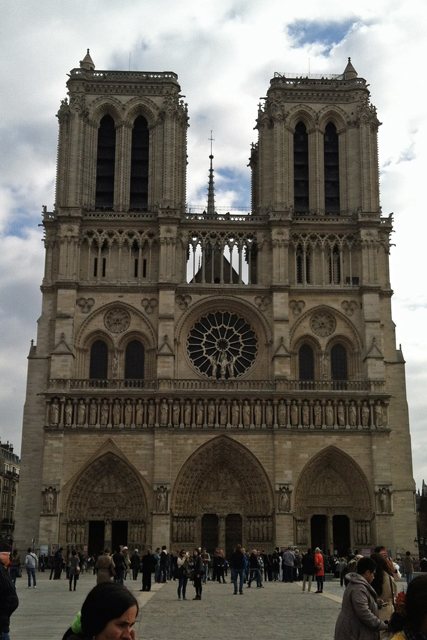 Remember how I underestimated how close the Arc de Triomphe was to the Louvre? Yeah, that. Needless to say, a certain gentleman wasn't thrilled that I had us walk all the way to the cathedral.
It's okay we can laugh about it now. Tension strengthens a marriage, right?
It was a very chilly day and the line to go up to the top of Notre Dame was quite long. We waited anyway. I kinda had to cajole my people to do it. I'll set my timer for ten minutes and if the line doesn't move, we can go. Thankfully, the line didn't call my bluff. I think we probably waited about half an hour in the cold, wishing we had hats and gloves.
But, nevertheless, we got to go up. Once again, I remember HOW MANY STEPS there are to the top. I'd been up twice before and was winded every time. FishChick6 was a trooper though. Even she did just great.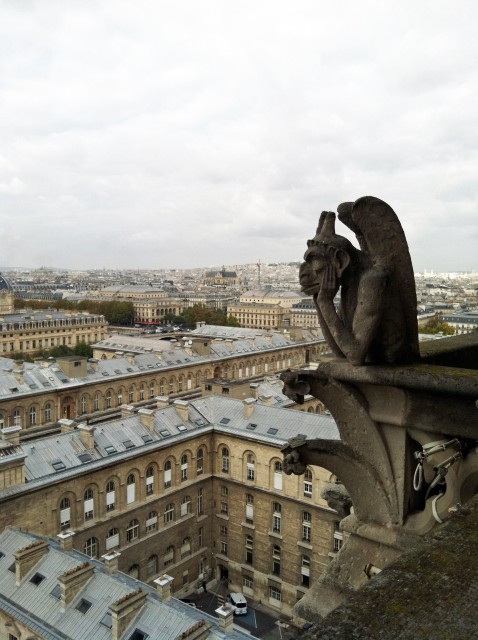 They've changed things at the top in the last 20 years. You can no longer get too close to the gargoyles. No pictures like this, I'm afraid.
It was incredibly crowded up at the top as they maximize how many people can go up at a time. It wasn't like that twenty years ago when we could walk leisurely and come and go as we pleased. Now, it's timed. You can't go up or down a level until your group leader says.
Though we felt a little like cattle, it was nice to have been up and to see the view.
Go to the Musee du Cluny
Afterward, I decided to push my luck a little more: let's go to the Musee de Cluny, the medieval museum. Again we all had free admission. I was determined to see as much as possible with the passes!
The Cluny brought back so many memories of my junior year and coming here with Sarah. She was one of the smartest people I ever met. I miss her.
So, we shut down the Cluny, staying right until closing. I have this poignant memory of eating clementines in the courtyard outside and talking about all we'd done in the day. I felt good that we'd done the Louvre, Notre Dame, and Cluny all in one day and not squandered precious and expensive time in Paris.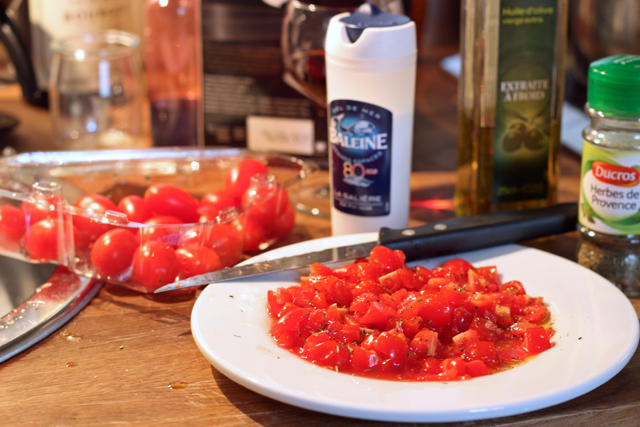 We went home via the metro and had a quiet evening at home. The girls and I went shopping for their Paris dresses. Our birthday tradition for the girls is that the Birthday Girl gets a new dress. Since we were saving money for our trip at FishChick6's bday, I had promised them that we would get their dresses this year in Paris. After a failed trip to a bargain store nearby, we found beautiful dresses at Du Pareil Au Meme. They were about $30 each so I was okay with that kind of memorable splurge.
It was so nice to have an apartment run like a hotel. The service was there when we needed it but we had all the amenities of home. We could cook our own meals which saved us a ton of money. I ended up making this Tomato Bruschetta with Herbes de Provence often during our stay. We ate a lot of pasta and a lot of sausage and potatoes, one of our favorite meals.
Head out to Versailles
The next morning FishPapa got the wild hair to go out to Versailles. Previously, he thought it wasn't worth the trip — he and I had been in 1992, so he'd been there. But, since our passes worked for Versailles as well, he set himself to researching how to get the train out there. I packed a lunch and kissed goodbye the idea of going to the Musee d'Orsay, my favorite.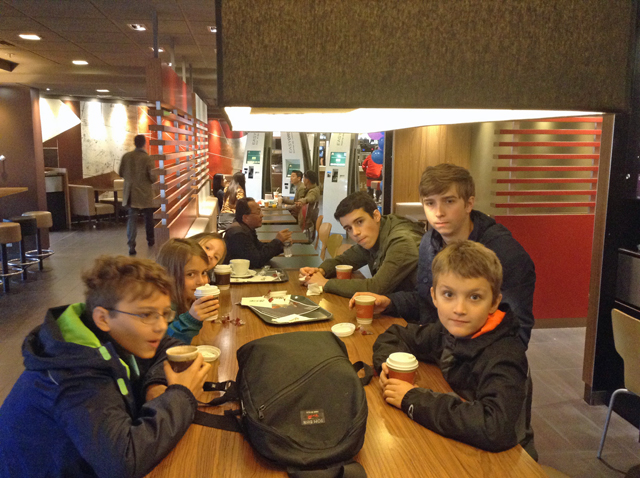 For some reason, we don't have too many pictures of Versailles, despite the four cameras that we hauled with us. We have several pictures from inside McDonalds. Ha! We don't even go to McDonalds in the states.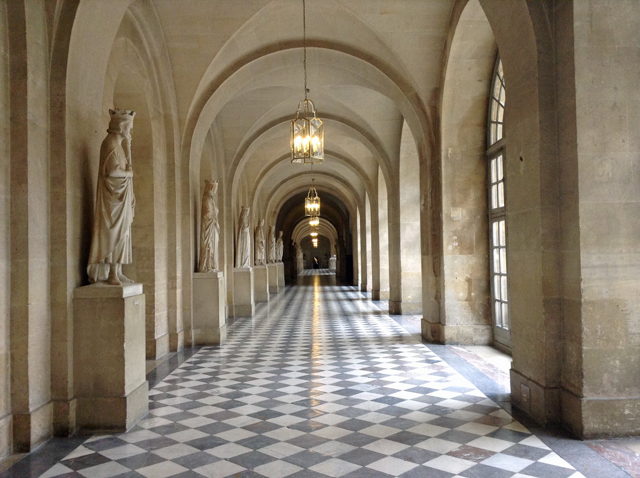 Versailles was beautiful and a little overrated. Some of the staff was exceedingly kind, polite, and helpful while some was very much the opposite. Overall, however, the nice ones were so nice that we were flabbergasted. This was Paris, after all. Even Delphine was stunned that folks were so nice to us. Must be my french-speaking charm. Ha!
Again, it was a cold day. We picnicked in the gardens and then realized that the outer buildings were too far to walk and too expensive to take the trolley, so we headed back to the city.
However, my husband had a surprise for me! Once we got the kids settled back at the apartment and ate dinner, he suggested we see the Orsay that night.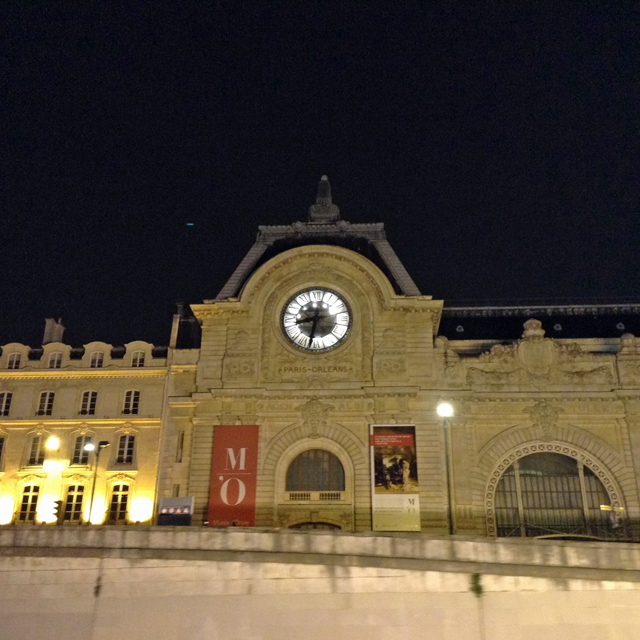 Tour museums at night!
We found out that each museum is open one evening a week. This is the best way to do it. For some reason the museum seemed magical at night. The Musee d'Orsay has always been my favorite so I was thrilled to see it this way.
Only two kids wanted to go with us, FB12 and FC8. The rest stayed back at the apartment under the guidance of FB17.
It was a really different feel to travel the city — at night and with just two kids. I'd forgotten how wonderful Paris is at night. We had spent our previous evenings at home, farther from downtown. The center of the city is amazing. And the views from the museum are beautiful.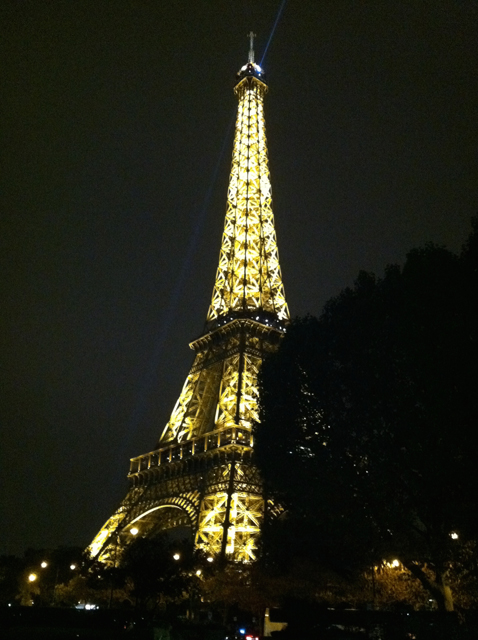 See the Eiffel Tower all lit up
We took the two kiddos over to the Eiffel Tower and got to see it do its sparkly lights at 5 until the hour. Really fun. We were a little sad that the others had chosen to stay home, but were thankful that we had another night in Paris to see the sites at night.
The next day was our last full day in Paris. By this time, we were getting in a groove and knew we were enjoying ourselves. We'd talked about climbing the Eiffel tower, that was on several kids' wish lists so we did.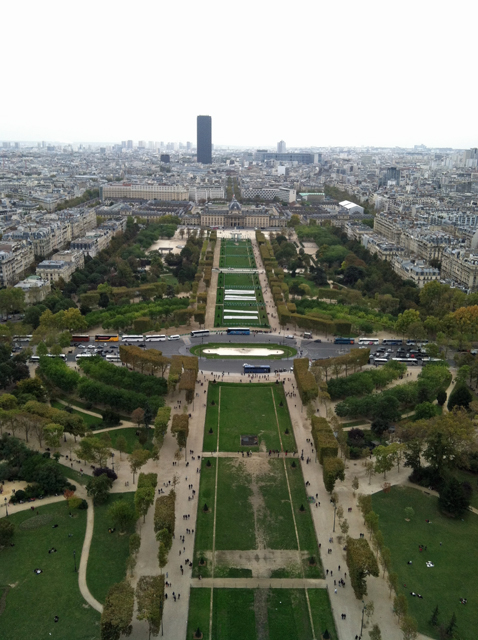 Climb the Eiffel Tower
This is the view from the second level. We chose to pay to take the stairs instead of paying to take the elevator. Again I found myself winded. I had done this trek alone in college, but I must have been in better shape back then.
Despite the fact that I'm afraid of heights, it didn't bother me at all to stand on the glass floor. Men all over the place, mine included, were hesitant to stand on the glass. (There's steel flooring in other spaces.) No problem for me. Hmf.
After our up and down the Eiffel tower, we headed out to the Champs de Mars to reenact our 20+year old Eiffel tower picture.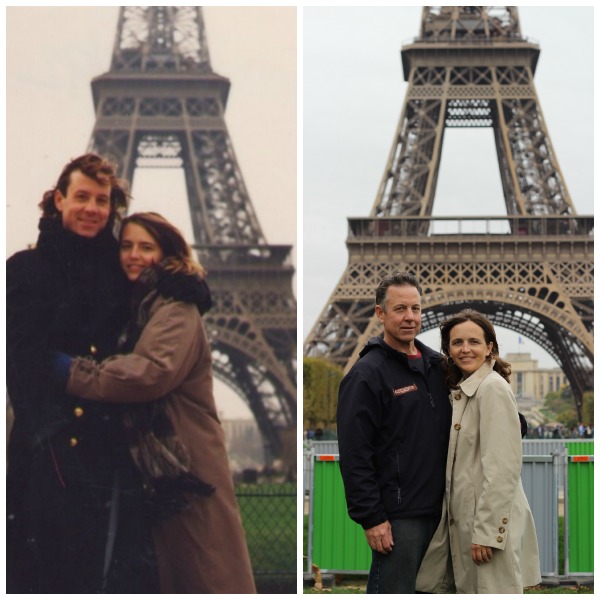 We didn't have the original with us, but we did pretty good for guessing. We're not as young as we used to be, that's for sure! But, wow! We've been a couple since 1992. That's saying something. 🙂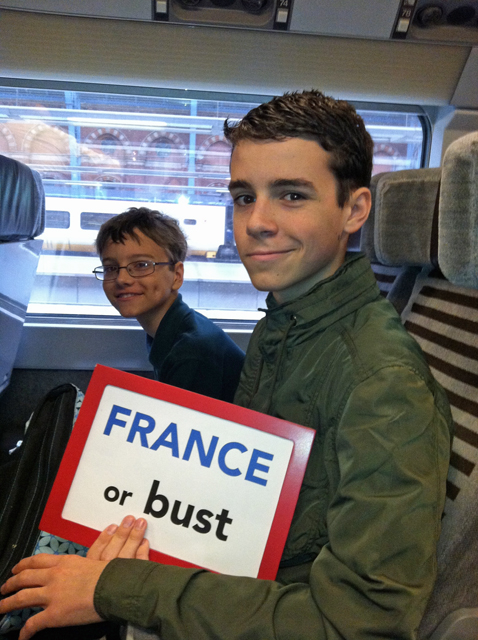 I had planned all along to take pictures with this cool red sign holder at different locations. I had signs that said lots of different things, like FishFam 2014, France or Bust and all that. I carted it everywhere in my back pack. We didn't use it much until the Eiffel tower. Time for "back to school" pictures!
Not everyone was thrilled with the prospect, but I love how they turned out. What a keepsake!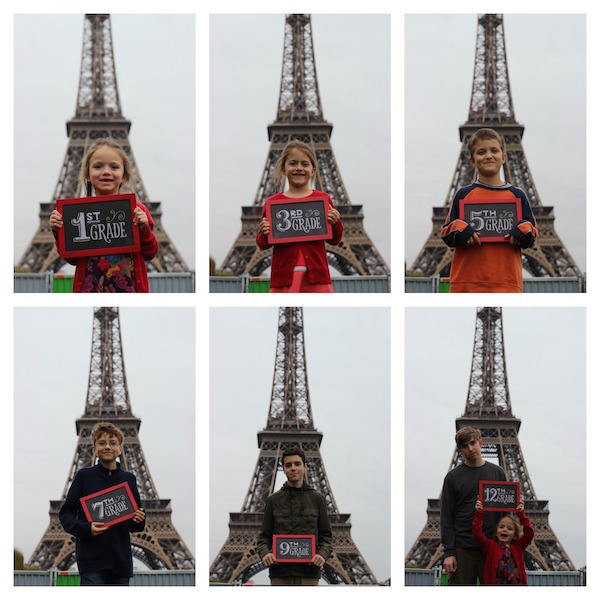 The girls wore their birthday dresses for these pictures.
That night, after a full day doing the Eiffel Tower stuff we met Delphine and Nico and Anna for one last get-together. Delphine had the great idea to take a ride on the Bateau Mouche. Despite threatening rain, we met on the Pont Neuf.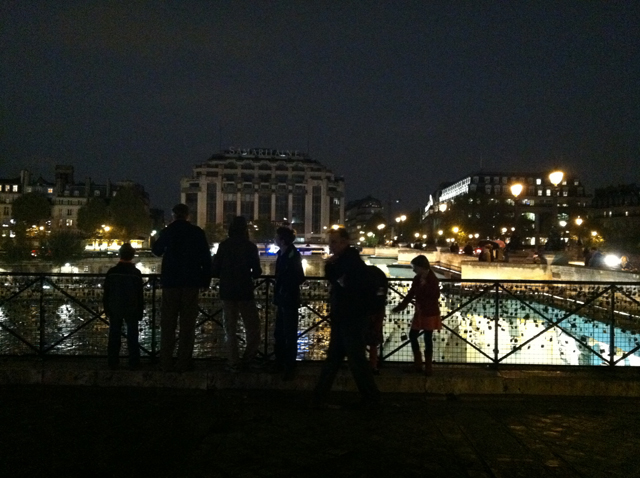 Ride on the Bateau Mouche
While not cheap, the bateau mouche is a great way to see Paris from a different perspective. I would have loved to do it on a clear night or on a nice day. Definitely doing that again.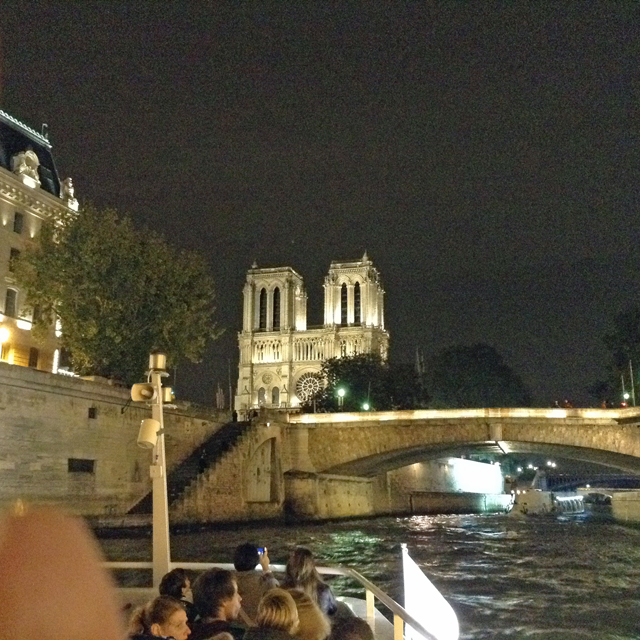 By our last night we finally got the hang of visiting Paris. I can't wait to go back!
Months earlier when I was making travel reservations, I was doing many things blindly. If we had a smaller party, I might have left more things open-ended. However, it's difficult to find accommodations for eight people that don't involve splitting rooms. I made reservations mainly due to price over convenience since I didn't know how much things would cost once we got there.
Plan for late check-out or an early train
Unfortunately I didn't have the foresight to plan for a late check-out at our hotel. We had to be out of there by 11, but our train didn't leave for London until after 4pm. That meant that we had many hours to kill in a grungy Paris strain station — with all our stuff, light packing not withstanding.
(That's actually pretty good for 8 people, eh?)
While the Eurostar waiting room was very posh, they don't allow you to wait there until right before your train departs. This is what we did for several hours.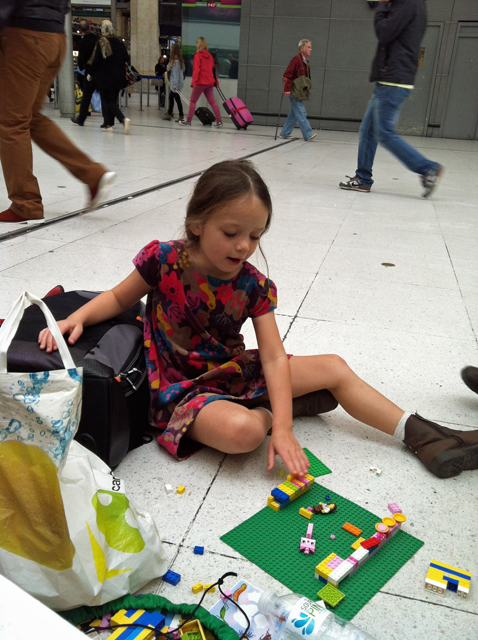 Yes, I let my daughter sit on the train station floor in her Paris dress. You do what works, you know?
In retrospect, I would have
a. booked our train tickets earlier so we could have had checkout and departure closer together
or
b. paid a little bit more to get an earlier departure. The sooner you book, the better the deal so by the time I made the reservation, the deals were gone.
As it was, it was fine. We'd had a great time in Paris and that was worth something. I also learned a lot about how to plan our next trip, due 2016.