How We Do School: A Guest Post from Cathy
As an Amazon Associate I earn from qualifying purchases. For more details, please see our disclosure policy.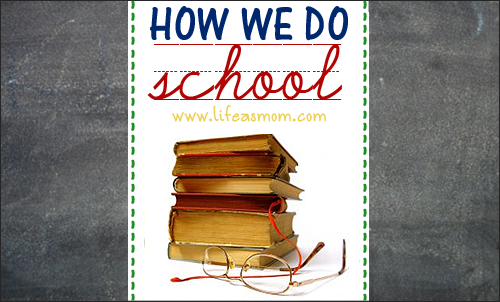 How we choose to educate our children can be as varied as what we each serve for dinner each night. For me and my family, we've chosen to homeschool, as has my friend Joy. On the other hand, my friend JessieLeigh has chosen the public school option. I have my reasons, and they each have theirs.
All of life is learning! And there's so much we moms can learn from each other — even once our formal education has ceased.
This series is designed to show how different families approach schooling choice for their children. Today, Cathy from Chief Family Officer shares her story and how her family chose the public schooling option.
Cathy's Story
— Describe your family (# of children, boys, girls, ages, grades)
I have two boys – the oldest starts kindergarten this fall, and the youngest is still in preschool.
— What state do you live in? California
— What's your educational background?
I went to a mix of public and private schools growing up, and have a post-graduate degree. Same for my husband.
— What were "must haves" for your children's education?
The single biggest key is safety. Parts of Los Angeles have serious gang problems, so I wanted to make sure that there were no gang issues whatsoever at my son's school. High academic expectations were another priority, along with a larger size school. We crossed a lot of private schools off our list because they were too small. My husband and I decided that homeschooling wasn't an option that we were comfortable with (and I would never have even considered it for a moment if not for all the bloggers I respect who do homeschool their children).
— How did you research your decision?
I started researching schools three years ago, when my son was just two years old. I already knew the names of the big (read: most expensive) private schools that were within reasonable driving distance of our home. I studied their web sites and especially their tuition rates, because our decision was going to be based largely on economics. I asked everyone I knew about other private schools, and researched them as well. I went to open houses, talked to my son's pediatrician, and gathered information from every source I could think of.
Our pediatrician was actually quite positive about our public school, which turned out to be one of the best in our part of LA. One friend who lives about a mile away graciously invited me to join her neighborhood playgroup, which included three kids a year older than my son. That allowed me to meet some moms who were also thinking about kindergarten, and they all ultimately sent their children to our local school, which has given me a chance to see how they like it there.
— How did you come to that conclusion?
Between open houses, talking with dozens of people, and reading everything available on the internet, I reached the following conclusions:
First, we simply could not afford the top private schools. Tuition at these schools is over $20,000 in fall 2010 – at a couple, it's close to $30,000. Even if we could afford it for my five-year-old, we couldn't afford it for his younger brother. And even if we could afford to send them both to a top private school, I'm not sure that it would be worth the $400,000 each that it would cost for K through 12. In a way, I'm glad I don't have to make that call right now.
Second, there weren't any "second-tier" private schools that I liked within the geographical area I was looking at. Most were too small and not academically rigorous enough to warrant the tuition.
Third, our local school is pleasantly great. The test scores are good; there's an active PTA that provides lots of "extras" that the district no longer provides because of budget restrictions; and the administration appears committed to excellence. I really couldn't ask for more, especially when there is no added financial burden to our family.
So, after three years of research, I arrived at the conclusion that most people reach without any thought at all: my child will attend the local public school.
— What benefits are you now reaping from your decision?I'll let you know a year from now. 🙂
— What advice would you give to families considering or reconsidering this decision?
Start researching early, and glean information from every source you can. The private versus public school debate is one that's quite common among my social circle, so I learned a lot from other parents.
— Cathy blogs about family finances, parenting, and cooking at Chief Family Officer. While she's comfortable with her choice about public school, she's still nervous about her baby starting kindergarten!
How much weight does the opinion of others, like pediatricians, family, etc. carry with you in choosing a schooling option for your children?