Life is Good.
As an Amazon Associate I earn from qualifying purchases. For more details, please see our disclosure policy.
Are the troubles of this world really as bad as we think they are? Is too Pollyanna to think otherwise?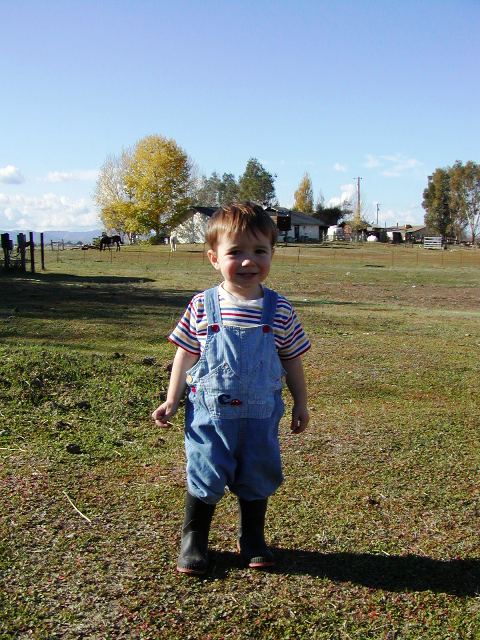 A few weeks ago I found myself getting a little introspective. FishBoy13's birthday always does that to me.
For those who don't know, he's the baby we prayed and hoped and cried over. He was born near the end of 2000. In 1999, I suffered three miscarriages in very quick succession. As soon as my body was healed from a miscarriage, I would get pregnant again quickly. But, the baby would die before week 12.
Some might say I didn't let my body recover, but my midwives were pretty clear that my body was healed. One even admitted, "We often ask people to wait a year just for mental health. There's no physical reason to wait."
Our second son was born one year to the day after my last miscarriage ended in a D&C.
You can see why his birth causes a little thinking time. That two years before his birth was excruciatingly hard. We had no idea if we could ever have more children. We were thrilled to have our older son, but our hearts yearned for more children.
In fact, right after the first miscarriage we pretty much abandoned any family size limits. We thought at the time that the first miscarriage was God's way of asking us to let Him control our family size. Ha!
I'm still not clear all that He meant with that first miscarriage, or the ones afterward…. but we were willing to take however many kids we could get.
But, as I was saying, a few weeks ago I started thinking about how good life is now compared to then. I wrote in my journal:
Wow! If I had known 14 years ago what our life would be like now!
But then I started to wonder:
Didn't I have a really good life then?
I had a loving husband, a beautiful son, a nice house, a big garden. I knew God in an intimate way. That was a pretty good life.
And what about when we lived in Kansas and we realized how bad our debts were. I thought the world might end. Didn't I have a good life then?
I had a loving husband, four healthy sons, a sweet little daughter, a nice house. God was molding and shaping me more into His image. That was a pretty good life, too.
It made me wonder/realize that maybe life is good. All the time.
Life is good!
But, I don't always have eyes to see it.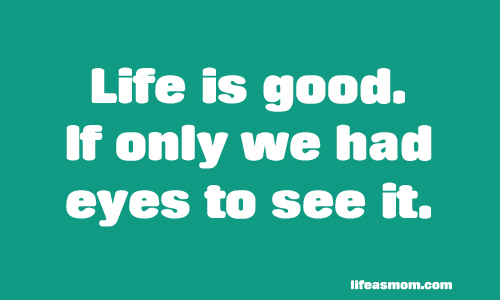 I don't always have eyes to see how God has blessed me. I don't always have eyes to see the good things when I'm too focused on the bad things. It's like having tunnel vision, or an inability to see a whole picture. I spend time, money, and energy fretting over the negative that I don't always appreciate the good in my life.
Oh! that I would have eyes to see the good no matter the season! That I would model this vision to my children, so that come what may, they could see God's gracious hand in their lives.
I'm not saying we walk around with rose colored glasses and ignore the bad stuff. No. That's not it. But, I do wonder if the bad isn't always as bad as it seems. Or as bad as I think it is.
Call me Pollyanna, but it seems to me that her strategy for seeing the good in life was pretty effective. It's sure better than dwelling on the bad stuff.
So, am I all wet? Is there still good amid the bad? Even when the bad is really bad? Does it matter? Does it help to turn our focus to the good in our lives? Or is that just cliche?
Can we change our outlook, despite rough circumstances, and see the good in our lives? I'm curious what you think.
Let's chat in the comments.
The Lord is my shepherd, I lack nothing.
He makes me lie down in green pastures,
he leads me beside quiet waters, he refreshes my soul.
He guides me along the right paths for his name's sake.
Even though I walk through the darkest valley,
I will fear no evil, for you are with me;
your rod and your staff, they comfort me.You prepare a table before me in the presence of my enemies.
You anoint my head with oil; my cup overflows.
Surely your goodness and love will follow me
all the days of my life, and I will dwell in the house of the Lord forever.
— Psalm 23