Organize Your Days for Success
As an Amazon Associate I earn from qualifying purchases. For more details, please see our disclosure policy.
Each of us gets 24 hours. How we gonna spend it? Organize your days for success with these simple tips.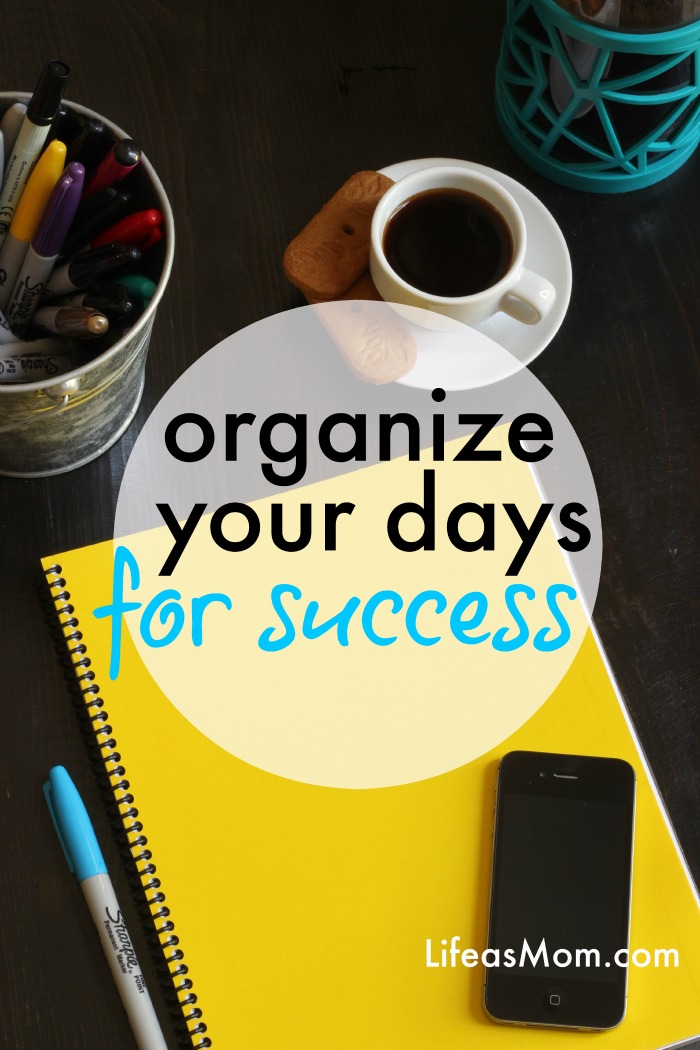 Organizing your days can bring great peace to your life. No matter what your days are like, setting a pattern or schedule that works for you can be key to good mental health.
Kids thrive on routine, and I'd like to suggest, that Mom does, too. Provided it's a routine that suits her, her personality, and her season of life.

Organize Your Days for Success
Over the years, I've had to organize and reorganize myself, depending on my season of life and what our family is doing. That year with hockey, ballet, and karate all going simultaneously would have killed me if I hadn't created some serious organization.
There are a few different ways that I find to be super-duper helpful when I need to organize my days:
1. Organize your days with a planner.
My favorite way to think through my days is with a planner. My planner is like my brain on paper.
It contains a basic calendar that I use for planning purposes, goal-setting worksheets where I can do my big dreaming, a monthly/weekly/daily to do list, my weekly meal plans, and my month's project lists.
When I don't know what to do, I turn to my planner and figure out what to do next. (Maybe you don't need something to direct your next steps, but I sure do! Otherwise, I get distracted by all the sparklies.)
2. Organize your days with a weekly routine.
There are some days, however, when I don't even pick up my planner. I don't always need to because I've blocked certain activities into certain days in my brain. I assign certain activities to certain days of the week.
For instance:
Monday through Friday: I know school and my kids are my focus on these days.
One evening a week is set aside for dating my husband.
Friday nights are "pizza and a movie" nights.
Most Saturdays I work on my blog and writing business.
Sundays I avoid work as much as possible so that I can truly rest.

3. Organize your days with a daily routine.
In addition to blocking out days, I also have certain times of the day devoted to certain things:
Sleep – I don't always sleep well, so I have to start early (around 9pm) and try to sleep late (7am). I know that if I mess with this routine, I'll be a mess.
Work – Currently, I'm trying to cram a few hours of work into the mornings before I take my son to the train in the am. The kids make their breakfasts and do their morning chores during this time.
Train Drop-off/Pick-up – My college son takes the train to work and school, but needs me to drop him off. This is a great time for us to chat, and as I'm learning, to naturally transition from work mode to school teacher mode.
School – It's really hard to teach five kids all their subjects in a day. Recently, I figured out a strategy that I think will work. I'm giving kids time blocks with me that are focused and without interruptions. I also give myself a five minute break in between so that I'm not tempted to "check my phone" during school time.
Evening Routine – When school's done, I work on getting the house picked up (read: direct children), make dinner, run errands, finish laundry/dishes, read to the littles, etc. I also try to unplug about 30 minutes before I want to sleep, so that my brain can detox a little.
By creating these day blocks in the week and these time blocks into the day, I help myself to focus and prioritize — without having my planner right there. But, if I didn't have my planner in the first place, I wouldn't have been able to map out all these different time blocks.
The three methods work in conjunction to help me remember what's important, work on the big things, and get places on time.
How do YOU organize your days?