Our European Vacation: Collioure
As an Amazon Associate I earn from qualifying purchases. For more details, please see our disclosure policy.
This fall we spent a month abroad where we visited London, Paris, and a handful of cities in Western France. We explored, rested, and learned a ton about ourselves and the world. This is the eighth installment of our European adventure. If you missed it, go to the beginning here.

This series has been incredibly difficult for me to write. I dread it each week. I finally realized why: I miss France. I miss London.
Looking at these pictures makes me "homesick". I want to abandon whatever we're doing right now and go back. Forever.
While a month abroad with six kids who don't speak the language was not without its difficulties, it was an amazing adventure. I didn't want it to end. And I don't want to wait another 20 or another 2 years until we can return.
Nonetheless, I'm reminded of the old saying: don't be sad it's over; be grateful that it ever happened in the first place.
Or something like that.
I am grateful it happened! I just want it to happen again. Soon. I've been pricing airline tickets and choking since they are about $300 more than when we paid last year.
Anyways, let's get on with the story:
My last installment was rather ho-hum. We drove from Sarlat-la-Caneda to Collioure.
I blame our lack of good photography for a lackluster story. There was much to share about the drive, but no photos to illustrate it. At the time of our trip, we owned only one lens for our DSLR, a lens that is perfect for food, but not so perfect for anything else — unless you stand really far away from your subject.
We relied on my iPhone and FishPapa's mini iPad to record our journey. Many of the pictures I've shared were taken on mobile devices with limited memory and no means to dump them to another device. That meant, I had to clean out my camera roll fairly frequently to make sure I had the memory to hold it all.
Note to self: next time, pack the extra lens, get a data plan, and upload photos to the cloud so you can take as many as you want.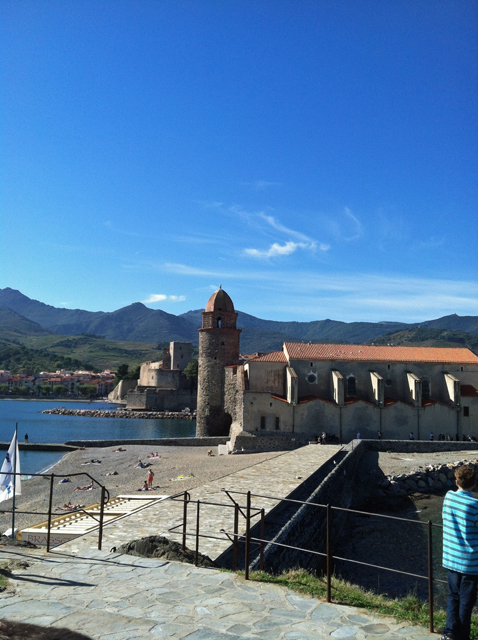 Regardless, I've got lots of great photos to tell about our stay in Collioure. Because: Collioure.
A sleepy, seaside fishing village on the Mediterranean, Collioure begs to be captured. It always has. For several hundred years Collioure has drawn artists from all over, including Picasso, Chagall, and Matisse. Several local bars and hotels possess original works by the artists who traded art to pay their bills.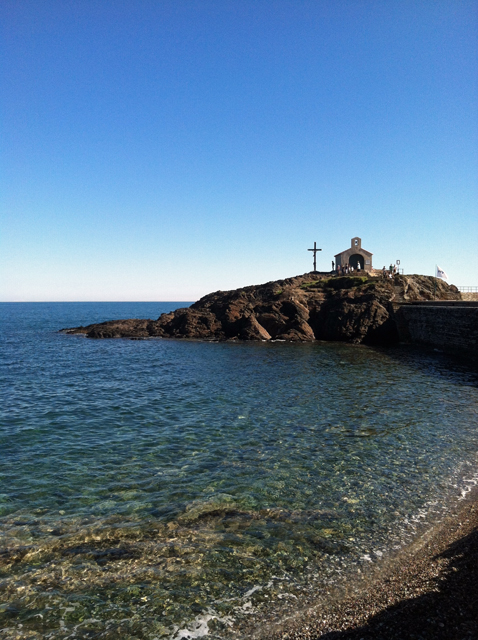 Its bay is shallow, meaning that large ships can't weigh anchor here. Instead the traffic is small craft, making the bay perfect for swimming. We arrived in Collioure during a heat wave. After the rainy days on the road, it was amazing to arrive on the beautiful shores of the Mediterranean Sea and see blue skies, blue water, and sunny beaches.
I think almost anyone who's ever been to Collioure would say that it's one of their favorite places in the world. It is mine. As a young college student, I got to spend weekends and vacations here with Jean-Marc, Michele, Delphine, and Gregory, my French family. A year later, FishPapa and I came here to spend a week for our honeymoon.
It was wonderful to come back with our children twenty years later. All the kids agree that Collioure is their favorite place in France.
We arrived in the late afternoon on a Friday. Collioure was hopping with folks coming in for the weekend. Michele and Jean-Marc waited for us at their house even though Michele was to start her first round of radiation that evening. (She has successfully beaten breast cancer this past year. Yay!)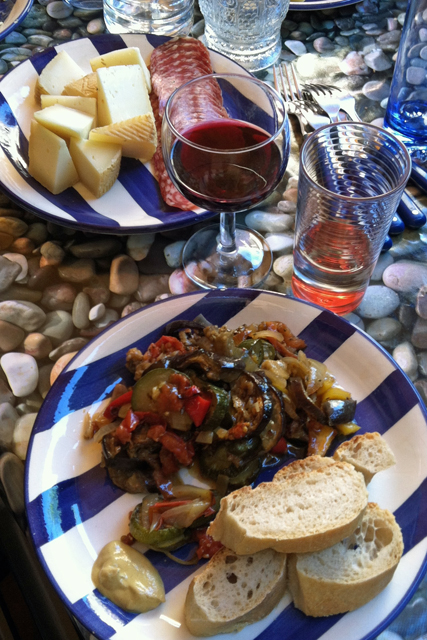 I hadn't seen the Durieux in a very long time, but they looked just the same. And their hospitality was just as stellar as it has always been. Truly, I don't think I know more generous, kinder people. They loaned us their vacation home for as long as we wanted. They live in nearby Ceret.
Dinner was charcuterie, Michele's Escalivada (recipe coming soon), cheese, bread, and a wonderful Languedoc wine. Above is my snap of the leftovers we ate the next day. So yummy! I made Escalivada tonight and it taste just like Collioure!
The next morning this was the view out our bedroom:
Beautiful, eh?
Collioure is mostly cobblestone stairs. Very few streets permit cars. It makes for a much more leisurely way of life. It was difficult at first to shake off the tourist mindset and just rest, but we figured it out within a few days.
Breakfast was croissant or baguette from the bakery. We found the one Michele prefers and frequented it up to three times a day. Eventually the baker recognized me; I was buying so much bread he had to! When he heard that we had six kids, he threw in some freebies — I got the impression that that was apparently something rare in France to do. Anyway, it was such a yummy way to spend a vacation!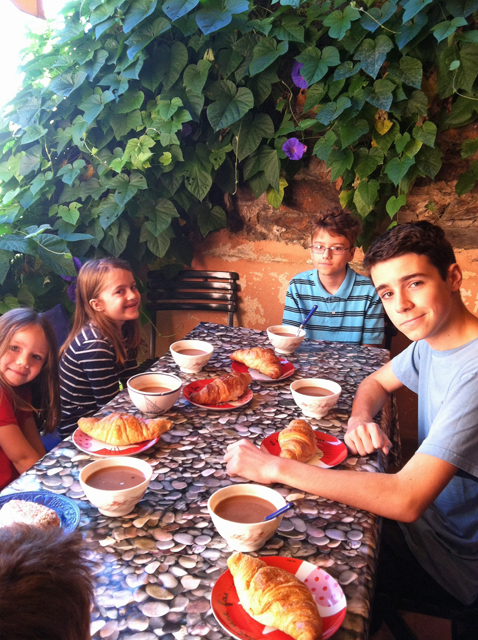 The Durieux home has been in Michele's family for generations. There is a large dining table in the courtyard, another on the terrace, and a third in the lower level kitchen. There are two basic apartments joined by a circular staircase. We lived in a smaller space than home, but it was more than enough.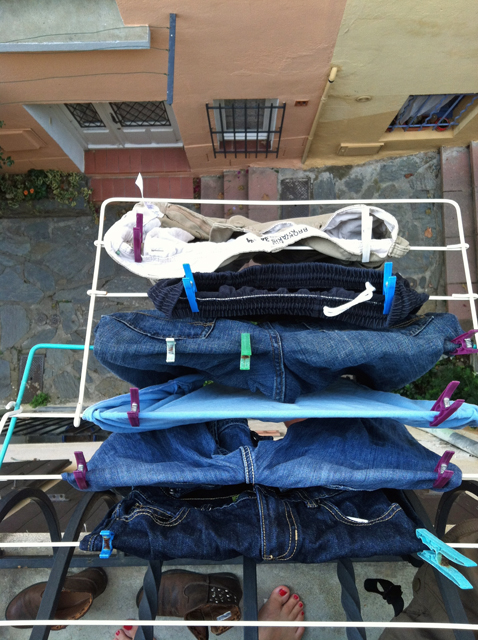 Each day I would do a load of wash and hang it out the window. When in France, right?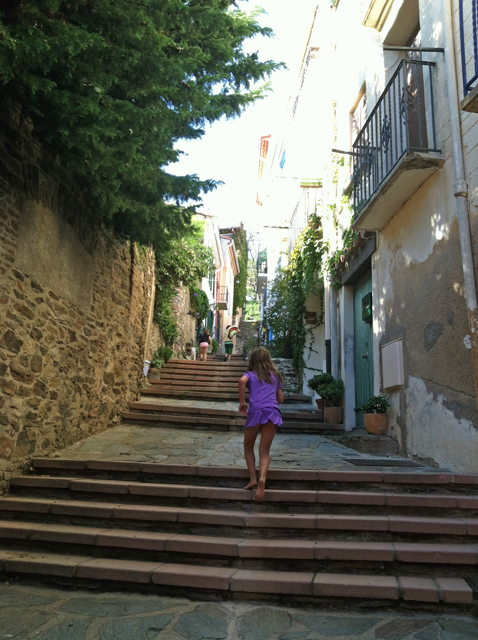 We would walk to the beach every day. For October it was amazingly mild. Of course, I packed swim suits, but didn't think to pack flip-flops or swim shoes for the sea. No way was I going to pay 10 euros for flip-flops we had at home for two bucks! I let the kids go barefoot through the streets instead.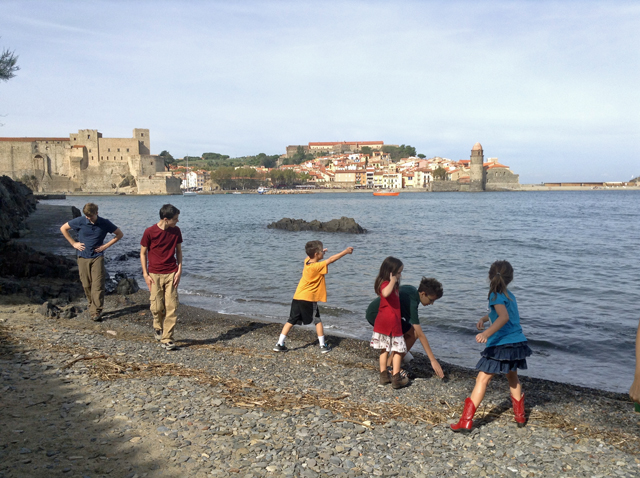 Collioure is pretty small. You can walk most areas in about an hour or two. The traditional beaches of Collioure were flat stones. Sand was brought in during the 70s, but the village is going to let it to revert back to the old stones and protect the habitat of the bay.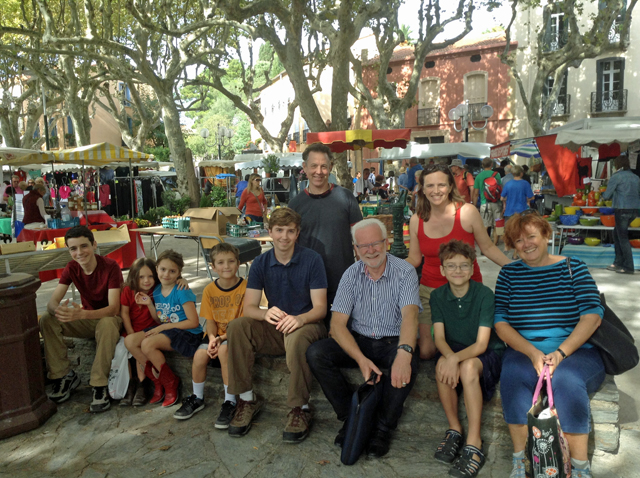 There's a market in Collioure several times a week. Michele and Jean-Marc are both very active in the community and come often to volunteer at the mayor's office. They met us at the marche one day.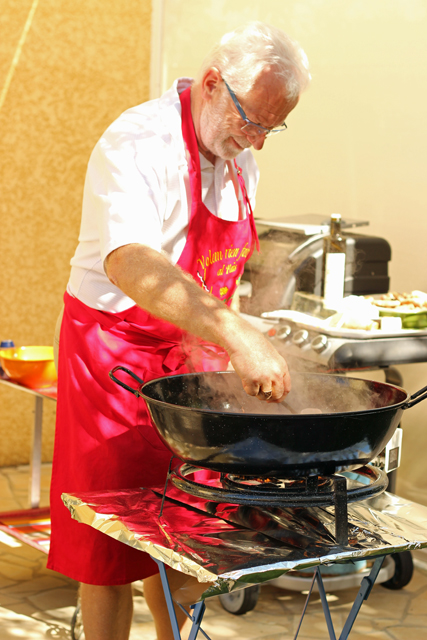 We visited them in Ceret one Sunday where Jean-Marc made us a huge pot of paella. It was amazingly good.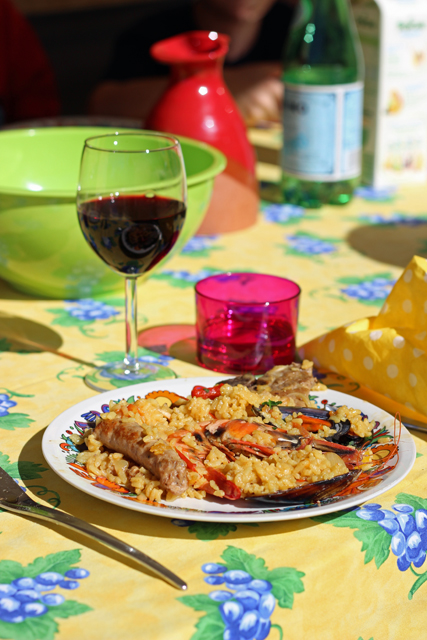 Michele and Jean-Marc taught me so much about French food when I was in college. I had so many good meals with them. This trip was no different.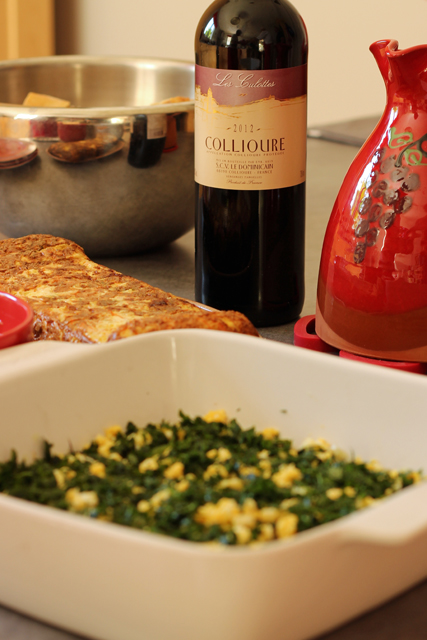 Michele made us a classic dish of anchovies (a specialty of Collioure) and hard cooked egg. I remembered it from long ago. She also made us a wonderful crab terrine that I can't wait to recreate. The kids all loved it.
We attempted a few outings/day trips from Collioure but they didn't really materialize. We talked of going to Spain, but we had officially entered vacation mode. Which meant loafing around.
While I cooked most of our meals at the house, we did eat out once in Collioure at Chez Simone.
It doesn't look like much, does it? The view was actually prettier from where I was sitting.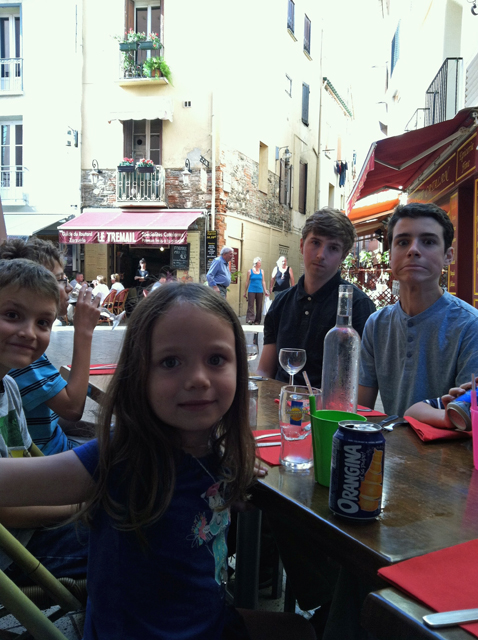 It had been a beautiful day and we splurged on lunch. The total bill was almost $160, which is probably the most we ever paid for a meal in France or London. It wasn't a fancy place, but its location (the opposite side of the restaurant faced the water) probably contributed to the higher price. Regardless, the food was good; and we had a nice time as a family.
We hardly ever get pop, but Orangina was a big draw for my kids. We indulged in more junk food in France than we typically do at home, but for some reason I didn't mind. The nutella crepes for dessert were amazing!
Despite all my inquiries about peanut and walnuts for FishChick6's allergies, I was pretty stunned to have MY fish arrive with peanuts. It was so hard to find peanuts when I was a student in the 90s, but they have certainly arrived in France.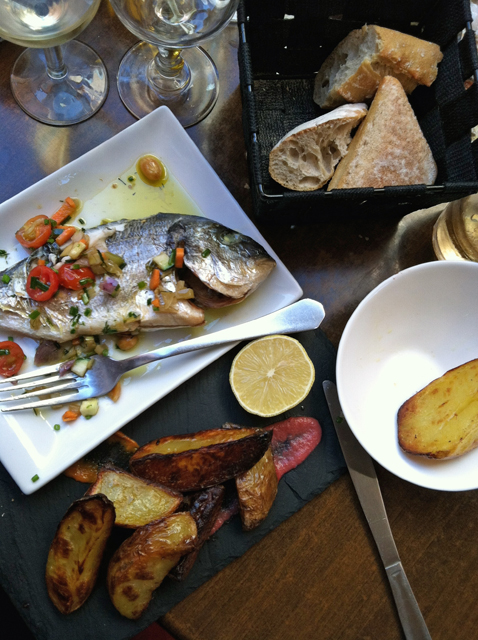 The girl was fine, but it was weird for me to eat peanuts after so long.
On our second to last day in the south, we got a chance to meet Jennifer and her family. They live within an easy drive of Collioure. Jen has been a longtime reader of my blogs – how cool is that? When she heard we were coming to France, and specifically, her neck of the woods, she welcomed us with open arms. Our husbands hit it off; our kids hit it off; and we, of course, did, too.
The day with their family is ranked near the tippy top of great vacation days of all time. And now we're real life pen pals, counting the days until the Fishers can go back to France!
Our time in Collioure was so restful and wonderful. I'm aching to go back. We rested, refreshed and reconnected with both old and new friends. It was most definitely a highlight of our trip.
Thank you, Michele and Jean-Marc, for giving us Collioure!