Creative Birthday Cake Idea: A Garden of Cupcakes
As an Amazon Associate I earn from qualifying purchases. For more details, please see our disclosure policy.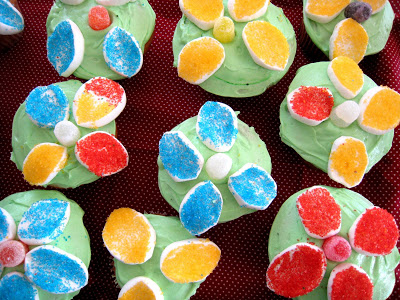 Despite the fact that she's oblivious to much going on in her world, I couldn't let my BABY's first birthday go by without a creative birthday cake. She may not have a scrapbook, but she'll have a picture of a special cake, by golly.
Since I knew I wanted to give her her own little cake to demolish enjoy, I decided on cupcakes. In my mind's eye, they were going to be works of art, like at a local cupcake bakery. While that isn't exactly what happened, I did end up with some very happy helpers.
I first saw this idea in a Pillsbury cookbook and then later in Family Fun magazine. I have no idea who originated the design, but it's super easy to do with kids.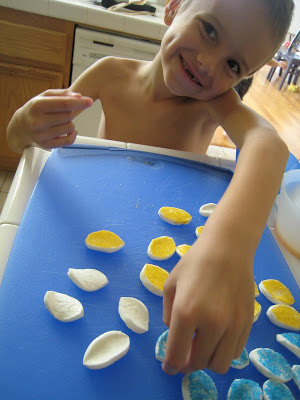 What'll You'll Need:
frosted cupcakes (use storebought if you're pressed for time or energy)
large marshmellows
a sharp knife or kitchen shears
sprinkles, poured into a small dish
gum drops
Flatten each marshmellow slightly and cut into 4-5 slices. It's okay if they curl or tweak themselves; that's part of the flowerishness. Dip one cut side into sprinkles. Continue with more marshmellows until you have enough for four – five "petals" per cupcake. My kids wanted less, obviosuly, so be it. Arrange atop the cakes. Poke a gumdrop in the middle.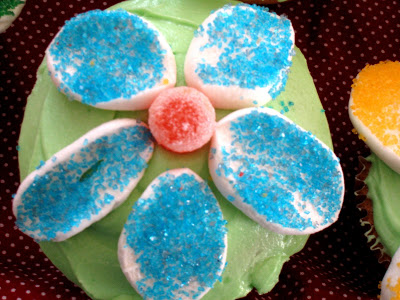 Easy peasy! Even a two year old can do this. I know, because FishChick made quite a few right alongside her brothers. And, oh, did she have fun!
For more creative birthday cake ideas, you can browse the archives. Better yet, purchase my ebook, Pretty. Cool. Cakes: A Baker's Dozen of Creative Birthday Cake Ideas.
Jennifer at Balancing Beauty and Bedlam is hosting Tasty Tuesday. Check that out, too.