9 Things to Do with Your Kids Just for Fun
As an Amazon Associate I earn from qualifying purchases. For more details, please see our disclosure policy.
Enjoy time and experiences with your kids for no good reason. Just have fun!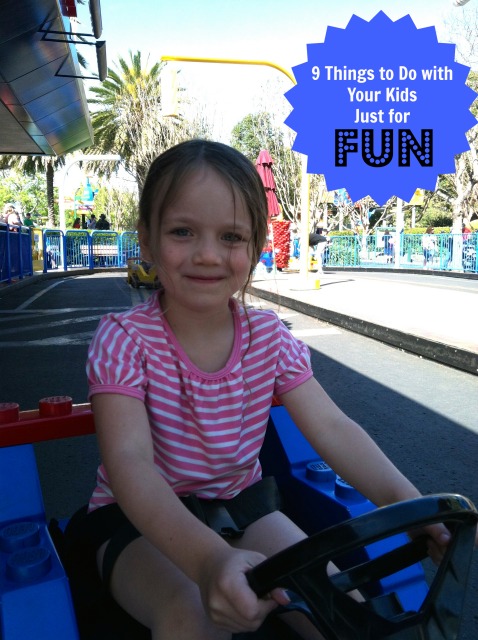 I confess. I'm a pretty serious mom. I like quiet. I get anxious if I haven't fulfilled my work obligations. I get a little twitchy when the house is a wreck. As if the all-seeing eye is looking down on us and judging my homemaking skills. Some of this is good. It's good to be responsible. Irresponsible is bad.
However, on the flip side, it's good to have fun. It's particularly good to have fun with your kids. Just because.
A few weeks ago we went to Legoland. It's NOT my favorite amusement park. Disneyland is. I realize that part of this is simply an emotional attachment to rides, architecture, characters, and childhood experiences. I do not get as jazzed about California Adventure as I do about the one and only, original Disneyland. Sometimes, you just gotta take one for the team. The kids had a great time at Legoland, and even thought it's not my favorite, I had fun because they were. That's worth something.
One of the things that I disliked greatly as a child, is that my dad would justify an experience or a treat by saying, "This is for your birthday" or "Count this as an early Christmas present." That was so annoying. Why did we need a reason? (Sorry, Dad.)
My take-away is not to be bitter, but to do better, to do things just because they are fun, and good, and make my kids happy. (And like I said, I'm not one to overdo this kind of thing. My default is "No.")
If you're at a loss, as I often am, to do things "just for fun," consider this list of good things that kids enjoy:
1. Play a game.
If your house is anything like ours, you've got plenty of games you could play. Like the woman at the fabric store who buys more material than she can sew, I buy board and card games in the hopes of more screen-free time together. FishChick's favorite is The Lady Bug Game. She is game for a game any time, night or day. Puzzles are good, too. Check out this list of great games for families.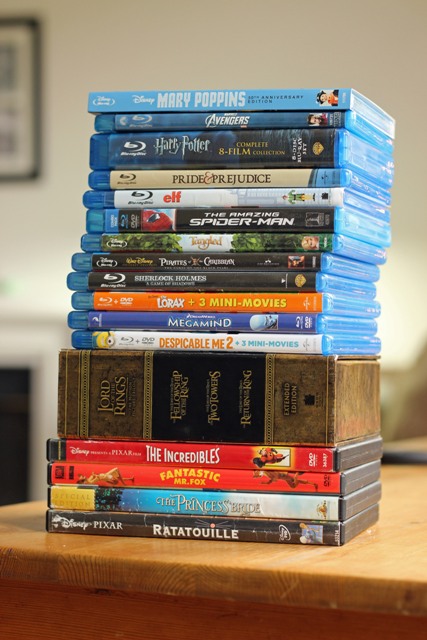 2. Watch a movie.
We are a movie family, unabashedly so. Especially if there's popcorn in the mix. We have some longtime favorite family films as well as a list of classic Disney films that I'm working through with the littles. We also collectively add stuff to our watchlist on Amazon. Amazon Instant Video has become our go-to source of films since I don't have to return the movie. I'm lazy like that.
Currently, we're in a challenging stage to find movies that are appropriate as well as interesting to children ages 5 to 52. Please leave your recent recs in the comments!
3. Cook something together.
I cannot set foot in the kitchen without a little girl appearing magically at my side, "Whatcha making?" Heaven help me! I have helpers. The truth of the matter is that all the kids would be happy to make messes in the kitchen, if the girls would only let the boys have some elbow room!
Cooking together is a great family past-time! Try pizzas, cupcakes, chocolate bananas, or smoothies for easy, kid-friendly recipes.
4. Talk about their favorite subject.
I've found that car rides and shopping trips are ideal for talks, particularly with reticent teens. But, be patient and wait. Ask questions and listen. Your kid will be thrilled with the one-on-one.
Stuck for conversation? Ask about their favorite things. I take notes so that they know I'm listening and care.
5. Go out for a treat.
Treats are a big deal around here, particularly if sugar is involved. A favorite option for the FishKids is to get a one-on-one date at Starbucks, complete with drink and baked good. It makes them feel more grown up and gives them time alone. We also do whole family Starbucks dates when on road trips and when we get our Christmas tree. Yes, really.
6. Say yes to their next five requests.
I don't know about you, but saying yes doesn't come as easy to me as saying no. Saying yes usually surprises my kids and literally makes their day, even if the request is really small. I need to get better at this Yes-Mom stuff.
7. Eat dessert first.
Forget supper. Have dessert first. Make homemade magic shell and pull out all the sundae toppings; make apple crowns; let the kids pile fruit on skewers and call it dessert. Whatever you make, it'll be fun. And the kids will be thrilled. A little excess sugar once in a while is okay.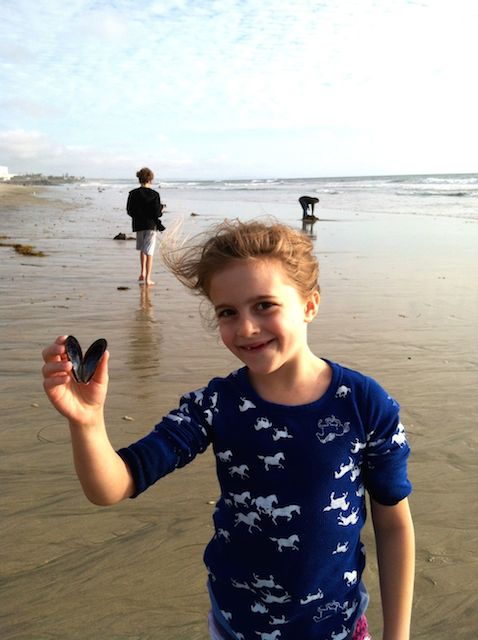 8. Plan an outing to the park, the beach, the hills, the lake.
Chances are your kids will enjoy getting outdoors and it's good for everyone, really. Pack up some snacks, water bottles, and sunscreen and get out! Check out this list of 30 ways to get outside with kids.
9. Hit the amusement park.
I'm not sure I've ever met a kid who didn't like going to an amusement park. They can range in price depending on where you live and what discounts you have available; you can do amusement parks on the cheap. The aforementioned Legoland trip was part of a field trip where tickets were $8 per person. We couldn't afford that outing otherwise. We've cut corners to save on Disneyland trips.
If you can swing it, see how you can visit your local amusement park and just have fun with your kids.
Whatever you do, it doesn't have to be expensive. Some of these suggestions may be once-in-a-lifetime events but others could be regular occurrences, if we put our minds to them.
What do YOU do with your kids just for fun?