Say 6 Encouraging Words Before Breakfast
As an Amazon Associate I earn from qualifying purchases. For more details, please see our disclosure policy.
Start the day on the right foot; say 6 encouraging words before breakfast to help your family know they are known and they are loved.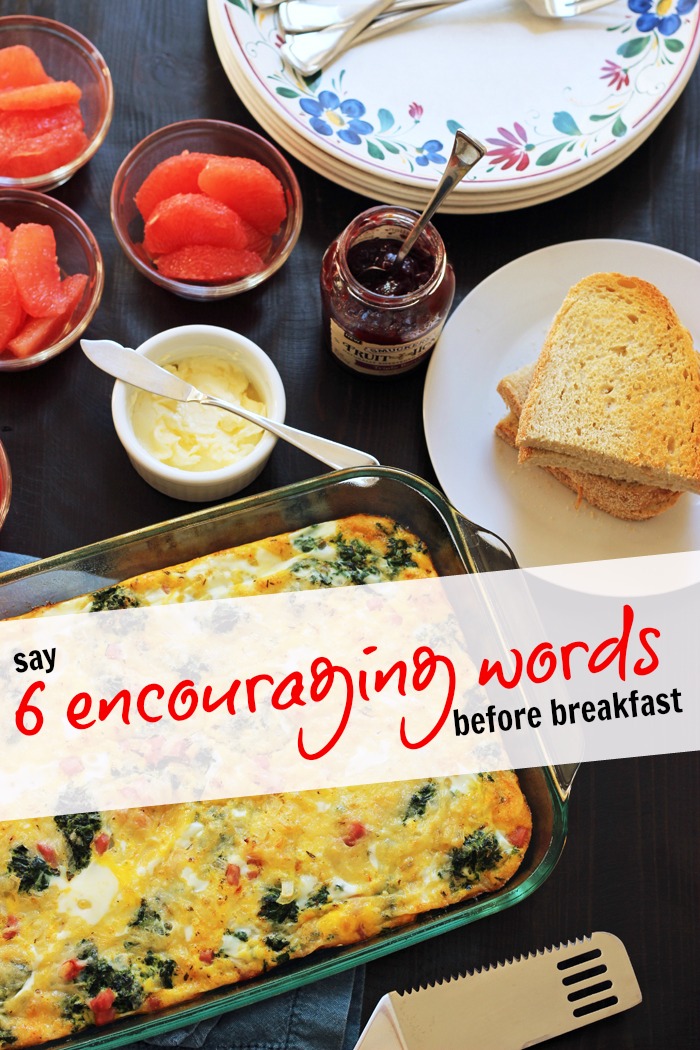 My sister brought the kids a copy of Tim Burton's Alice in Wonderland awhile back. They probably watched it ten times in the first few months. It's a favorite flick, indeed.
I must say, I was very pleasantly surprised. I didn't expect it to be good, but I really enjoyed it. Hubs did, too. It ranks as one of those Weird, but Good Movies for Families.
One of my favorite parts in the movie is when Alice quotes her father in saying that he thought up six impossible things before breakfast. This gives her courage to be bold and daring, to use her imagination and to dream a big dream.
As I contemplate ways I need to bust out of my same-old, same-old, I'm convicted to be more encouraging to my children.
The thought came to me to say six encouraging words before breakfast. While the number or the time of day is irrelevant, I think the intention and goal is super important.
Say 6 Encouraging Words Before Breakfast
Consider these ways to encourage the people you love:
1. What did your kid do right this morning?
2. What do you enjoy about your child's personality?
3. What's a strength that your kid needs to be reminded that he has?
4. What Scripture helps you? Share how it encourages you.
5. If your child is struggling with something, share how you have overcome a similar struggle.
6. Remind them that you love them.
Are ya with me?
Have you shared any encouraging words yet today? How do YOU encourage your kids and spouse?
Originally published July 24, 2012. Updated July 1, 2016.