5 Things You Should Know About Starting a Virtual Assistant Business
As an Amazon Associate I earn from qualifying purchases. For more details, please see our disclosure policy.
Note from Jessica: Recently, I shared 5 Great Ways to Earn Money from Home. One that really piqued interest with readers was that of being a virtual assistant. I turned to an expert to help us out. Life as Mom contributor and founder of 1099Mom, Linsey Knerl has got some great insight as to what you need to know in getting started as a virtual assistant.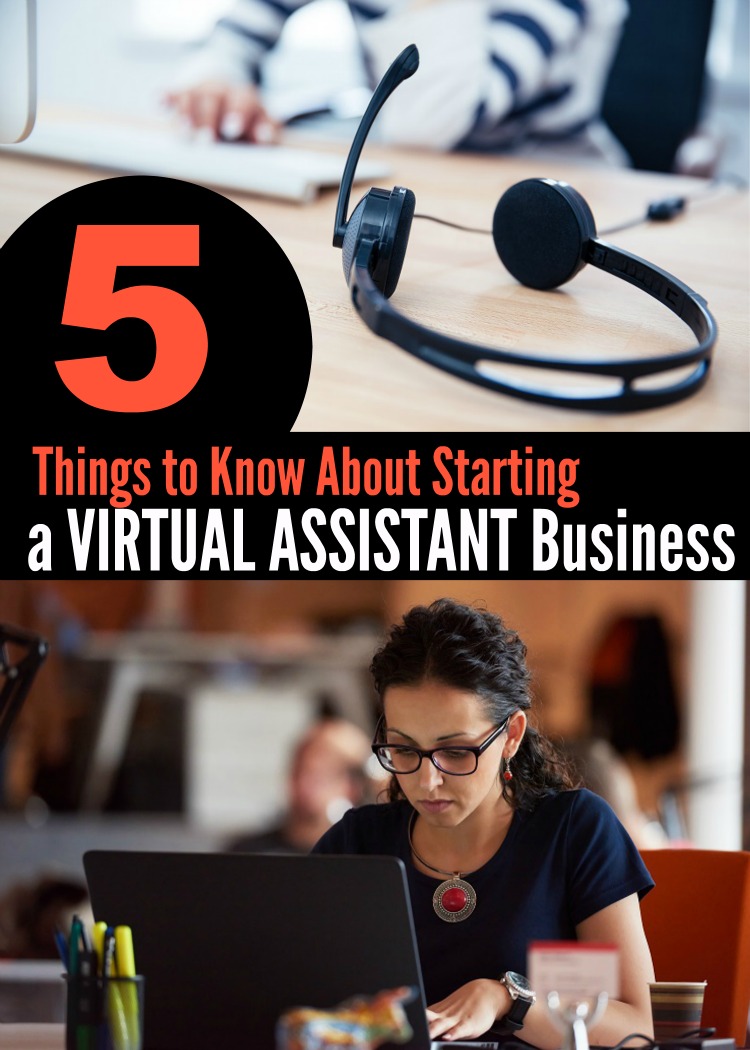 So many moms (and dads) are looking for ways to earn more money. Some have even taken to the idea of working full-time from home by running their own business. One of the most popular businesses to start (and one with the lowest initial costs) is a virtual assistant business. Being a virtual assistant, or VA, is not only a good way to earn more money for your family, but it is a fulfilling endeavor that lets you use your skills to help other businesses grow!
So what should you know before you have your business cards printed or put up a Facebook page for your new VA gig? There are a few insider tips that can be invaluable in preventing mistakes and ensuring the least stress possible when starting out. Here are my favorite 5 pieces of advice for newbies in the virtual assistant game.
5 Things You Should Know About Starting a Virtual Assistant Business
1. While there are lots of VA's, competition is not very fierce.
Yes, you can find hundreds of VA's on outsourcing sites like Fiverr and Upwork. You can still find it to be very lucrative. This is because VA's exist in almost any niche and can provide a handful of over 1,000 different services.
If you excel at secretarial duties, for example, there is no shortage of businesses looking for someone to perform proof-reading or data-entry. If you have a feel for social media, many companies might have a need for posting to their Facebook pages or attending Twitter parties on their behalf.
If there's a task that can be done remotely, there is the possibility for a VA to perform it!
2. Rates can be whatever you need them to be.
I'll be honest: when starting out, it can be tempting to charge very low prices. And for the first-time VA, it might make sense to start low until you get your bearings. But the value of a good virtual assistant is immeasurable; finding a reliable, talented VA can be hard for a business.
Once you've determined that you can handle what the job throws at you, don't be afraid to raise your prices to a level that supports you and your family – and rewards you for your time!
3. Your "tools" can be minimal.
Think you need an expensive new MacBook or the best software to get your career up and running? The truth is that you probably already have what you need to dip your toes into the waters of the VA world. Most work can be done with any laptop, desktop, or notebook with a good keyboard and mouse, and the most commonly used office tools. I wouldn't recommend trying VA work from an iPad, but you can get away with what you have on hand for now.
Consider upgrading only after you have a good client roster or an immediate need for better equipment.
4. Scheduling can vary.
Unlike working in an office, 9-5 almost never happens for the VA's I know. In fact, my own VA works her schedule around the needs of her kids, whom she happens to homeschool. Because most of the work I assign her can be completed anytime within the 2-3 days after I assign it, she can work after the kids go to bed, during days off, or whenever she pleases.
While some tasks may require real-time cooperation, the majority of VA's complete tasks as they see fit.
5. The VA business is growing.
As remote work becomes more acceptable for many companies, and the high cost of employee benefits (such as health insurance and pensions) discourages the hiring of full-time workers, freelance VA's are in higher demand.
Virtual workers are on the rise, so it's the best time to begin learning the ropes of this upward trend in employment.
Are you interested in becoming a VA? Have you heard about the perks of virtual assistant careers and want to know more? I'd be happy to answer questions in the comments. I also have a new book coming out soon that gives insider tips on how to start a successful virtual assistant business that you can learn about on my website.
Please share YOUR questions or experience about working as a VA in the comments!

Making "small-town rural" cool again, Linsey loves to share personal stories in the entrepreneurial, home education, and frugality space, while doing all the things you would do on a 4-acre homestead. See how she balances her work-at-home life with 6 littles on the house at the FAQ for WAHMS: 1099mom.com