How Do You Know if You Should Stay Home Full-time?
As an Amazon Associate I earn from qualifying purchases. For more details, please see our disclosure policy.
How do you know if you should stay home full-time? A reader wrote in with this question, one that I thought could benefit from a range of perspectives and answers. I'd love to hear your advice for this young mom on how you decided to become a stay at home mom or why not.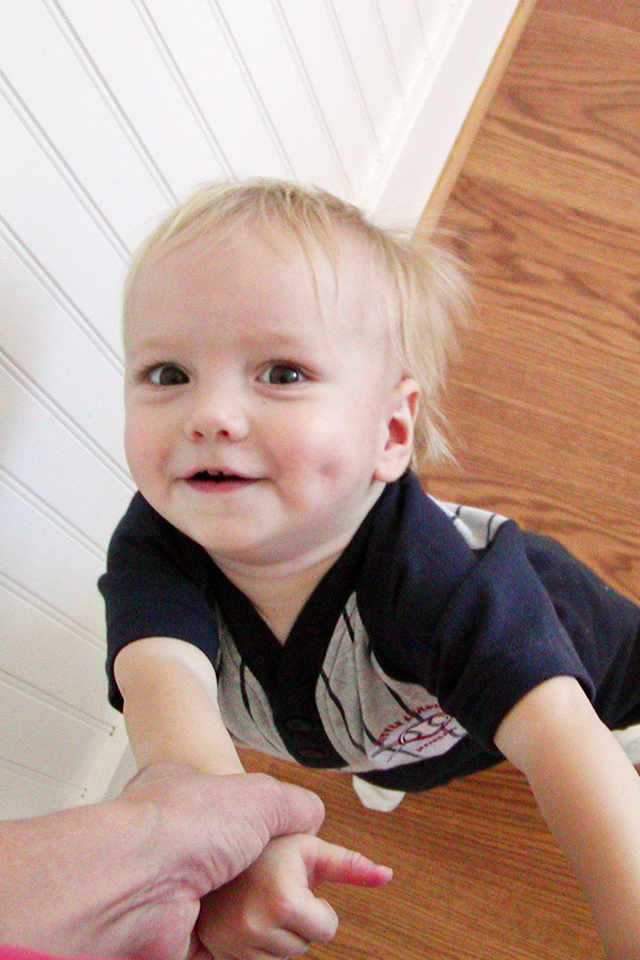 I would like to know how you knew that you were meant to be a stay at home mom. That one moment that made you know that without a doubt that your calling was to be a stay at home mom.
I have a 7-year old and a 4-year old. My husband and I both work full time trying to make ends meet and still barely make it. I would love to be a stay at home mom, and my husband does not support the idea. As he sees it ,we will never be able to make ends meet or get caught up on bills. 
How Do You Know if You Should Stay Home Full-time?
This is a hard thing, to want something that seems like a financial impossibility. I can't say that at the beginning there was a moment when I just knew. I think those early years were peppered with doubts and struggles. It was only after we got experience (and a few hard knocks) that I "knew" it had been the right thing for our family.
There were a few things that have helped me get to this place over the years.
Get the finances right.
It sounds like finances are the sticky point for your husband, and reasonably so. If you're both working and money's still a struggle, well, how in the world would you do it on one income?
We didn't get the finances right until we were 10 years into it. We thought we had it right at the beginning, paying off student loans and building a reserve. Unfortunately, we didn't know what to do once you spent the reserve.
We hadn't figured out how to budget or live within our means, and that kinda blew up in our faces. After a lot of hard work and going without things we thought we needed, we were able to pay off the debt and get right side up.
That's a round-about way of saying, I was home with my kids, but we didn't have the finances right. We weren't truly "making it" because we had debt.
My going back to the work place might have been one solution, but it's not one that we wanted to choose. The emotional investment outweighed our financial inadequacies. To stay home full time meant that I would be the primary caregiver to our kids, something that was really important to me.
When I was pregnant with baby #5, I started freelance writing and by the time baby #6 came, we had learned to budget. Those two things helped us finally get a handle on our money. It only took 10 years of winging it to get there.
While we now rely only on my husband's income, technically, we both "work". My income gives us a little breathing room, else things would be pretty tight. One income can pay the bills, but there'd be no new clothes or dinners out.
There may be things that you can do to get your finances in a different place. You didn't share specifics so I'm not sure what "making it" looks like at your house. We don't have a lot of money going into retirement or college funds, so for us, it means simply staying in the black and paying as we go.
Find fulfillment in being home.
I know for some women, to stay home full time means more than just getting the finances right. For some, it means giving up a career they love or one that they've worked hard to create and don't want to lose.
While I didn't really care about leaving my job, I still struggled to transition out of the work place. I knew that being a mom and homemaker was "enough", but it took me awhile to realize that and to really "feel" it. My early years as a SAHM were peppered with projects and hobbies that consumed me, to the detriment of my responsibilities at home.
I think it's good and healthy to have outside interests and hobbies independent of your life as mom, however I wish that I hadn't squandered my time with my littles thinking I was bored or needing to justify spending my days with them.
Be united.
Being united with your spouse is so important! This is easier said than done sometimes. I know that some couples really struggle on this issue.
To have a parent at home can seem like a luxury, but it was something that we agreed on in the hypothetical before we were ever married. For us, we were willing to make sacrifices — and a lot of mistakes — for me to be home.
It's really important that you be on the same page for this, particularly if there will be sacrifices and/or mistakes. I would see if you can talk about your longterm goals and finances as well as share your feelings about your wishes and fears. Maybe it can't happen next week or next month, but maybe next year. I think being open to discuss longterm strategies is really helpful on both sides.
Every couple is different; every family has different life circumstances. I don't think anyone can make that decision for you guys, but certainly it's good to hear how other people have come to their own decisions
What advice can you offer this mama?
Are you a stay at home mom? Have you wrestled with this question and found the right answer for your family? Share your experience in the comments.
As always, I trust that you'll focus on sharing your experience and how you came to your decision rather than criticizing others who've made different choices.
What's your question?

Have you got a question you'd like to ask? Want feedback from other moms on an issue that affects your "life as mom"?

Shoot me an email: jessica at lifeasmom dot com.