Teaching Kids Responsibility
As an Amazon Associate I earn from qualifying purchases. For more details, please see our disclosure policy.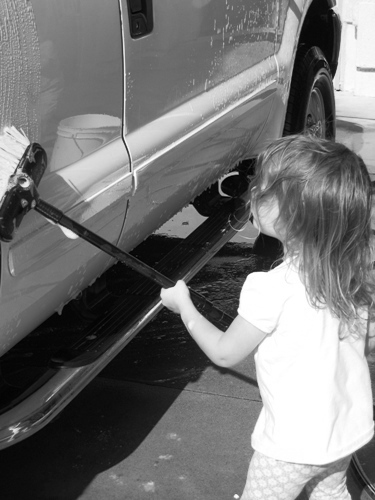 It seems that toddlers are always willing to help. If you are cooking, cleaning, or otherwise working on a project, chances are a small voice will say, "Can I help?" Of course, it's when they're very little that they most want to help but are least able to help you really make a difference.
As my children age, it seems that "helping" is a hit or miss occupation. Sometimes my older kids eagerly approach the task and other times it's like pulling teeth. My kids are all pretty compliant. I rarely have someone say he won't do his chores. But sometimes we hit a season where it feels like nothing will get done unless I nag. And then I feel like a big parenting fail.
Yes, yes, I do.
I don't like to nag. I don't like to do all the work myself, especially if I didn't make the mess. So, I'm currently in a state of hmmmmmm. What can we do to teach kids responsibility?
I don't really have a lot of answers right now. I'm currently in a state of hmmmmmm. But, there are things that I do know:
Having regular chores is good for kids and adults alike.
Regular responsibilities tie us to the family and to the home. They give us a sense of accomplishment — when we do them. And they help us feel a part of something bigger than ourselves.
Teaching kids responsibility when they're young helps them in the future.
If our children know how to see a task to completion at ten years of age it's likely that they'll carry that practice onto college and a career. Getting the job done is essential for life, so let's practice on small things when our kids are young.
Accountability and encouragement matter.
Ah, here's the rub. It's fine and good to assign our kids chores around the house, but it's another thing to actually follow up on said chores. I think that is part of my problem right now. Delegation comes easy, but follow-through is hard. It means that I might need to hunt someone down, that I might need to ask him to do it again, that I might have to address a negative response or feel like a nag.
But, I have to ask myself: what's more important? Being a nag or my kid growing up into a bum?
Yes, I know it will take a lot more than unfinished chores to make him into a bum. But, I think it's important that I remember that doing hard things is good for me and my kid. I gave birth to that baby drug-free so he could get a great entrance into the world and I'm gonna balk at telling him to take the trash out? Time for me to get some perspective!
But, accountability shouldn't be limited to just telling them to do something. I confess, I'm can focus too much on what needs to be done, rather than what has been done. I'm guessing we could all do with a little more encouragement.
How do YOU find that balance between encouragement and correction?

Sponsor, MyJobChart.com offers a free, online job chart that can encourage kids to keep track of their chores, earn rewards, and automatically notifies the parents when tasks have been completed. The chore charts are completely customizable, though this online work control system for kids offers suggestions if you're not sure where to start. As the parent, you get to decide on the point system and what rewards your kids can earn. An innovative way to combine kids' interests in technology with moms' interests in getting the job done, MyJobChart.com is completely free to users.