To Be More Joyful
As an Amazon Associate I earn from qualifying purchases. For more details, please see our disclosure policy.
Motherhood. Home Management. Family Life. They comprise my life's path. A path I love. A path I would gladly choose over and over again. A path that I thank God for the privelege of walking.
Yet, it's not a path without its challenges. While I may think that I know the route ahead, bumps in the road surprise me. Twists and turns show me that motherhood — and life — don't always go according to my plan.
Yet no road block or detour surprises God.
He knows the hairs on my head and the days of my life. And really, He's the best one to handle the travel arrangements. Quite honestly, if I was the one in charge, I would mess it up. So thankful am I that He is mapping my course.
I love these verses from Ecclesisastes:
I have seen the business that God has given to the children of man to be busy with. He has made everything beautiful in its time. Also, he has put eternity into man's heart, yet so that he cannot find out what God has done from the beginning to the end. I perceived that there is nothing better for them than to be joyful and to do good as long as they live; also that everyone should eat and drink and take pleasure in all his toil—this is God's gift to man.
— Ecclesiastes 3:10-12
I don't have to know all that God knows. The best for me to do is "to be joyful and to do good" as long as I live. Easier said than done, I know. But, I am encouraged. Eat, drink, and take pleasure in all my toil? That sounds good to me!
Reminders for the Road
As I enter my 14th year of motherhood, I remind myself that
it's a journey – I will never "arrive" in the sense that there is some destination called "ideal motherhood." Life changes as does the seasons of my marriage, my kids' stages of development, and the state of our home and budget. I need to be ready to go with the changes.
I'm not the navigator – I can make great plans, but life doesn't always follow them. There are multiple personalities that comprise my family life, and while I'm called to be a leader, I can't control every little aspect of my life. But, God is in control, and that is a very good thing.
the road is so much more pleasant when I have a good attitude.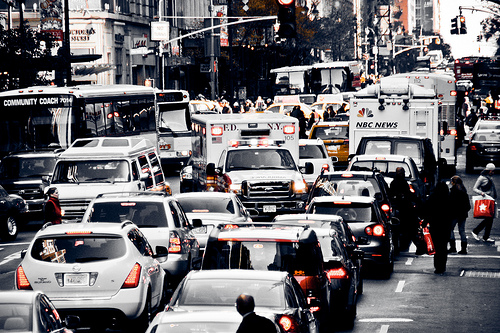 You know this, too, probably. Think about the times when you've been stuck in traffic. You have a choice in that moment. You can rail at the cars ahead of you, the bozo who is trying to weasel his way in front of you, the kid, spouse or silly self who prevented you from leaving earlier.
OR ….
You can turn on the radio or a book on tape or a favorite CD and enjoy the moment. You can talk to your spouse and kids about what you'd like to do when you get to your destination. You can laugh at yourself and realize that unless this is a medical emergency, your urgency will not matter a month from now.
Choices Along the Path
And having a good attitude — in all of life, not just traffic — is a choice. Sure, there are physical and hormonal circumstances that can derail us. I don't dismiss those. And I don't pretend that Pollyanna never had a tough moment. But, many times when I don't have a good attitude, it occurs at moments when I do have a choice to be impatient, to respond in anger, to raise my voice, or to feel sorry for myself. I want to be a woman who makes better choices. I want to make the days count.
I want to be joyful instead.
And that's my prayer for me and for you as we celebrate this Mother's Day. After all, no one wants a crabby mom. And I certainly don't want to be one.
To that end, I'll be presenting a new series in the coming months: 14 Ways to Be More Joyful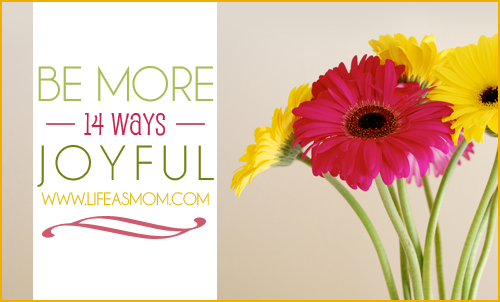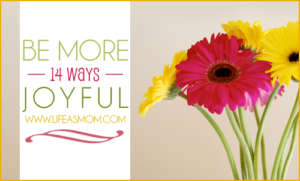 I hope you'll join the conversation as we discuss ways to cultivate more joy on this journey called motherhood. More joy for you = More joy for those you love.
How do you want to grow in this area? What are stumbling blocks toward your good attitude? When are you a crabby mom and how can we help each other?