The Grass is Always Greener….
As an Amazon Associate I earn from qualifying purchases. For more details, please see our disclosure policy.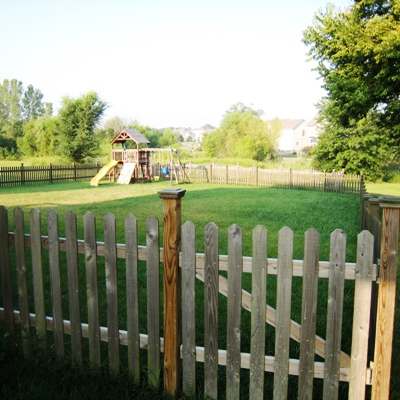 It can be all too easy for us to compare ourselves to someone else. It can be the celebrity on TV, a co-worker, a family member, or the girl next door.
And sometimes that comparison leads to jealousy and want. What we once thought was sufficient somehow pales next to what someone else has. Yes, the grass is always greener….
But more specifically, the grass is always greener — where you water it.
That celebrity may have a great physique, but she also works out several hours a day. Your co-worker might have received a promotion, but after six months of long hours on a difficult project. Your sister might have gotten into a great college, thanks to many years of studying and working hard for good grades. Your neighbor might have a really pretty home, but she also spends time each night sewing window treatments from clearanced fabrics.
In our comparison mindset, it can be easy to overlook that the other person may have worked really hard to get where she is. Why should we begrudge her?
Now enter Disclaimer:

Meritocracy* does not always rule the day. One may work diligently for 25 years on a job and get laid off two weeks before the pension kicks in. One may sacrifice for a company, a school, a church, a scout troop, a soccer team, and still get thrown under the proverbial bus. I get that. There are times when "watering" just gives us a big, soggy mess.
But….
But as far as comparison and discontent are concerned, sometimes we need to turn our focus to our own yards and not worry and fuss over what the neighbors have flourishing in theirs. Sometimes we need to reexamine our priorities and determine how much we're willing to give to get those blossoms we so desire. And sometimes, we need to turn a blind eye to some renegade dandelions and just not worry about it.
Over the next month we're going to be talking about this idea of "watering" various areas of life in the hopes of seeing good fruit sprout as well as pulling some weeds of discontent.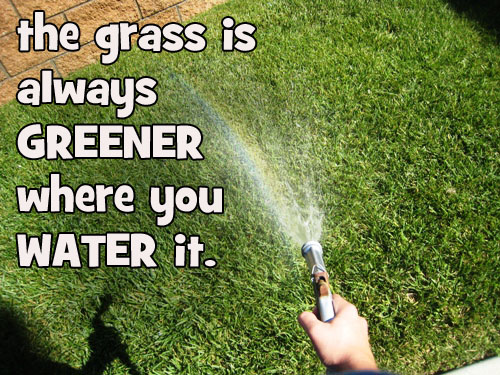 To think on:
What do you want to grow? An intimate relationship with God? A strong(er) marriage? A happy family? A confidence in who you are? Friendships?
How badly do you want it? What are you willing to give up to grow that?
How can the people who love you help you?
We'll wrestle with these weeds of comparison and self-doubt in the hopes of enjoying this "life as mom" even more.
Godliness with contentment is great gain. — 1 Timothy 6:6
What first came to mind as something you want to grow?
Next: Find Living Water
*Meritocracy = a system in which advancement is based on individual ability or achievement.