Alnwick Castle, Edinburgh, Secret Gardens, and Unexpected Moments
As an Amazon Associate I earn from qualifying purchases. For more details, please see our disclosure policy.
Ready to head to Scotland? Here's a taste of our adventures at Alnwick Castle and in Edinburgh, part of our epic road trip through Great Britain.
I love this picture of my eldest son looking over the city of Edinburgh. We were in Holyrood Park, on a beautiful day in June. Okay, the clouds played with us a bit and there was a wee bit of rain. But, it was a really good day.
In retrospect, many of our days in the UK were really good days. That isn't, of course, how they felt when they were happening, but that's how they feel now.
In their book The Power of Moments, Chip Heath and Dan Heath say that tend to think back on experiences in terms of moments, not the totality of the experience. From page 7:
research has found that in recalling an experience, we ignore most of what happened and focus instead on a few particular moments.
This is certainly true of that particular day atop a hillside in Holyrood Park. The scattered showers and the drunk men throwing glass bottles around pale in comparison to spending time with my kids and pausing to look at my son on a beautiful vista, envisioning all his future ahead of him.
Know what I mean?
To spend a month in a foreign country means that it's not really a vacation as much as it is doing life in an unfamiliar locale. By this stage in our adventure, the newness had worn off, we were getting our sea legs in terms of food, driving, and linguistic differences, and yes, doing a fair amount of bickering.
I won't get into details, but know that yes, we did have disagreements and stressful moments abroad. Just like at home.
But, thankfully, while I know those are a part of our story, I also know that these other powerful moments outweigh those down times.
Alnwick Castle, Edinburgh, Secret Gardens, and Unexpected Moments
We spent three nights in Edinburgh, getting just a taste of Scotland's capital. On the way, we stopped at Alnwick Castle.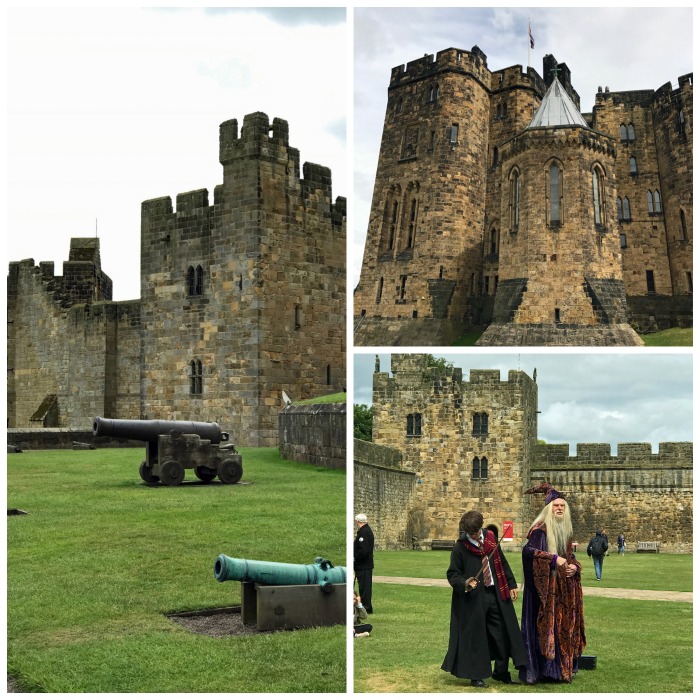 Alnwick Castle
When we left Newcastle-upon-Tyne we were headed toward Edinburgh. But, since Alnwick (pronounced annick) is highly rated and was on our way, we stopped for several hours. For whatever reason, I don't have extensive photos of the castle and grounds, though Bryan took lots of video.
Wondering why Harry Potter and Dumbledore are there? Well, the first few Harry Potter movies were filmed in part at Alnwick Castle. Since we tend toward being Potterheaded, it made sense to include this in our itinerary. As luck would have it we were there on a day when several Harry Potter events were staged. This is not always the case. We worried that the crowds would be numerous, but they weren't. Crisis averted.
Downton Abbey was also filmed here, but I never got into that show. Ten minutes told me the people were too mean, so I didn't give it any more attention. (Yes, I just said that.)
Alnwick Castle is rather "diverting", as Jane Austen would say, but I'd also say that it's a mite overrated — and possibly overpriced.
The Harry Potter aspect is fairly minor, though they do have an extensive children's area where they have a dramatized dragon experience, dress-up clothes available, and crafts for kids.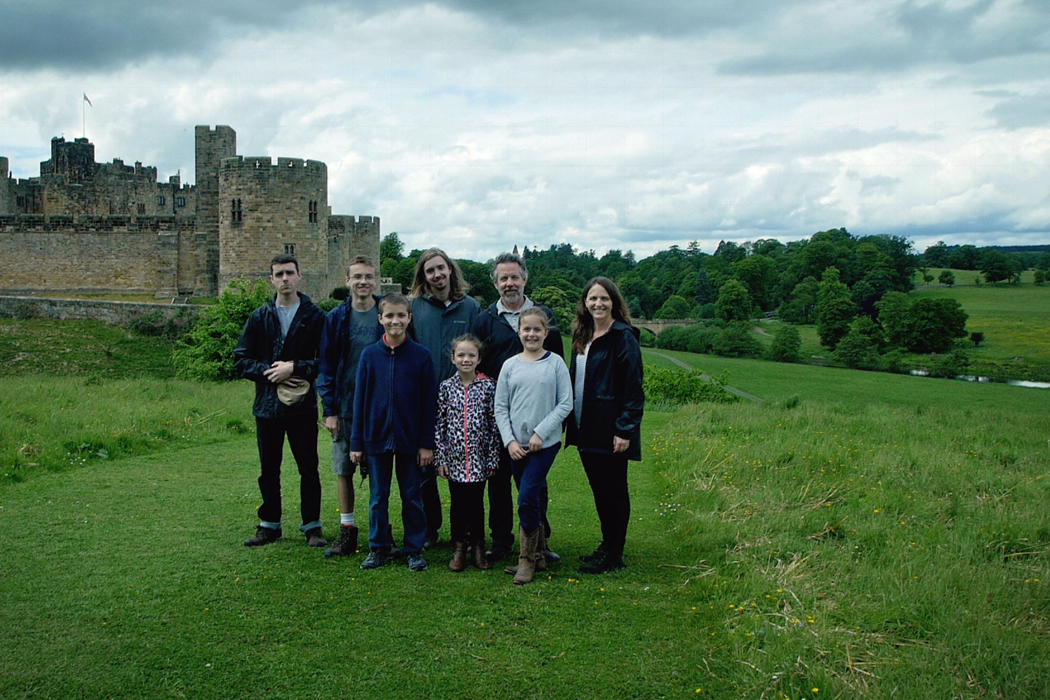 Alnwick Castle is also the seat of the Duke of Northumberland, so there's a lot of history to the castle beyond the silver screen. The tour of the State Rooms was beautiful, if hurried. There were several large groups and while the tour is self-guided, we were pushed along by other guided tours.
Like Burghley House, your entrance tickets are good for a year. We got a discount with our National Trust passes, paying $63.64 which isn't too bad for 8 people. Thank you, strong dollar.
Parking was free on the streets of the village, so one of the boys walked to the car to get our lunch stuff, and we picnicked on this grassy space with a view of the castle and the river. There are concessions within the castle, but we were doing this on a budget, remember? Picnics saved our bacon on more than one occasion. I'm so glad that we had a month of very unBritish weather!
After Alnwick Castle we headed to our Premier Inn in Edinburgh East. It was one of the cheaper PI's in Edinburgh and included free parking. We'd been warned that it would be difficult to find parking in Edinburgh and that it would be expensive, but it worked out for us to stay in the outskirts — right across the street from the Barracuda Fish Shop which my people came to love.
Our hotel staff were super kind, washed clothes for us, and hung them to dry in their big wash room. Super helpful as there were no 24-hour laundromats to be found, and quite honestly, most laundromats we found were quite scary.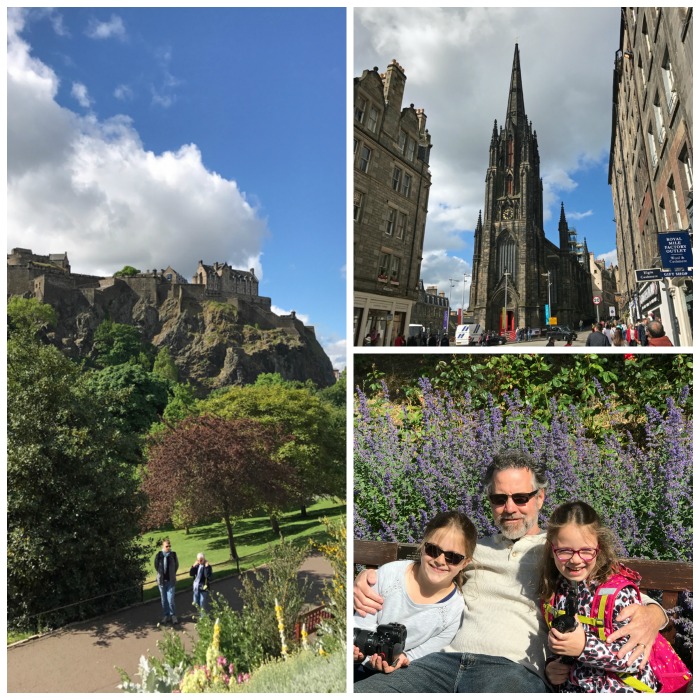 City Centre Edinburgh
We had heard great things about Edinburgh so we had pretty high expectations. I think if we had stayed in the city centre we might have experienced some of what other people talked about. Driving in for new glasses and driving in for the day didn't really wow us, if you know what I mean.
The Royal Mile was crowded and touristy and most of the attractions were crowded, touristy, and expensive, so we didn't really jive.
That said, we had a lovely walk through the downtown. The weather was beautiful, and as I've mentioned before, the UK knows how to do parks!
As well as free museums!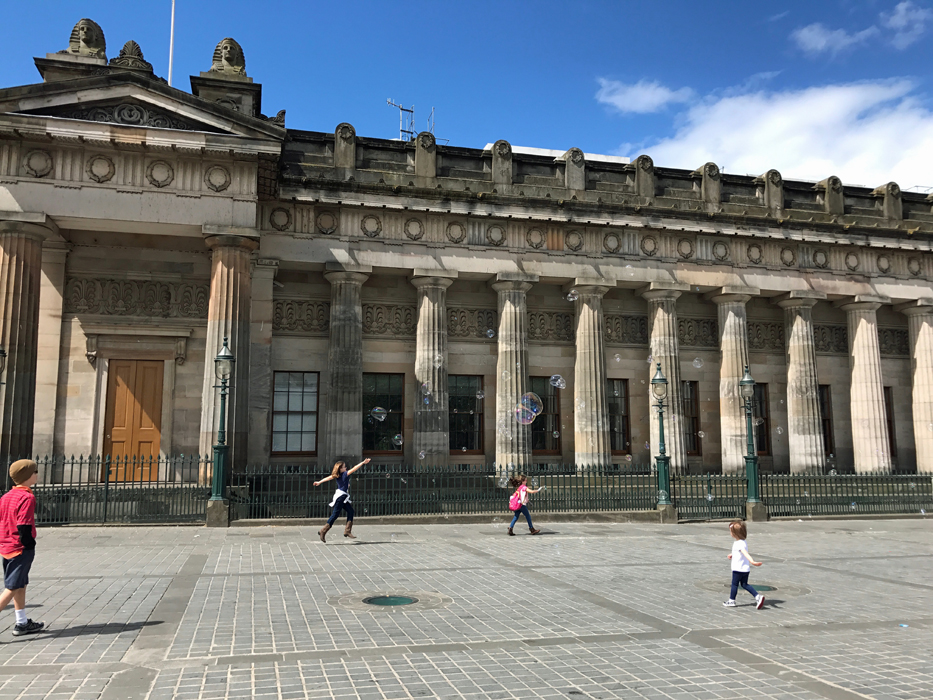 Unexpected moments
Our best memories are probably found in those unexpected moments. The free art museum with a fabulous collection, the bubbles in the courtyard outside. Little girls admiring statues of sisters. Things like that.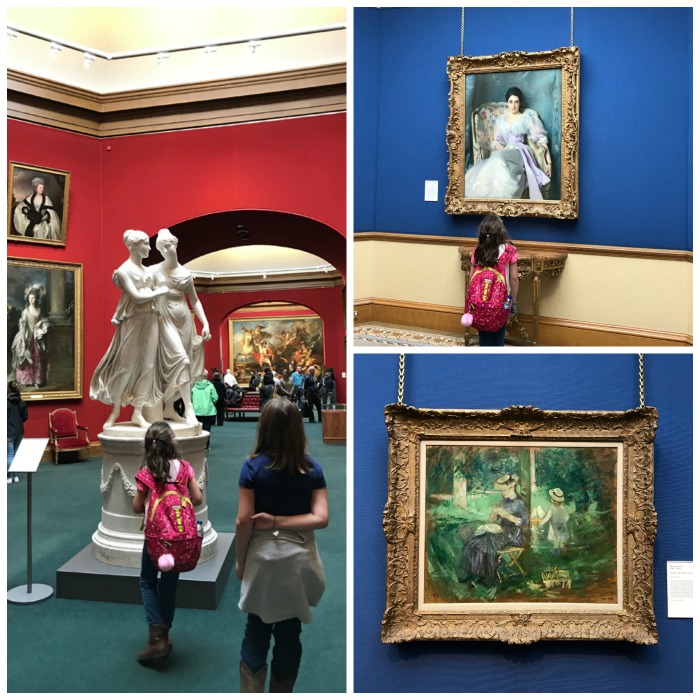 Free museums
National museums are free to the public in the UK, which is so very nice. And unlike certain SD art museums, they are very family friendly and don't treat you like a criminal. Ahem.
We visited free art museums in several cities and always enjoyed the experience. When something's free, people often dismiss it as unimportant, but sometimes quite the opposite is true.

Secret gardens
In Edinburgh we realized how very much we dislike crowds and how very much we enjoy the outdoors. We hiked through Holyrood Park (mentioned earlier), and so I looked for something else that might be out of doors and perhaps off the beaten path.
I found a real Secret Garden! Just a short walk from our hotel was Dr. Neil's Garden. I found it on Trip Advisor and it got such good reviews,  it just made sense to go. The garden was established by Drs. Nancy and Andrew Neil decades ago, long before herbs and essential oils were common place. It's a beautiful (and free) place to spend an afternoon.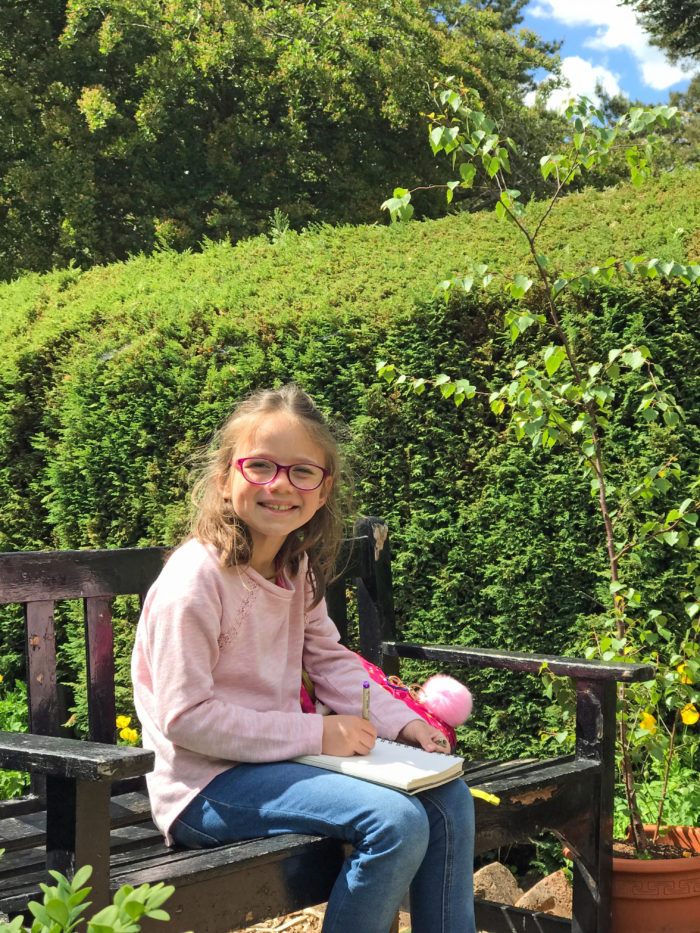 This girl took her sketch book with her wherever we went. I'm so glad I packed it for her. Such a fun memento of our trip!
In a few days I'll share about our adventures on the other side of Scotland. Want to start reading at the beginning of this series? Scroll to the bottom of this page.