Setting Financial Goals
As an Amazon Associate I earn from qualifying purchases. For more details, please see our disclosure policy.
Setting specific financial goals is more effective that just saving money.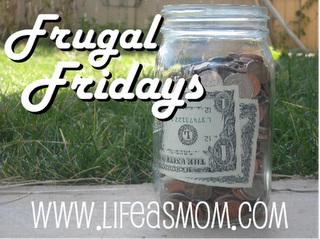 About four years ago when we realized we had no money and a whole lot of debt, it was easy to make financial goals. We just wanted to be out of the hole!
Honestly, that was all I could think about. And it was odd to think that it would ever happen. 
After eighteen months of scrimping and saving, we paid off our last credit card, American Distress. We breathed a sigh of relief. At about the same time, we sold our home in Kansas and actually broke even on that transaction; a minor miracle in 2009. We socked the equity (the initial downpayment) into an emergency fund and found ourselves ready to cross off our list Baby Steps 1, 2, and 3.
Those baby steps would be our financial goals up to that point:

Establish a $1000 emergency fund.
Pay off all debts.
Fully fund a 3 to 6 month emergency fund.
Getting to that point seemed like such a monumental victory that we just sat down and rested. For a long while. We saved our money where we could but we just tossed it into a nebulous account that didn't really have a name.
It wasn't that we didn't want to continue, it's just that we weren't really sure what to do next. Those who follow the plan outlined in The Total Money Makeover will know the next few steps recommended by personal financial coach, Dave Ramsey:
4. Invest in retirement.
5. Establish kids' college funds.
6. Pay off the house.
These steps often get moved around depending on your season of life and the income you have at your disposal. We've hemmed and hawed about taking the steps in order or out. After a few years of just "saving money," we're ready to get more serious about financial goals.
We'll take Door #4: Retirement investing.
While we do have six kids to send to college, we both know from personal experience that if you want something bad enough, you will find a way to make it happen. If FishKids wanna go to college, they will do it. We fully intend to help them with their college expenses, but since we're getting a fairly late start at retirement investing (we started at 38 and 48), we need to make up for some lost time.
We don't have visions of grand retirement vacations and homes in exotic locales. We just want to be self-supporting.
We haven't totally figured out our plan for this, however, we are going to try to put away the maximum in Roth and Sep IRAs as well as start a 401K with FishPapa's employer.
Make specific goals
We've found that blindly saving is not as effective as giving your goal a name. To "save money" is not as motivating as to put a dollar amount toward a certain project or to specify a certain financial goal.
It's about time to get back to climbing that mountain.
How 'bout you? Do you make specific financial goals?