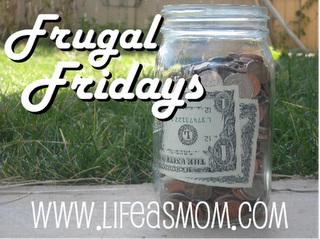 This week I've been highlighting some ways to simplify life. Meal planning does not need to be complicated. Your morning routine can be quick and easy. Providing craft activities for your kids can be simple — just hand them the right tools.
And there are "simple" things that you can to do to save money as well.
1. Batch cooking
Do some batch cooking and fill your freezer with homemade convenience foods.
Freezer cooking is not that difficult, nor does it need to suck up your whole weekend. But, preparing big batches of convenience foods in little pockets of time can save you money — and improve your diet. Not only will your grocery cart be full of whole foods that are better for you, but you'll reduce your needs to have many different items in your cupboard. You'll also spend less time in the store, thereby averting any impulse buys.
Freezer full of homemade food = less eating out + less shopping + easier decisions
2. Dress simply
The fashionista life can get expensive. There are ways to dress simply that still look good, but that don't cost you a lot to buy or to upkeep. Choose a simple and small wardrobe in which you always look good.
A few good clothes = easier dressing + less laundry + simpler days
3. Shop closer to home.
Select only 1 or 2 stores to shop at. Not only will you save money on gas, but you'll also spend less time driving around. No, you won't get to work all the deals, but you'll be able to focus on the basics and working the deals at your local store. And sometimes, not working all the deals is a welcome change.
Fewer stores = less driving + less gas + focus
4. Declutter and host a yard sale.
You know you have too much stuff. I know this because there are very few of us who have just what we need. Ours is a generation of excess. Dejunk your cupboards and closets and sell what you don't use.
Less stuff = simpler life + more money + more space
5. Don't shop for entertainment purposes.
I am the first to admit that I love "retail therapy." A few hours at Target is so relaxing for me, especially if I am child-free and clutching a Mocha Frap in my hand. But, I'd also admit that I often buy things, even on clearance, that we don't really need. Entertainment costs us, but it doesn't have to.
You're free to buy whatever you want. I make no rules, provided it's your money you're spending. But, I'm realizing that it is the thrill of the purchase that I'm buying, not really the things that I need.
Fewer purchases = less stuff + more money
What do YOU do to save money?
There will be no frugal friday next week. Instead, join me all week for daily giveaways celebrating the arrival of Spring.