Want to plan a fabulous holiday?
A Simpler Season
holds almost everything you need to do just that.
This guide to planning the winter holidays provides creative ideas , time-saving tips, and budget-minded inspiration for making the most of Thanksgiving, Christmas, and New Year's. With the busy family in mind, I've provided recipes, to-do lists, children's activity sheets, planning pages, gift ideas, and step-by-step tutorials for creating homemade gifts. Grab your copy today.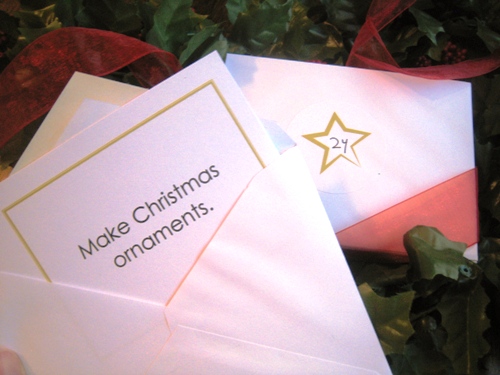 I know, I know. It's not even Thanksgiving yet. I know.
But, I also know that as soon as the turkey leftovers are tucked away, our thoughts are going to turn toward Christmas preparations. And since you might have some free time over the weekend, I want you to have this now and not next week.
For years I've put together this fun Christmas Countdown to do with my kids. It's in addition to the Jesse Advent Tree we do. One is spiritual, and the other is just silly fun. (I think the two can co-exist.)
Anywho, I put together these cards with fun things for us to do everyday in December and stuff them in envelopes to make it surprise-like. Then each evening one child gets to open the envelope for that day, and we do that fun thing. It might be to go light looking or go a jammie run or watch a movie. Whatever.
The important part is that it's an occasion for us to chill together and have some fun at Christmas time.
Great idea, right? And you'd really like to do, right? But, where are you going to find the time to put cards together, right?
I thought you might say that. I've got you covered. With the help of my lovely sister, Janel, I've put together a booklet of Christmas cards to print, cut, and stuff into envelopes. We even added activities that we've never done — yet. There is so much choice involved here. But, everything you need to pull this off is in this handy, dandy download.
(Well, except for the paper, ink, computer, and envelopes.)
But, other than that, I got you covered!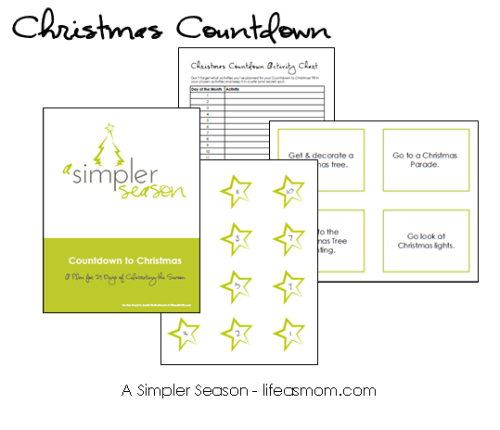 GET THE PRINTABLE
Free Christmas Countdown Download
This week's FREE download is a printable Christmas Countdown Family Activity Planner. It includes printable cards, printable labels, ideas for family activities, blank cards to make your own, and a chart to track it all.
Download it today – for FREE. And if you like it, share this post with a friend. We need to help each other celebrate a simpler season.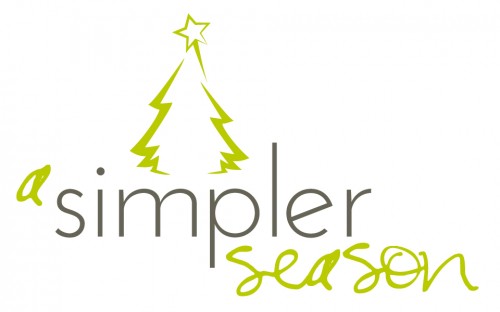 How do YOU count down the days until Christmas with your children?