Tired of giving gifts that become clutter six months later? Yeah, me, too. I'm on a mission to have clutter-free stocking stuffers this year.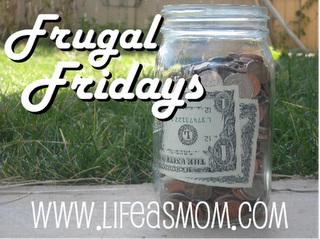 This past summer when I was helping some children clean their room, I found several card games. Correction: I found pieces to several card games. Apparently, we no longer had the rest of the games, nor did we have the instructions to play them. For the record, I'd never ever played the games, nor had I seen my children play the games.
But I had bought them.
Oh, yes, I had. I bought the games, paid cold hard cash for them, wrapped them, and stuffed them in stockings on Christmas Eve. And here I was six months later throwing the bits and pieces in the trash.
Stupid tax.
In the name of stuffing a stocking, I had purchased things that no one had asked for and things that no one apparently loved. And they became clutter. Note to self: don't do this again.
The Grinch in me wanted to say NO MORE STOCKINGS. But, we love the stockings! The stockings are the opening act of a day full of fun.
How do I reconcile that fun little bag full of treasure with the desire for less stuff later on?
Clutter-free Stocking Stuffers
In my efforts to curb this post-Christmas waste, I've set on a different course this year in how I go about filling my children's stockings. The idea started that everything would be edible. But, I'm adapting it to say everything will be consumable. Edible, washable, stickable, and, hopefully, very little to pick up off the closet floor next July.
I don't mind if they go through it in a day as long as it brings a smile and doesn't become more clutter to pick up!
Here's my little, but growing stockpile of items to stuff our stockings with. (That's popcorn on the cob!)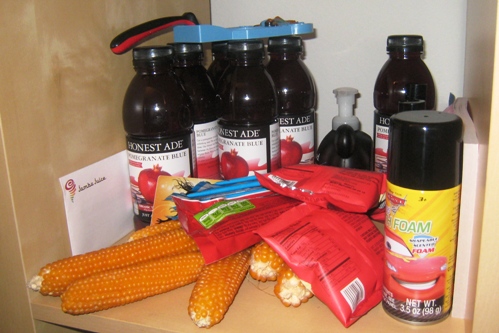 Here are my plans for consumable stocking stuffers:
Breakfast
Every year amongst the stocking stuffers is breakfast. This is fun for the kids and easy on me. I know that they will have fun and/or healthy items to eat during that "hyper-excited-it's-Christmas-morning!" rush. This has traditionally been small, sampler sizes of granola bars or cereal, the prerequisite orange or clementine, juice boxes, and other fun breakfast foods, like those Dinosaur egg oatmeal packets.
You can save on these items by using coupons, watching for sales, or saving up the samples that you might request through different companies.
Snacks
My kids don't get to enjoy "snack" foods all that often. So, bags of Pirate's Booty, fruit leathers, and popcorn on the cob are welcome little treats. And a round of Jamba Juice gift cards bought on discount at Costco will make for a fun post-Christmas outing.
Watch for sales on snack foods in the coming weeks and buy a few each week so it doesn't crunch the budget.
Toiletries
What kid under the age of 8 doesn't love character bandages? Along with Band-aids, I'm going to include this cool Mickey Method hand soap as well as Tow Mater branded toiletries. My dad always gave us toothbrushes in our stockings, so I'm going to do a round of dental supplies as well. Thankfully, my kids care about their teeth.
CVS and Walgreens do a lot of promotions on toiletries like this, so watch for sales on these items, too.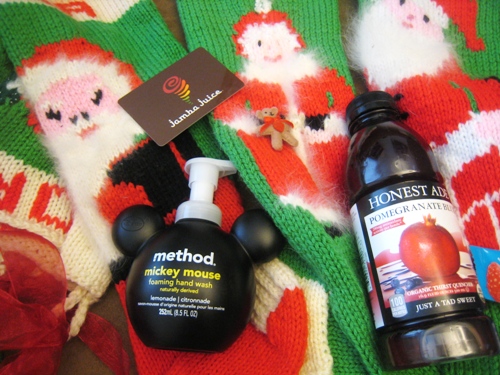 Cheap Toys
What can I say? Yes, I'm also going to include some minimally priced toys like coloring books and water balloons. Those are definitely consumable! Do you know how fast a 3 year old can whip through a coloring book? My kids get a kick out of these and for a buck, they're an easy, cheap extra. Plus, they just really, really like them.
Unlike the card games that went to the round file.
Target's dollar section and Dollar Tree are good places for these kinds of toys.
Stocking stuffers are one of the highlights of our Christmas morning. We open stockings first. They are the start of the day's fun, if you will.
Giving consumable, clutter-free stocking stuffers is a great way to reduce the things that you (and your kids) have to clean up as well as ensure that there are fun and tasty diversions to start the day off with a bang.
How do YOU save money?
Disclosure: Disney consumer products provided me with the Disney samples pictured.