What Does Organized Feel Like?
As an Amazon Associate I earn from qualifying purchases. For more details, please see our disclosure policy.
Being organized doesn't mean having everything perfectly in order. But, it can help you get on your game.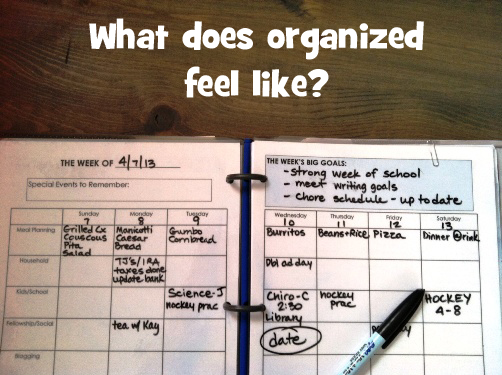 Last week as I was catching up on my Google reader, I saw an update from my friend, Jules:
I started feeling really sick on Monday, so it was with great pleasure that I grabbed one of Jessica's freezer meals from the freezer and plopped it in the crockpot. So this is what organized feels like!
While I certainly loved her compliments regarding my cookbook (go here to read what else she had to say), what struck me was more the comment:
So this is what organized feels like!
I know exactly what she means. I love that feeling! Currently, I can't find the top of my desk; it's completely buried in papers, lists, and receipts. But, I dream of it being organized once again.
Some days organized means something as simple as being able to find a flat space to write on!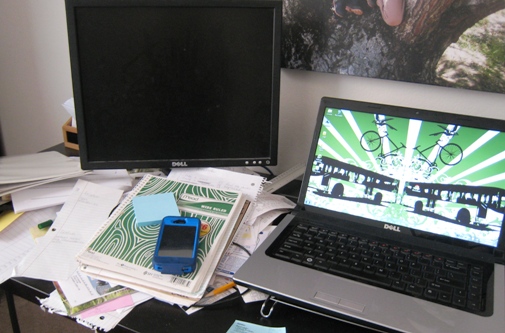 It's true that organized can look differently to each of us, depending on what we have going on and how we struggle with life in general. Jules' post got me thinking: what does organized feel like? (If you read her site, you'll know she's got a lot more organized than just freezer meals.)
I'd suggest that it is:
knowing where things are when you need them
being able to think straight even when you have a lot of your plate
having a peace about your responsibilities and knowing that you can handle them
having some kind of plan for dealing with the unexpected, even if it's something as simple as a freezer meal.
I have spent a lifetime, well, at least 20 years, to have some sense of "organized". Some days I achieve it, some days I most definitely do not. I'm a work in progress. Aren't we all?
Obviously there are some practical, tangible things that we can do to be more organized. Here are my top five to get a good start on the week:
Have a meal plan for the week and do the grocery shopping. (Bonus points if I do some meal prep in advance.)
Consult the family calendar and make note of errands and appointments. I try to either write it all on the weekly page in my planner or sync it on my Google calendar. (Bonus points if I do both, which has rarely if ever happened.)
Make sure school lesson plans are ready (or in the case of non-homeschoolers, I'd say make sure homework is done and ready to go back to school).
Do a whole house pick-up, even if it means stashing wayward items out of sight temporarily.
Catch up on the laundry. (Ha! At least get the piles folded and put away.
If those five things have happened by the time Monday morning rolls around, I feel like I'm on my game instead of trailing behind a day late and a dollar short. So tell me….
What does organized feel like to you?