Clean and Simple Kids' Rooms (Zone Defense: Kid Stuff)
As an Amazon Associate I earn from qualifying purchases. For more details, please see our disclosure policy.
On Zone Defense, we're tackling clutter and working to put in place a game plan for home organization. This month we're turning our attention to the stuff that our kids collect.
Six months ago we started a game plan to organize our homes. Rather than tackle clutter and chaos in one fell swoop, we are approaching it by zones: physical zones as well as activity zones. We've looked at the following areas of life:
This month it's the kids' turn! Let's take a closer look at our kids' stuff. After all, they're home for the summer. They have lots of time on their hands. And it would be nice to have some clutter cleared away before they go back to school. The busy-ness of fall, followed by the  festivities of the holidays make summer the perfect time to organize our kid zones.
Over the coming weeks, we'll be talking about simple and easy things to do to get a handle on your kids' bedrooms. Today, I'm looking at how to simplify the bedrooms. Next week Prerna will be talking about ways to organize and contain kids' toys and games. And then we'll take a look at how to archive kids' artwork and paperwork.
We're really only going to graze the tip of the iceberg, but hopefully the ideas we touch on will spark some creativity and organization in your own home.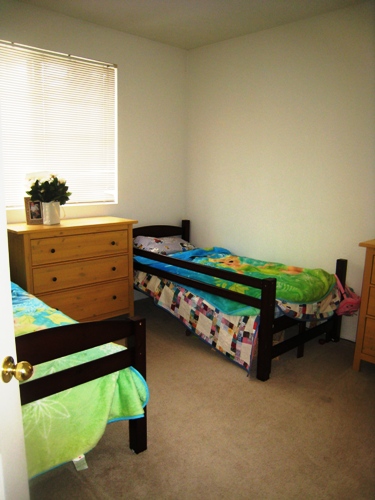 Create simple spaces for kids.
Once upon a time, I dreamed of Pottery Barn bedrooms for my kids. I wanted those beautiful landscapes in my home, idyllic places for my children to play, read, or sleep, complete with beautiful knick knacks on the shelves.
The reality is that was expensive and hard to keep clean. While we didn't reach exactly Pottery Barn heights, I did my darn best to deck out their bedrooms. But, a lot of it was visual clutter.
Call me a spartan, but I'm an advocate for simple spaces for kids.
Above is my girls' bedroom — at its best. It doesn't often look like this. Since they are three and five, they tend not to pick up things on their own and the room is often a shambles. We're working together to teach them how to care for their things.
Currently, we have three kids' bedrooms with two children per room. The rooms are big enough to hold two beds and two dressers and a laundry hamper. And that is about it. We've been intentional about making their space simple and easy to clean up.
Here's how it works at our house, albeit imperfectly: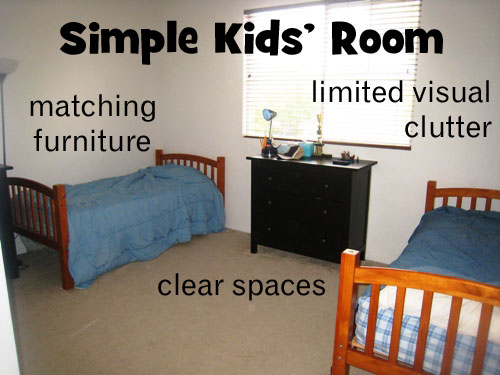 1. Matching furniture gives a uniform look.
In the early years when we really had no money, we took whatever hand-me-down furniture we could get. When our debts were paid, we were able to upgrade. Slowly, room by room, we bought the kids matching beds and dressers. We have six beds and six dressers exactly alike.
(Well, almost, the girls' beds, purchased a few years later have slightly different headboards.)
The beds are actually bunkbeds that we separated. It's a $199 for the set at Walmart. We purposefully bought them beds that don't need boxsprings. This cuts the cost on mattresses as well as leaves them ample storage space under their beds. Regular size rubbermaid tubs fit under them if we need that storage space. This is where they can store toy boxes and their keepsake boxes if there isn't room in the closet.
The dressers are the Hemnes three drawer chest from IKEA that we bought on special. We also bought one for our foyer.
By using matching furniture, we give the rooms a clean, uncluttered vista. I think it helps cut down on visual clutter. Since kids collect so much stuff, the less visual clutter the better.
2. Keep the floors clear.
I make my kids clean up their floors once a week at minimum, but more often as needed. This means that all the junk has to be out from under the beds, the toys picked up and put away, and all clothing, books, etc returned to their homes.
They are responsible for putting away their own clothes as well as vacuuming weekly.
3. Make beds easy to make.
While I love the look of many throw pillows and stuffed animals perched atop a bed, I've learned that those are just more stuff to clean up! So, we keep our bed displays to a minimum.
Hubby and I disagree on must-haves for bedding. He prefers a top sheet at all costs. I'm lazy and sometimes don't care to mess with it. So, I pretty much let the child choose. Sometimes they have the full sheet set-up and sometimes they just have a fitted sheet and a comforter.
Psst. The latter is much easier to make.
4. Limit the visual clutter.
Ours is a very lived in house. Clutter breeds like rabbits. So, when I say "limit" please don't envision a sterile household. That is most definitely not the case. Hehe.
Instead, we just try to keep things cleared off. The kids don't have too many tchotchkes on their dressers. This means less to knock over, less to dust, and more space to stack your laundry when you're cheating and not putting it away as soon as Mom said to.
Ahem.
We really don't hang much on the walls, either, mostly from safety concerns. We do live in earthquake country and the idea of broken glass on the bed concerns me a tad. I imagine this will change as the boys all enter the teen years. There's a small collection of Lego and LA Kings posters waiting to be hung.
5. Provide laundry hampers and a method for emptying.
You can imagine the amount of laundry that we go through around here. It's staggering. I've found it works best to have identical laundry hampers, to ditch the lids, and to make sure my kids know to empty them appropriately in the laundry room.
If they know what to do with their dirty clothes, and it's relatively easy to do, they are more likely to do it.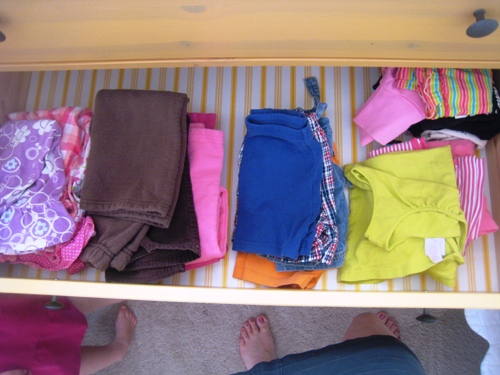 6. Limit the amount of clothes they have.
As I mentioned before in this post about sorting and storing kids' clothing, our kids don't have extensive wardrobes. Since I'm doing mountains of laundry every day anyway, they don't need a lot. Fewer items to wear means fewer to wash and put away. It also means fewer to fall on the floor or be stuffed under the beds.
'Nuf said.
Those are the things that work for us to give our kids simple spaces to live, sleep, and play in. It doesn't work perfectly, but it does make it easier for them to keep their rooms (mostly) clean.
What works for YOU to help your kids keep their rooms clean?