To Be More Joyful: Get Thicker Skin
As an Amazon Associate I earn from qualifying purchases. For more details, please see our disclosure policy.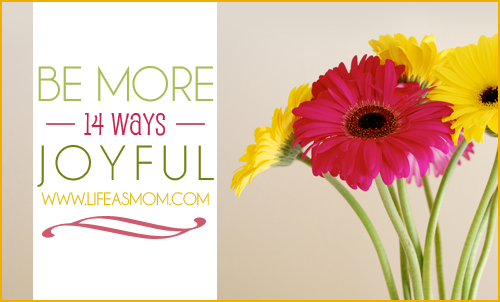 This is a continuing series about ways in which we can become more joyful. If you missed previous posts or find that you're still too crabby, go back to the beginning of 14 Ways to Be More Joyful.
Sticks and stones may break my bones, but words will never hurt me.
I remember being five or six, listening to my dad tell me that. And I've heard him tell my boys that, too. I didn't believe him then, nor do I now. While it is a wonderfully, hopeful sentiment, unfortunately, it's just not true.
Words do hurt. Sometimes quite terribly. And words — ours or someone else's — can get in the way of a joyful life. Each of us knows this experientially as well as intellectually.
OK, I have met a few stoic women in my time and it certainly appeared that nothing broke through their cold exteriors. But, those few aside, I think we can all admit when our lunch, our evening, our day, our week has been tanked by someone else's unkindness.
Or we can confess the multiple times when we misunderstood someone else's actions and woefully overreacted.
While we may not be able to stop someone else's actions and reactions, there are some steps that we can take to prevent them from raining on our parade.
Get Thicker Skin
Now, I'm not saying to become like one of the aforementioned stoics, don't get such thick skin that you miss out on emotions and compassion and even a little pain. Those things grow us and shape us and make us more into who God wants us to be.
But many of us could stand to toughen up a little bit and make a conscious effort not to be upset by the things that don't matter.
1. Consider the source.
Is the person you're talking with your friend? Are they "for you?" Are they looking out for your good or are they looking to cause you harm?
True, those are tricky questions to answer sometimes. But, think about them and assess the motivation behind the words.
Wounds from a friend can be trusted,
but an enemy multiplies kisses.
Hopefully, being reminded of their love for you can soften the blow and make it easier for you to overlook or forgive if they've been in the wrong.
2. Weigh the words.
Is it possible that the criticism or complaint is true? Can you look past your feelings to see if you can grow in this moment?
Too often we jump to the defensive instead of considering the truth of the words that hurt. They might not have been spoken in the best way. But, I think when we pray for understanding and are willing to listen to reason, we can weed through the insult and find the wisdom.
Do not forsake wisdom, and she will protect you;
love her, and she will watch over you.
The truth hurts sometimes, but we can be the better for it.
3. Be okay with disagreement.
It happens all too often that we take offense when someone does not agree with us. Political affiliation, your stance on health care, breastfeeding or bottle? There is a wealth of things to disagree about!
Perhaps we think that they don't approve of us.
Perhaps we are not super confident in our decisions and a dissent rattles us.
Perhaps we just like to be right.
But, let's be honest, unless we live in a cave or don't have any strong convictions about anything, we will ruffle feathers and have our feathers ruffled. Get a grip on this reality.
Reasonable minds will disagree in a nice way. Let's not allow our passions for our cause prevent us from treating others with basic human respect.
I'm not saying "be okay with other people's lame ideas and go along with them to get along." Rather, I'm saying, let's allow people their opinions and not resort to name calling and insults because they don't think the way we do.
4. Fear God only.
We can spin our wheels about how we've been offended, how we've been reprimanded at work, how we've been wrongly judged. But, truly, no one's opinion matters as much God's. Run to him with the problem. Ask for help. Pray for wisdom and comfort. And fear Him only.
I, even I, am he who comforts you.
Who are you that you fear mortal men,
the sons of men, who are but grass,

that you forget the LORD your Maker,
who stretched out the heavens
and laid the foundations of the earth,
Isaiah 51:12-15
Sticks and stones may break my bones, but words shouldn't hurt as much as they have.
Don't let words get the best of you. Think on what is true, trust God, and let your skin thicken up — just a little.
How do you prevent others' words and opinions get the best of you?