Finding Contentment in the Baby Season
As an Amazon Associate I earn from qualifying purchases. For more details, please see our disclosure policy.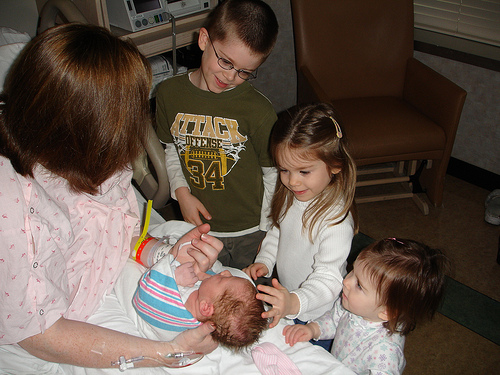 – A post from LifeasMOM contributor, Lauren –
On November 23rd, my family was blessed to welcome our new little Anna Faye. She is the fourth addition to our family and she has already settled in so beautifully. It is so funny how it is hard to remember what life was like before a new baby came along! Surely life wasn't as good as it is now!
So I've had the privilege of welcoming four little babies into this world. I could write a book, as I'm sure most moms could, of all of the things I've learned since becoming a mother: how to successfully potty-train, how to make it through morning sickness, how to survive the early days with a newborn and how to be a fun wife and mother while getting very little sleep.
Still working on that last one…
But the most important thing I've learned since becoming a mother?
These early years pass so quickly – do not wish away them away.
It's so easy to do. You have a colicky baby who screams for 4+ hours every night. You have a 20-month old who can tear apart a room in less than 10 seconds and requires constant supervision. Or you have a little one that just refuses to sleep through the night despite your best efforts. These are my own real-life examples, by the way.
And your frustrated mind immediately goes to:
I cannot wait for this stage to be over! Life will be so easy when ______! Fill in the blank with 'he's potty-trained' or 'she can feed herself' or any other item with which you are struggling.

Here are a few ways I guard my heart and mind from going down the grass-will-be-greener path:
Make a conscious choice to change your thinking
I will readily admit that it takes discipline and isn't easy. It's hard to have a good attitude when you haven't slept much for months on end. I struggle with it literally every day. But my house runs so much smoother when I choose to think positively and I choose my words and even my thoughts carefully. While you might have little control over your circumstances, you have almost total control over your thinking.
Stay in God's Word.
This is so vital to me being able to change my perspective. When I feel like I am in the throes of chaos, frustration and monotony, I rely heavily on God's Word. For example, when I am sick of washing dishes because no one else is old enough to do it (yet), I ponder over Colossians 3:23 – "Whatever you do, do your work heartily, as for the Lord, rather than for men…"
His Word has the ability to transform my attitude in a way that I cannot do by myself. It is vital to my being able to live in the moment with my little people — and be content.
If you can change what is not working, then do it!
If you cleaned up 5 potty-training accidents in one day, then maybe it would be better to wait a month and then try again. If the toddler screams to get her way constantly, set aside a few days to work really hard on getting that behavior in check.
Take time to analyze the things that are most frustrating to you. If you can change some aspect, then make a plan and put it in action. Sometimes we just need to re-group and decide what is working and what is not.
Be around other mothers in the same stage of parenting.
Thankfully, I have a very good friend who is a mama to many little people like me. We share similar ideas and beliefs and being with her is just a breath of fresh air! It rejuvenates me, and I look so forward to spending time with her.
You might have to search in different places (church, the library, the park) but find someone in a similar stage of life and cultivate a friendship with them. Sharing hard times with someone who truly understands is a great burden-lifter.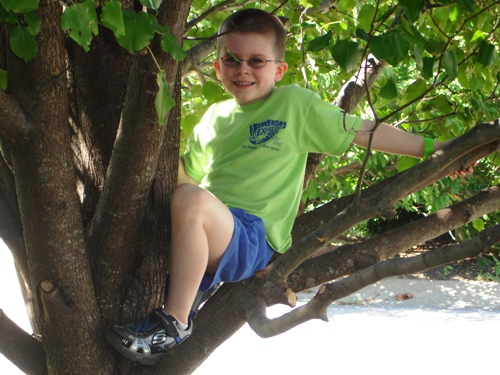 Please don't think I have all of the answers to living in the moment with my children down pat or that I'm a joyful, content mother all of the time. I am certain my husband can verify that is not the case! I daily (sometimes hourly!) work on my attitude so I don't take these precious, albeit hard stages for granted.
Every day, my oldest child proves to me how fleeting time is. While this is the little boy I see looking back at me, it was just yesterday that I was looking at his precious face for the first time.
I know that there is coming a day all too soon when there won't be any little ones to spill chocolate milk during dinner and my floor won't be covered in crumbs. The day is coming when our house will be eerily quiet and I will look back at these hectic, chaotic times. And I want to remember them with fondness, not as a time where I just couldn't wait for time to pass and for everyone to grow up. I'm striving to live in the moment. And enjoy it.
Do you find it hard to live in the moment and be content with the stage your child is in?
What strategies do you use so you don't wish away the days?
— Lauren Hill is privileged to be the mama to 4 wonderful little people. She blogs about all things laundry at Mama's Laundry Talk.