Nutty Berry Parfait with Dark Chocolate
As an Amazon Associate I earn from qualifying purchases. For more details, please see our disclosure policy.
I am an official ambassador for Dole Fresh Fruit and Fresh Vegetables. Dole provided me with compensation for my time. As always, all opinions are mine.
Eating more fresh fruit and vegetables is an ideal way to improve your diet. This Nutty Berry Parfait is a great way to get on the bandwagon.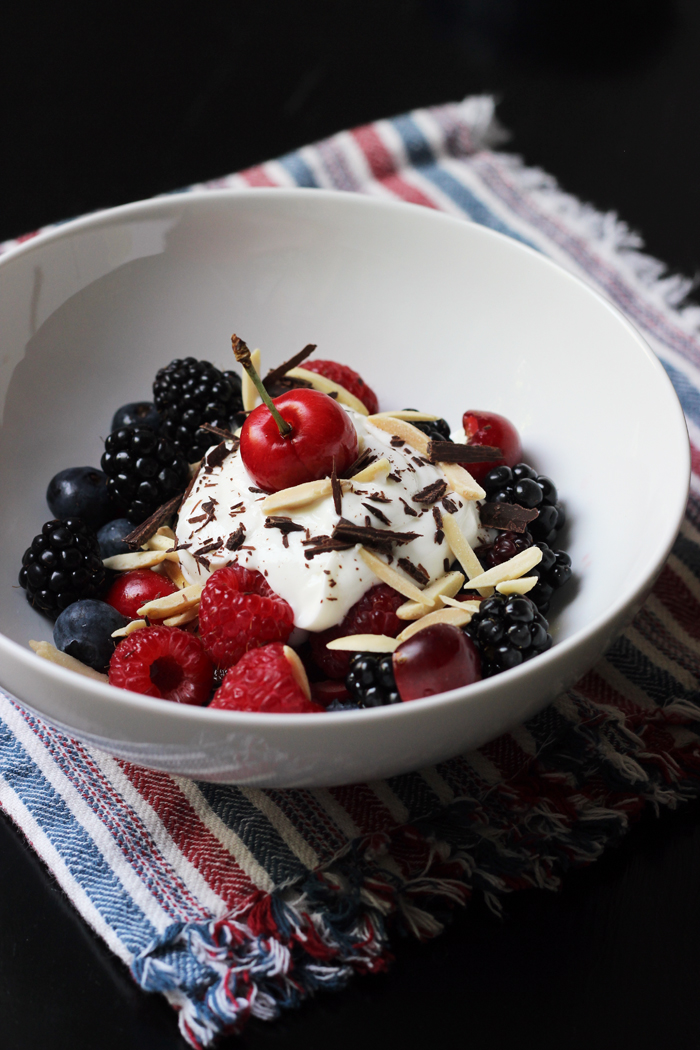 Want to save this post?
Enter your email below and get it sent straight to your inbox. Plus, I'll send you time- and money-saving tips every week!
Once upon a time, I didn't really give much thought to my family's diet. I figured we could eat whatever we wanted and not worry about it. Just enjoy the junk! YOLO. You only live once.
That's true. You do. And once I did a little reading about nutrition, I realized I wanted to make this one life I have a little healthier. I made some adjustments to our diet and discovered that we felt better when we ate whole foods and less junk. Go figure.
This experiential evidence, coupled with a family history of cancer and heart disease, gave me pause. My husband and I are 54 and 44, respectively. I want us to be around for our grandkids! And I want to set up our kids with better eating habits so that their lives won't be riddled with obesity and disease.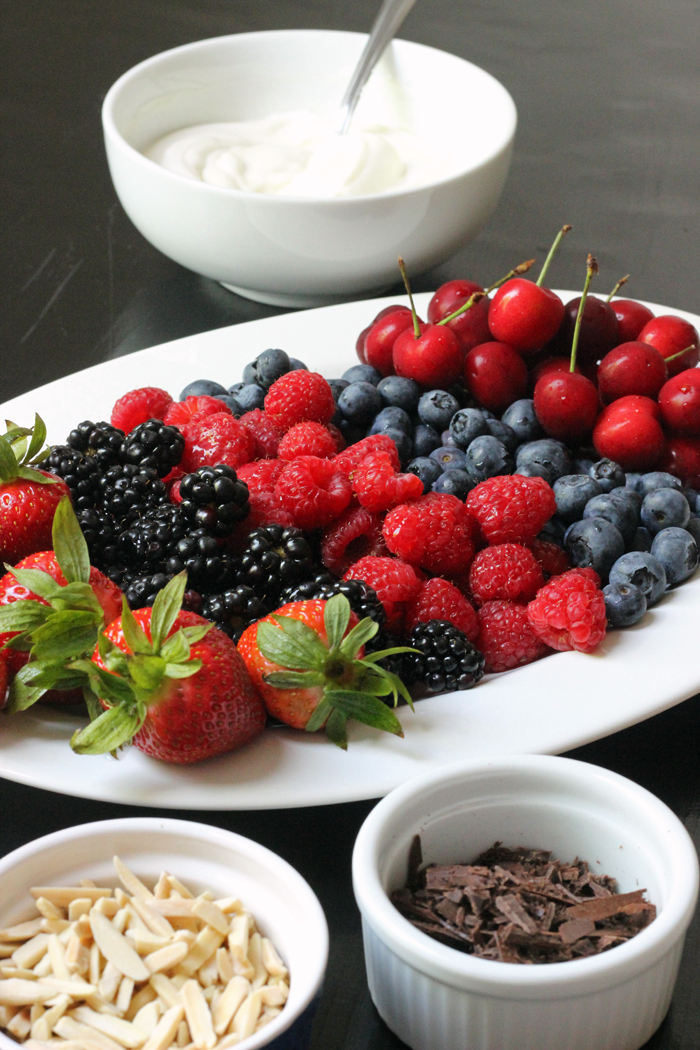 I want to get better at this healthy eating thing. In the last few years, we've cut out over 50% of the junk food we were eating, cook more from scratch, and are working on getting more fresh fruits and vegetables into our diet. During my nutrition research, I found that there's a lot of debate about what's "good" for us, but pretty much everyone agrees that eating more fresh fruits and vegetables is better for all of us.
There's no better time than the present to make some changes for YOUR family. You don't have to change everything in one fell swoop. You'll have a mutiny on your hands. Trust me. My mom tried it once upon a time, and I led the mutiny. Sorry, Mom.
Now that I'm the mom, I've been working on making small changes in our family's diet, trading sugary sweets for more fresh fruits, choosing natural sweeteners over processed sugars, and working more antioxidant powerhouses like nuts and dark chocolate into my recipes.
This Nutty Berry Parfait is the result of those efforts. And oh my word! It's so good! Now that fresh berries and cherries are in season, you need to print this baby out and make it – on repeat.
I feel so good serving this Nutty Berry Parfait to my kids.
Nutty Berry Parfait Recipe
Naturally-sweetened Greek yogurt, fresh berries, toasted almonds, and dark chocolate shavings? What is not to love about this Nutty Berry Parfait?! Psst…. It tastes like dessert, but it's really, really good for you!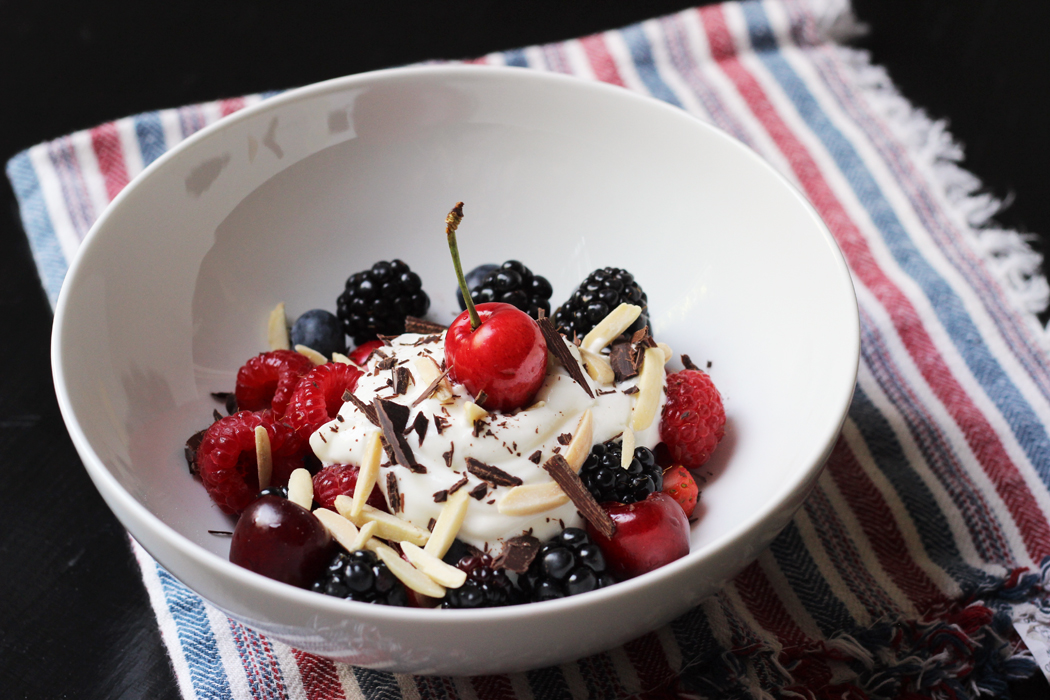 Preparation Time:10 minutes
Cook time:0 minutes
Total time:10 minutes
4 servings
Ingredients:
1 cup plain nonfat Greek yogurt
1 tablespoon honey
1 teaspoon vanilla extract
1 cup pitted and halved DOLE® fresh cherries plus 4 additional cherries with stems
1 cup sliced DOLE® fresh strawberries
1 cup DOLE® fresh blueberries
1 cup DOLE® fresh blackberries
1 cup DOLE® fresh red raspberries
4 teaspoons slivered, toasted almonds
4 teaspoons dark chocolate shavings
Instructions:
In a small mixing bowl, combine the yogurt, honey, and vanilla extract. Stir well to blend. Chill until ready to serve. Can be made up to a day in advance.
Divide the berries among four bowls or dishes. Add a dollop of yogurt to each bowl. Sprinkle 1 teaspoon almonds and 1 teaspoon chocolate shavings over each bowl. Place a whole cherry on top of each. Serve immediately.
Dole is teaming up with Disney/Pixar to promote Disney Pixar's Cars 3 movie which comes out June 16. Dole has been inspired by characters from the film in creating a wealth of delicious recipes.
This coming Thursday, May 25, 2017 is National Eat More Fruits and Vegetables. I recommend that you get all the fixings for this Nutty Berry Parfait and celebrate with a healthy dessert.
Looking for more fruit and veggie-inspiration, check out these yummy Cars 3 recipes, created in collaboration with Dole. These Buffalo Bites with Pineapple and Chicken (inspired by Smokey) look great!
While you're at it, enter your family in the Fuel Up with Dole Sweepstakes. You'll have a chance to submit your best healthy vacation photos for an opportunity to win one of 21 prizes, including a customized 10-day RV road trip across the US and Canada, and other Cars 3-inspired prizes. The entry period for the sweepstakes begins May 25 on National Eat More Fruits and Vegetables Day.
I'd love to know what you're working on to improve your family's diet?
How does YOUR family enjoy more fresh fruit and vegetables?
P.S. In the process of collaborating with Dole Fresh Fruit and Fresh Vegetables, I learned that the owner, Mr. David Murdock, really liked dark chocolate and had pretty healthy dietary guidelines for himself, so I looked him up. He is a hoot in this segment with Oprah. He really eats a healthy diet and has 94 years behind him as a testimony to his healthy living ways! If that's not reason enough to eat more fruits and vegetables, I'm not sure what is. If I play my cards right, they'll be calling me Great-Grammy before I know it!
I am an official ambassador for Dole Fresh Fruit and Fresh Vegetables. Dole provided me with compensation for my time. As always, all opinions are mine.